Other than the fasting that is synonymous with Karva Chauth the one thing that is also invariably associated with this festival is Mehndi. And while you have serious plans to apply the prettiest mehndi this Karva Chauth you definitely need a catalogue of all the latest
Karva Chauth
 Mehndi designs to choose from and help you have the perfect mehndi design that is trending this year. Well, worry no more, we have with us a collection of some of the most stunning mehndi designs for karva chauth this year that will leave you with the best mehndi amongst all.
Latest Karva Chauth Mehndi Designs
1. Mehndi On Fingers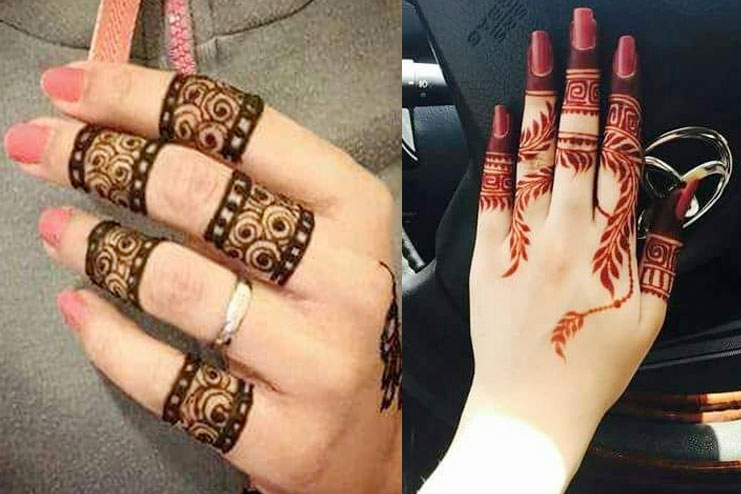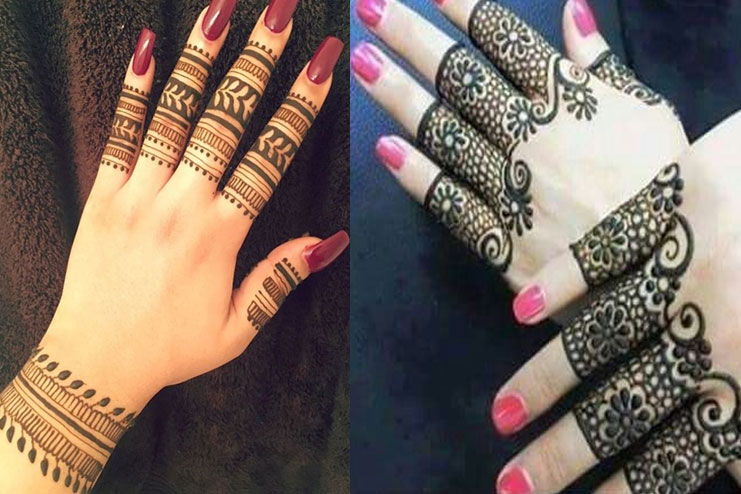 If you are one those impatient sols who love the look of mehndi on your hands but hate to sit for hours to put it on your hands in the small squiggly lines, this design can save your life. The perfect feel of having the best Karva Chauth Mehndi designs and yet no need to sit for long hours for it to be done. Just make some delicate designs like these around your fingers and you still have some of the most trending and stylish looking mehndi this karva chauth.
2. The Mandala Design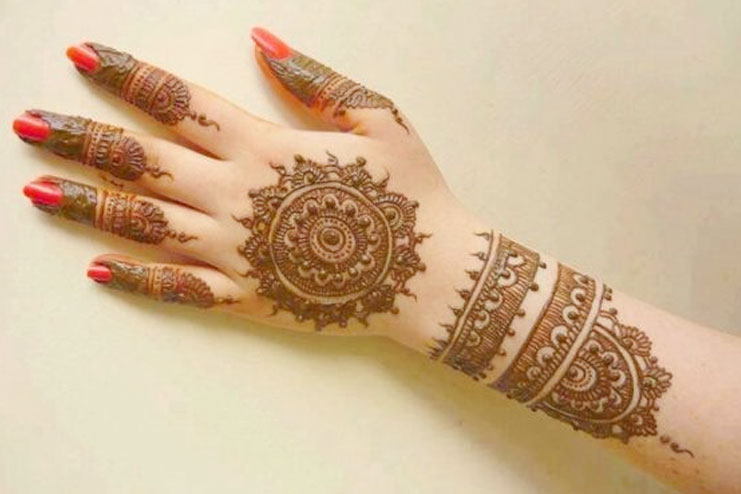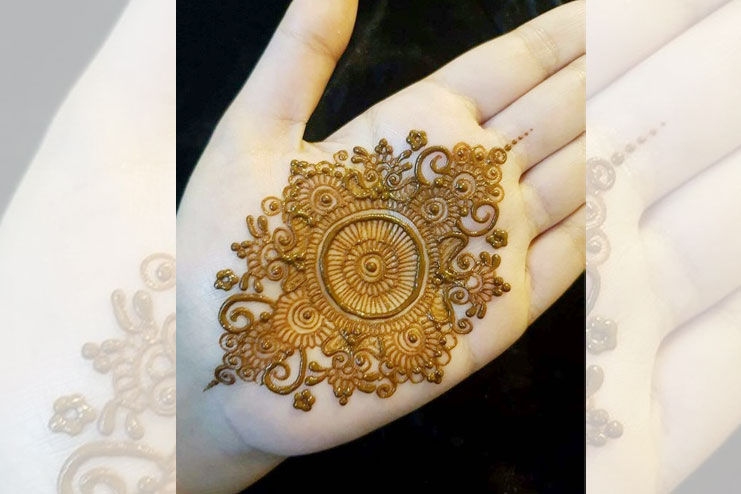 Well, this never goes out of fashion ever. The intricate mandala with simple varying thickness of lines creating a picture perfect design on your hands makes for a great design to choose for as your karva chauth festival. This Karva Chauth Mehndi design is great for women who are working the day before and don't have much time and also if you do not want to walk into a meeting wearing full hands stained with henna in a business suit. A great way to keep the festive feel and yet not over do it. This is also great for older women who like to put little mehndi.
3. Arabic Mehndi Design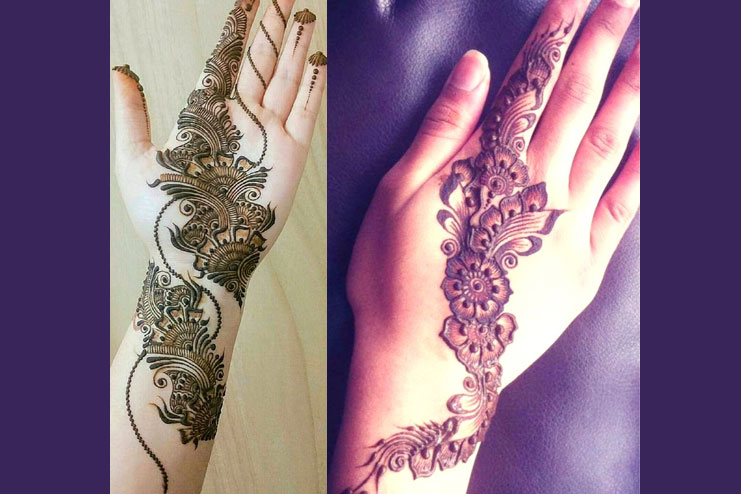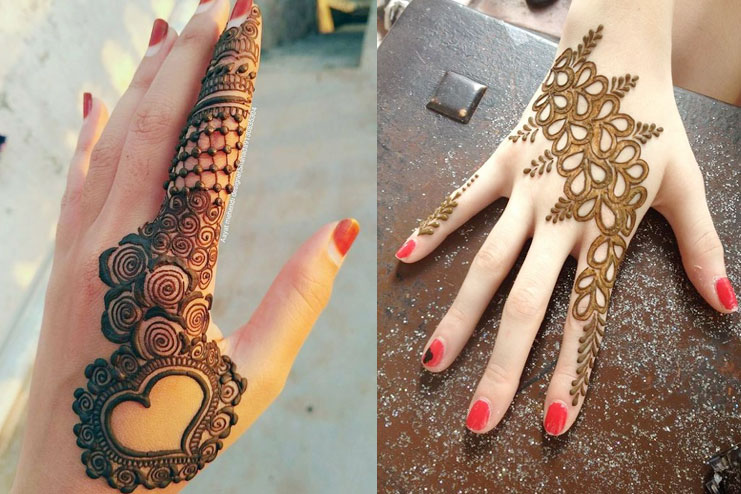 Well you want your hands to look pretty but not as much as a bride pretty, well you definitely cannot go wrong with an Arabic mehndi design for the Karva chauth festival. Use this delicate and yet completely heavy mehndi design if you love to have your entire hands covered in henna. This mehndi design has so many options to go with depending upon how much you want to apply your mehndi. Use simple over the thumb and hand design if you want just a hint of mehndi. The hints of your skin colour peeping out from the delicate design makes this a perfect karva chauth mehndi design for women of all ages.
4. Full Hand Rajasthani Mehndi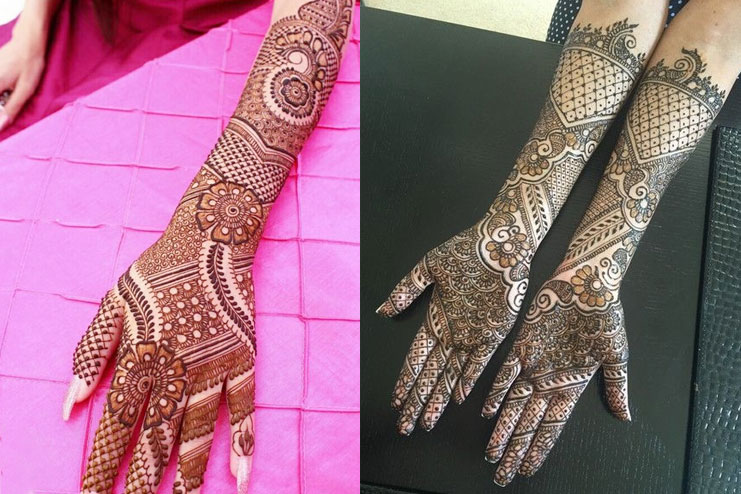 If you absolutely love putting on henna and you cannot wait for karva chauth every year for a reason to get all decked up and have the most dense looking mehndi, why not go for these rajasthani mehndi designs that give you the most bridal looking hands ever. This design is actually very dense and it has traditional paisley and floral motifs. Usually brides opt for such type of designs but for the love of mehndi, we say why not? Refer our catalogue of rajasthani bridal mehendi designs for even nicer options.
5. Lotus Motif Mehndi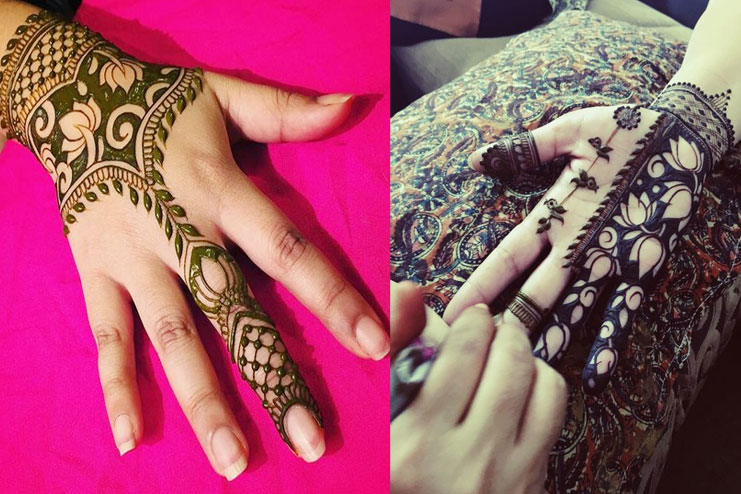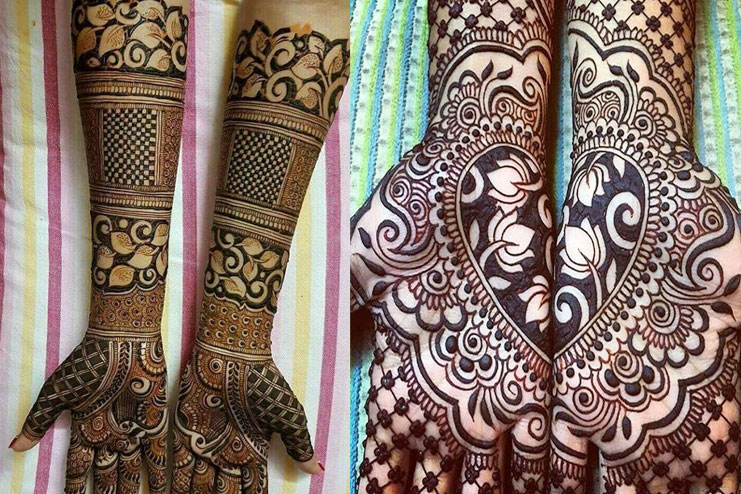 This is one of the most trending Karva Chauth Mehndi designs in the recent times. It has become so popular that a lot of celebs have put these on multiple occasions. A lotus motif is basically a lotus flower silhouette with the background coloured completely dark in henna. The sheer artistic feel it gives to the entire design makes it so attractive that we can hardly keep our eyes off. Definitely one of our favorites, this design is great for karva chauth since the heavier designs are already over done in the wedding seasons and festivals. This can be a great option for karva chauth as it is slightly edgy and really stylish.
6. Geometric Design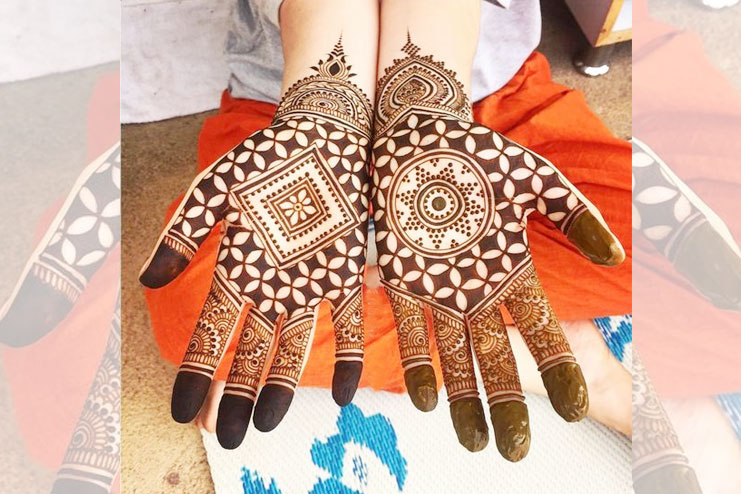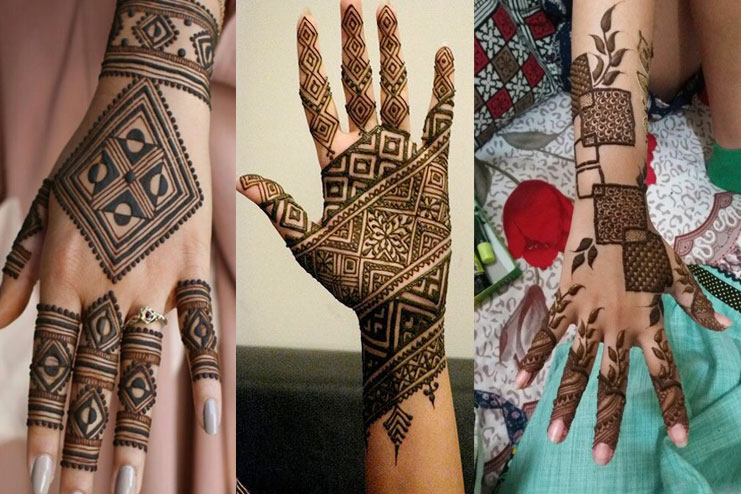 Who doesn't love geometric prints? Be it on our sheets or your cushions and even your clothes It is something that never goes wrong. Well then, how about using it for your mehndi design this karva chauth? We are all excited. We are absolutely stunned at the results. The geometric design henna is something you might not have seen too much since it is only recently that we have seen it trending. This design is a great option for this karva chauth festival since you won't have the same old flowers, paisley and colour in the mehndi as everyone else. Try this latest mehndi design for karva chauth and trust me, you would thank us later.
7. Embellishment Mehndi Design
The embellishment on your hand mehndi design has been one of your favorite for the longest amount of time. It is the beautiful ornate designs that makes it so attractive and our favorite too. The simple bead like designs copy the "Haath Phool" ornament that usually brides wear on their wedding day. It looks as though you're wearing an actual maroon Haath Phool over your hand. This can be great to go with suit, sarees and even your western dresses. So after karva Chauth it will look even more gorgeous on your other day dresses. Choose this simple and pretty karva chauth mehndi design if you appreciate your subtle charm.
8. Karva Chauth Picture Mehndi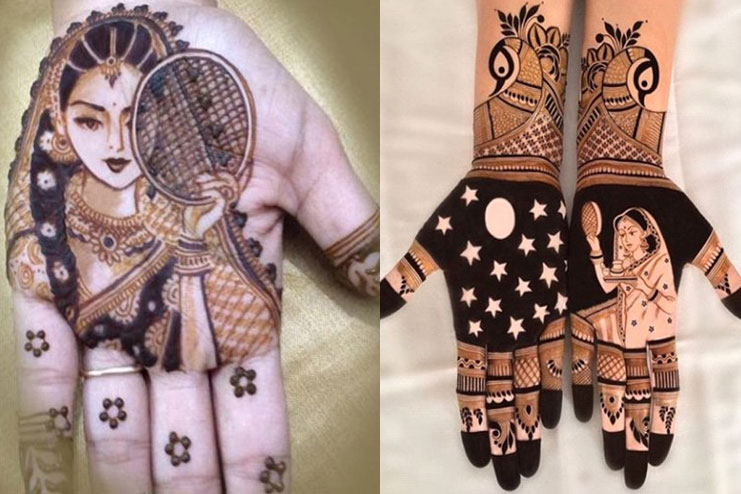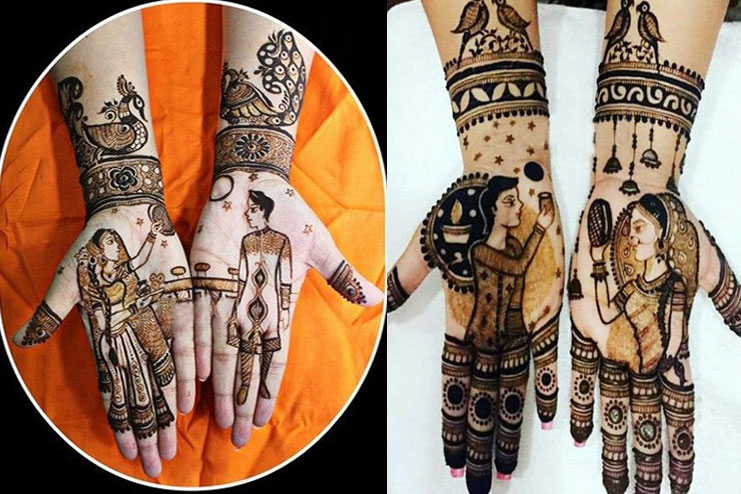 A portrait of your Karva chauth ritual on your hand. What better ode to this cute festival of fasting. Be it just a women with the sieve or the man and wife. This design will absolutely stun your partner. And the dark sky will look even more beautiful after it colours properly. Absolutely try this on for karva chauth this year.
We hope that you loved our well curated collection of the best and most trending Karva Chauth Mehndi designs. Be it simple mehndi on the finger tips or the full blown bridal rajasthani feel, we have a perfect design for every women and her karva chauth mehndi design needs. Bookmark this page right away and don't forget to share it forward if you like it. Hope you have a great day.