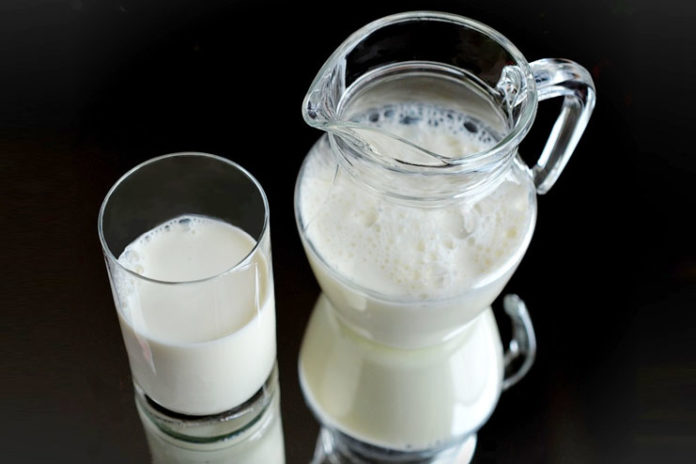 Gulping down a glass of milk was a great way to please our mothers before we asked for anything during childhood. Right? Well, the amazing health benefits that milk offered were not hidden even from our moms. But did you know that raw milk is actively been used as an amazing beauty product by so many beauty gurus these days. As surprising as it may sound, raw milk has all the nutrients intact in the milk, which sometimes excessive boiling and take away. That doesn't mean you have your milk without boiling, definitely not. But the extra nutrients in the raw milk can be very safely applied externally on your face. And hence raw milk acts as a better beauty ingredient. This raw milk mask, can give you so many more beauty benefits that a boiled milk mask can. Want to know what are they? Here it is,
Benefits of Applying Raw Milk On Face And How To Use It Best?

Everyone is aware of the series of health benefits obtained from raw milk. It is one of an essential nutritive supplement which gives millions of benefits and plays a major role in maintaining metabolism. However, many are unaware that raw milk acts as a beauty supplement too. Yes, it does! This beauty secret is going to be revealed to you today. There are innumerous benefits of applying raw milk on the face. Some of the benefits of milk on the skin are listed below:
1. Skin Toning:

One of the richest sources of moisturizing is raw milk. In case of oily skins, it is advised not to use raw milk for the face as a toner. But, to rectify this implies to the boiled milk and not the raw one. For most types of skins, raw milk works as an extraordinary toner by smoothening the worn out tissues. It adds to the elasticity of the skin thus providing you with a bright glow.
How to create a face mask with raw milk?
Add 3 to 4 drops of lemon juice on raw milk, For dry skin rose water is preferable.
Gently apply the milk to face and neck and let it stay for about 15 minutes.
After 15 minutes use plain water for dry skin, but lukewarm water should be used if your skin is oily.
This Raw milk face mask frees the skin from cracks and freckles. This is an excellent technique that you must try.
2. Moisturizing:

Moisturizing is one of the best benefits of raw milk for skin treatments. The raw milk enhances the nourishment of the deep skin layers which in return providesthe skin its statement moisturizing and conditioning from inside. This is greatly effective for the treatment of skin dryness during winters.
Steps to make raw milk face mask for moisturizing:
Firstly we need to add 2/3 tablespoon of gram flour with raw milk and stir to mix it well.
Simultaneously, raw honey and rose water should be added to the mixture.
Apply this mix to the face and neck firmly.
Leave it on for a good ten minutes.
You need to then wash it using lukewarm water.
This raw milk face mask gives a surprising effect after washing and eventually giving a well-toned and smoother glowing skin
3. For Skin Cleansing:

Raw milk is known for its unmatched abilities of skin cleansing. It deeply cleans the pores to prevent oil, dirt, blackheads, and sebum. A few types of face masks for deep cleansing by applying milk on the face are as follows:
i) Raw milk and Lentil Mask:
Create a mixture of ground moong lentil with raw milk and thoroughly beat it to make it mix well.
Now wait for 10 minutes after the mixture is applied to your skin.
After ten minutes, scrub off your face gently and massage for the next ten minutes and eventually wash it with warm water.
This face mask is best suited as an exfoliating and dead skin clearing face cleanser.

ii) Milk And Lemon Mask:
Mix 100g of cold raw milk with a one-fourth lemon juice, make sure to use only cold milk otherwise it can curdle.
This should be applied on the skin with the help of a cotton ball.
Let it stay for about 8 to 10 minutes and then gently wash with plain water.
This mainly aids in the removal of additional oils from the skin to give a glow for people who have oily and greasy skin.
iii) Raw Milk And Cucumber Mask:
Add two tablespoons of raw milk along with two tablespoons of cucumber juice and a few drops of lemon juice.
Similarly, as the above mask, apply the mask with a cotton ball and leave it to rest for 8 to 10 minutes.
Wash with water and Pat Dry.
Finally, the results are best for severely sensitive skins, it will soothe and calm any type of skin irritation.
4. Raw milk for Anti Tanning:
The ultimate natural anti-tanning agent is raw milk. There can be no other great remedy to remove tan than raw milk. It can be mixed with tomato juice to create a face pack for its best results. Complete body tanning can be removed using these natural ingredients.

How can you create an Anti-Tan Mask?
Soak 5 to 6 dates and almonds in raw milk.
Then firmly grind them to obtain a paste.
Apply this to your skin in a uniform layer and leave it to dry for a good 20 minutes or more.
After which, soak your skin in warm water towel and gently scrub in a circular pattern.
Apply water to rinse and clean the paste after scrubbing.
Your tan skin will slowly recover and retain its natural skin colour.
5. Milk Beauty tips for fairness:

Raw milk is one of the unbeaten fairness agents which regulate the excess secretion of tyrosine through the skin. Tyrosine, is a hormone for melanin control. Melanin leads to darkening of the skin. Thus, applying milk on face overnight with sandalwood can be a beneficial fairness agent which enhances your skins natural complexion and acts as a natural skin lightening agent.
6. Anti- Acne Treatment:

Oh yes! Raw milks can also help you fight acne. Want to know how? Well, The fascinating capability of raw milk to remove extra oil, adds to the benefit of removing acne from the skin. To use raw milk in removing acne here is what to do.
The following steps are to create an anti-acne face mask:
You will need to add 2/3 tablespoon of fuller's earth (Multani mitti) in few tsp of raw milk and beat it till it forms a thick paste
Then add a few drops of rose water (recommended for dry skins).
Apply this paste of raw milk on face and leave it to dry.
Wash with cold water.
Even overnight you can get the outstanding results of a less inflammed skin in a single use.
7. Anti-Aging Treatment:

Raw milk is a special toner used to remove premature aging signs. Applying raw milk mask with mashed bananas helps in removing wrinkles, fine lines, peeled skins, and sunspots. With this mask, you can easily wipe out 5 years of your age from your active look. Want to know how? Here it is,
Glow: The visible sign of dryness can be removed by adding sugar particles to raw milk and applying it as a mask.
Radiance: The skin can be lightened up to 3 shades fairer to provide a soothing radiance by applying raw milk.
Face Mask for Radiance:
Just a pinch of raw turmeric needs to be added to raw milk.
Now add saffron powder and then mix well.
To make the paste thicker, some gram flour can be added but it is optional.
Leave it for 10 mins and then wash away.
This mask provides an amazing and flawless complexion.

There is a never-ending list of benefits obtained from raw milk for your skin. A few more advantages include the property of raw milk to act as a sunscreen when applied with a mixture of curd, treating dry skin with a mixture of raw milk, mashed banana and a few drops of hone, as well as comforting bath by adding 1 to 2 liters of milk to water in a tub with rose petals. The specialty lies in every drop of milk, not only for skin but for all around the health of the body. With these listed amazing raw milk benefits we hope you find a new natural skin care ingredient that works wonders for your skin. Do share with us what you think.