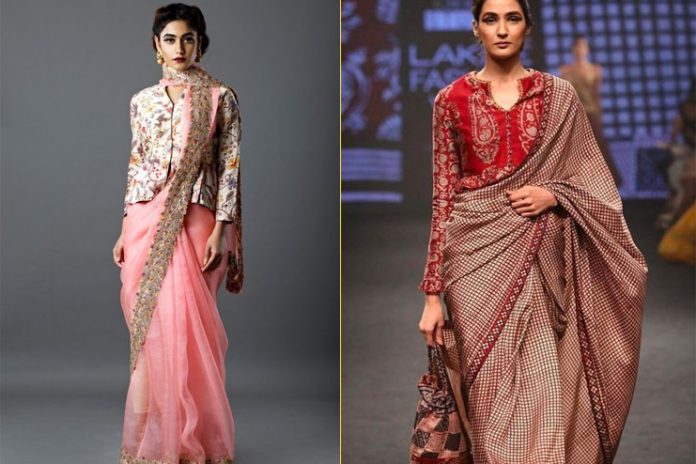 Saree is the most olden traditional outfit of India. Every Indian woman love to wear the saree. Let several outfits come in fashion but an Indian woman cannot prefer other outfit over saree, for any special occasion.
Saree is taking the turn of western designs with Indian traditions. The saree wear styles and draping style is all changed. The modern ladies are flaunting in saree with variety of blouse designs. The cliche neck designs are gone out of the way for sarees now.
Blouse designs are broken into several. The blouse design that is trending is jacket style. The decent and classy jacket blouses have the different styles. The trending Indian traditions cannot let you stay out dated in fashion.
1. Flared jacket blouse

A flared jacket blouse makes a traditional saree look modish. In the world of fashion, you want to flaunt in unique styles. Wearing a mini jacket over the saree is a brilliant fashion idea. Indian traditional outfits are taking the style of western and the fusion is growing without any breaks.
You need to fatten your fashion sense and blend the colours here. A light coloured saree with a bright coloured flared jacket blouse is a gorgeous outfit. You can flaunt with this saree style in any special occasion.
2. Waist length jacket blouse

Waist length jackets blouses are the in various styles. You can have the variations in styles with small modifications. The style that is well floating in western and Indian traditions is loved by modern women. You can show off your fashion that is flowing in any form. Even your saree wear is about just draping and folding pleats. Saree style is now more about blouses, fusions and designs. So, come out of the casual wear.
3. Embroidery jacket blouse

Have you bought a gorgeous saree? But is it again the same casual blouse designs and patter?
Your gorgeous saree is worth of beautiful blouse. Add some tradition with the trending design embroidery with jacket style. The embroidery jacket blouse is can be your new and unique style of saree. Now, you must define the saree worth with the blouse style you choose.
You can go with embroidery jacket blouse for occasions like wedding, reception and evening parties.
4. Long jacket blouse

Saree with long jacket is a breathtaking look. The special fabrics texture like sheer, velvet and organza suit well for long jacket for saree. Many of the celebrities appeared in this stunning style. You get drape your saree in unique style when you are wearing a long jacket. As this is a current fashion idea for saree, you can choose it for any coming occasions like grand parties, as outfit for guest appearance.
5. High neck jacket blouse

High neck blouses are one of the most preferred style for sarees. Jacket blouse with high is unique style that you need to try. The way high neck covers the top of the saree is amazing. It makes the look elegant and all fashionable. Jacket blouse can be with embellishments with the simple high neck pattern is a dazzling outfit. This is also a creative idea for modern women who want to look classy. This style is apt for the formal events and for guest appearance in any event.
6. Shirt Style jacket blouse

Shirts and sarees were far to combine. And no creation is weird in fashion world and it is more innovative. Shirts with sarees are currently trending and a loved style that is decent. This innovative fashion idea can took other turn of jacket blouse. You will love to combine shirt with saree if it is a jacket blouse.
7. Embellished Jacket blouse

Embellished outfits come with the delicacy and adds the delicacy. The embellished jacket blouses in colours lie black and white is prettiest. You will get to appear adorable with fancy outfits. Embellished jacket blouse looks sumptuous. The jacket blouse embellishments is suitable for fancy sarees. The blouse can accessorize the saree for a grand lovely look.
8. Cape Style Jacket blouse

Cape style jacket blouse for saree is on swing in fashion. The Indian ethnicity and western outfit ideas mash u created the cape style jacket blouse for saree. You will love to go with cape style blouse as it is in fashion and suitable for any special occasion. You get to style with all your saree with a unique draping style. Carry the elegance with confidence when you have a fashionable outfit on you.
9. Ikat Jacket blouse

Ikat prints on outfits is a sensational trend which is ethnic too. You will see a different style of blouse for your saree. A routine blouse design with ikat print is not you need now. You must get it designed with jacket style. Let every bit look like ethnic but modish with ikat printed jacket blouse. This looks highly decent which you can wear for formal events. You will be a classy lady who is letting her fashion talk more.
10. Zari Jacket Blouse

Jacket blouse with zari pattu is complete ethnic and extremely beautiful. The zari jacket blouse looks great with pattu saree. You can also pair the blouse with a pattu saree which is a lovely combination. Zari saree and blouses make the women look highly classy and decent. The zari blouses also make the attire complete traditional. In fact, the most preferred fabric by women, for traditional wear.
Jacket blouses are preferred for decent and stylish look. It is the most contemporary style of saree. Let the blouse do the style along with saree. A saree with well designed blouse is a perfect outfit. To get that perfect outfit, you can choose jacket blouse.