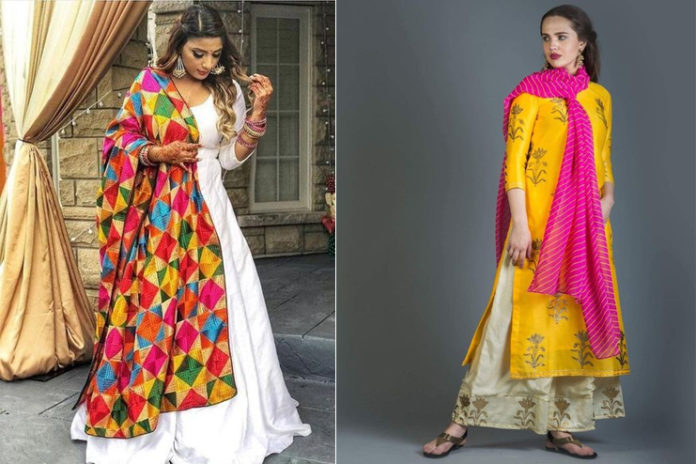 For Indian women, a dupatta is the most beautiful attire. Some of the dupatta designs tempt the women to buy the dress itself. The style of wearing a dupatta can change the outfit look. The different styles are good for different occasions.
An embellished dupatta can make a simple dress look grand. The Indian motifs and designs are the added beauty for the dupattas. The dupatta style you are choosing must show the beautiful designs of the dress. The way you style the dupatta make the outfit fashionable by keeping the traditional look.
Let your dupatta flow and fall, but it can never fail in making you look out of fashion. Choose a different style every time and according to the occasions. You will love following the fashion and traditions of India.
How to style dupatta in different ways?
1. Belt it up
Setting a dupatta to sit on your beautiful dress is a bigger task. You may need a quick and pretty idea. So, simply belt your dupatta with your dress. The most modern way of styling a dupatta for the traditional day is to fix it with a belt. You will not feel it routine and it adds the fashion to your ethnic wear. This is suitable for wedding rituals, parties and functions. The simple but ethnic wear must go with this dupatta style.
One side dupatta with belt

You can wear a dupatta in this style for your lehengas and long skirts as well.
Two side dupatta with belt

The two-sided dupatta with a belt is a simplest and stylish way of wearing a heavily embellished or lightweight dupatta.
2. Dupatta around the neck
Cotton printed dupattas can choke around your neck gently with this dupatta style. This the most preferred style of dupatta for traditional cotton chudidhar and patiyala outfits. It is still in fashion and makes the outfit look decent. You also don't need to secure it with pins and handle it, like for other styles. Moreover, this is the ultimate style for Indian women with simple and casual outfits.
Dupatta around the neck with a cotton dress

Dupatta around the neck is a routine style for cotton dresses which suits well than any other style.
Dupatta around the neck with ethnic dress

A plain or less embellished dupatta can be worn in this style.
3. Dupatta Over the shoulder

Your beautiful dupatta can be settled on your shoulders. You can wear the style of even an embellished dress. Over the shoulders, dupatta spread well and looks stylish. Ethnic outfits like lehenga, party wear Kurtis look great in this style of wearing the dupatta. It is also easy to carry for you and it also looks unique than routine styles. This simple styles can be raised with accessories to doll up for any special occasion.
4. Dupatta Back Fall

In this style, the dupatta end falls at back and you will have pleats on the front. Your dupatta adds the prettiness of the day with beautiful pleats. The prtined dupattas with stripes and floral designs look lovely in this dupatta style. Your dress also takes a traditional turn with back fall style. You will have the comfort of wearing dupatta in this style and it is a brilliant idea for special occasions like wedding rituals, family events. You also get to adorn yourself wearing the dupatta with the back fall style.
5. Dupatta over the head

Dupatta over the head is the style that every Indian woman wears being a bride. The style in Indian traditions is known as ghoongat. An embellished dupatta in a traditional colour over the woman's head is a style that is connected to Indian traditions which makes a woman look like a pretty Indian bride.
6. Dupatta with wrist knot

Have you already worn the dupatta in routine and simple style? And now looking for a unique style, then you must the dupatta with wrist knot. The wrist knot style makes your dress look adorable. You can be the center of attraction in a crowd with such styles. It is all comfortable to handle the dupatta which is extremely stylish and makes your every move elegant. You can make a style statement with such unique ideas of wearing a dupatta. You will believe in making style statements even with traditional outfits.
7. Cape style with dupatta

Capes are trending with traditional outfits like lehenga, Kurtis and sarees. You can take up the trend even with a dupatta. Dupatta can be turned into a pretty cape. A sheer dupatta can be styled as a cape for your special outfit. You look more fashionable with this style of dress. You can style this way for special occasions. With some styles of dupatta, you may not handle well. But with cape style, it is easy to handle which stays up n your shoulder by securing it properly.
8. Dupatta over hands

Dupatta over hands is an effortless beautiful style. The style that you will love to wear with any dress. The dupatta flows on your hands and you can flaunt elegantly with this dupatta style.
It is also a decent way of styling your dupatta but let the dress look nice. If your dress is embellished, then you can show off your dress by letting the dupatta stay on hands.
9. Dupatta South Indian Style

South Indian girls wear this dupatta style as their traditional style for festivals, marriages and other special occasions. This traditional dupatta style of South India is named as half saree. You can style your dupatta in this style for lehenga and choli as well. A turn around with South Indian dupatta style would be pretty.
10. Dupatta in Gujarati Draping Style

Gujarati dupatta draping is loved all over India and the well-preferred style. The all over look of your outfit looks stylish with this style of draping. You can wear this style for all big occasions which will make you look complete traditional and pretty in your dress. You will feeling fully dolled up with style of dupatta draping. You can have the
The dupatta designs are grabbing more attention that the dress. So, you must style the beautiful dupatta in special style. Your single dupatta can be styled in multiple ways which can bring attractive look to your outfit itself. Begin wearing your dupatta with a variety of styles. You are not done choosing a dress for a special event but styling the dress counts.
Related Article: 15 Stunning Styles To Perfectly Drape Dupatta On Your Bridal Lehenga