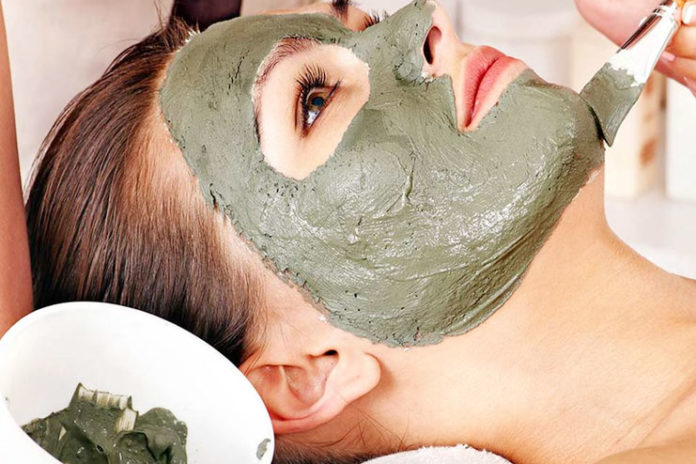 There are days when we feel your face just looks plain dull and patchy, and you just want to get a face cleanse done as soon as possible. But you can't. Maybe work is too busy or your kids keep you on your toes, and you just cannot find time for a salon visit. Worry not, with these amazing Multani Mitti face pack for all skin types that you can easily do at home your face will never be dull again.
Multani mitti or Fuller's earth Ishasvery fine clay that has deep cleansing and oil removal properties. It has been historically used by women for ages to keep hair healthy and to remove deep rooted impurities, dirt, and oil from the skin pores in the most natural ways. Multani Mitti face pack pulls out clogs in your skin pores making it healthy and beautiful. It is very easy to put on as a face mask and gives instant results. To add to the properties of this fuller's earth pack, we tell you exactly what ingredients to add, to achieve the targeted results.
Multani Mitti Face Packs For Different Skin Problems
1. Multani Mitti and rose water-
The most basic application of Multani Mitti is making a paste with rose water and applying over a face. This is the basic way to apply fuller's earth, and a lot of women follow it.
This Face pack is extremely beneficial for ladies with oily skin. It balances the pH of the skin and reduces its tendency to produce oil naturally. Only a few uses will give you an oil free look with glowing skin.
2. Multani Mitti with Tomato juice-
Tomato has natural skin bleaching properties. It lightens your skin and can effectively reduce tanning. On using tomato with Multani Mitti, your skin can start glowing, and you will see the vast before after difference from the first usage itself.
Just add 2 tbsp Tomato Pulp.
2 tbsp Multani Mitti
1 tbsp turmeric.
Water to alter consistency
Apply this mix over your face and let it dry completely. Wash off with cold water and pat dry. Do not use bleaching creams before or after using this pack. Use a natural moisturizer after washing.
3. Multani Mitti with honey for Glowing Skin-
This face pack is an excellent way to achieve naturally glowing skin. The honey imparts nourishment to the skin, and the lime naturally lightens the skin tone.
Add 2 tbsp Multani Mitti in a bowl.
Add 1/2 tbsp honey
1 tbsp fresh lemon juice.
Water to alter the consistency.
Apply over face for 20 mins and then wash off with warm water. This will give your skin the glow that you are looking for.
4. Multani Mitti and Papaya for Skin Radiance-
Papaya with its natural source of antioxidants, vitamin A and C gives your skin the nourishment it lacks, and it replenishes the radiance that went missing. This is best suited for ladies with dry skin. Papaya has cooling properties and applying this face pack will rejuvenate your senses and soothe your skin.
To make this DIY face pack
3 tbsp papaya pulp.
1 tbsp Honey
3 tbsp Multani Mitti.
Mix it well and apply over face and neck. Let it dry.
Wash off the face pack with warm water. This will replenish your skins natural moisture and essential nutrients and make your face radiant and glowing.
5. Multani Mitti and Sandalwood-
Multani Mitti and Sandalwood can be very cooling on your face. It ha astringent and antiseptic properties that will be great to get rid of any pimples and marks. It leaves your skin hydrated and oil free. To make this homemade Multani Mitti face pack.
2 tbsp Multani Mitti
2 Tbsp Sandalwood powder
1 Tbsp Gram Flour/ Besan.
This face pack is best suited for ladies with acne prone skin and oily skin. Regular use will reduce an occurrence of acne over all.
6. Multani Mitti and Carrot pulp-
Carrot and multani Mitti face pack are best for removing dark spots and dead skin over a dull face.
Just add 2 tbsp carrot pulp
2 tbsp Multani Mitti
And 1/2 tsp Olive oil.
Apply over face and neck and leave for 20 mins. Wash off with cold water.
The olive oil in this mask will moisturize your skin, and carrot pulp along with Multani Mitti will pull out deep rooted spot and dead skin.
7. Turmeric and Multani Mitti-
Turmeric heals your skin internally. It penetrates deep into your face and removes impurities from within the blood. This pack is absolutely the best for acne treatment and this will leave you looking beautiful and glowing.
Add 2 tbsp Multani Mmitti.
1 tbsp Turmeric
2 tbsp milk
Mix and apply over your face. Wash off on drying. Repeat once every week for best results.
8. Multani Mitti with Curd-
For women with combination skin or oily T zone. This pack will help neutralize the face and keep an even moisturized look.
In a bowl mix 1 tbsp Curd
2 Tbsp Multani Mitti.
1 tbsp Fresh Lemon Juice.
Apply over face and neck and leave to dry. Wash with warm water afterward. This pack can be done twice weekly and it will give best results for oily skinned ladies.
9. Multani Mitti and Mint leaves-
Mint is an excellent remedy to reduce dark spots on your face. It will eradicate the pesky acne spots and dark circles with ease and with that heavenly smell I'm sure this multani Mitti face pack will be your favourite just like ours.
Add 2 Tbsp Multani Mitti
1 Tbsp Mint Pulp or Powder.
1 tbsp Curd.
Apply over face for 20 mins and rinse off.
This will cool your face and maintain the moisture of your face keeping you hydrated and glowing.
Benefits of Multani Mitti For Face-
Multani Mitti is known to help remove clogs from the skin pores.
It is deep cleansing and removes dirt and oil amazingly.
It exfoliates your skin by removing the dead skin layer.
It improves the smoothness of your skin with regular use.
It is harmless as it is completely natural and ladies with all skin types can use them.
On drying out, it pulls out the excess oil out from the deepest skin pores and keeps your skin oil free for weeks together. The only Multani Mitti side effect is that on over using this pack it can make your skin too dry. But on keeping the usage normal it can be of no harm.