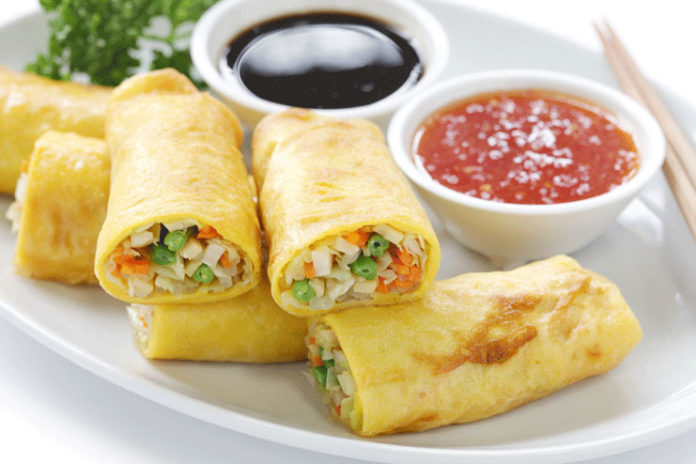 Vegetable Spring Roll is a popular snack or starter. This is flaky spring rolls goes perfectly well with a cup of hot black tea or coffee. Spring Roll Recipe is a savory recipe from Chines Cuisine.
Preparation Time-30; Cooking time-45; Serving-3-4
Ingredients
For The Stuffing
1 tbsp oil
2 tsp finely chopped garlic (lehsun)
1 tsp finely chopped ginger (adrak)
1/2 cup sliced onions
1/2 cup sliced capsicum
1 cup thickly grated carrot
1 cup shredded cabbage
1/2 cup boiled hakka noodles
2 tsp schezwan sauce
1 tsp tomato ketchup
salt to taste
To Be Mixed Into A Maida-water Mixture
1/4 cup plain flour (maida)
4 tbsp water
Other Ingredients
For Serving
Method
For the stuffing
1. Heat the oil in a broad non-stick pan, add the garlic and ginger and saute on a high flame for 30 seconds.
2. Add the onions and saute on a high flame for 1 to 2 minutes.
3. Add the capsicum and saute on a high flame for 1 minute.
4. Add the carrot, cabbage, noodles and cook on a high flame for 3 minutes, stir occasionally.
5. Switch off the flame, add the schezwan sauce, tomato ketchup and salt and mix well.
6. Keep it aside.
How to proceed
7. Divide the stuffing into 7 equal portions and keep it aside.
8. Place a wrapper on a clean, dry surface and place a portion of the filling mixture in one corner of the wrapper.
9. Roll over the wrapper till ¾ Th.
10. Fold over from both the sides one by one towards the center.
11. Finally roll it completely and seal the edge using a little maida-water mixture.
12. Heat the oil in a deep non- stick pan and deep-fry on a medium flame, till they turn golden brown in color from all the sides.
13. Drain on an absorbent paper and cut each roll diagonally into 3 equal pieces using a sharp knife.
14. Serve it with sauce.
Also Read- Indo- Chines Recipe