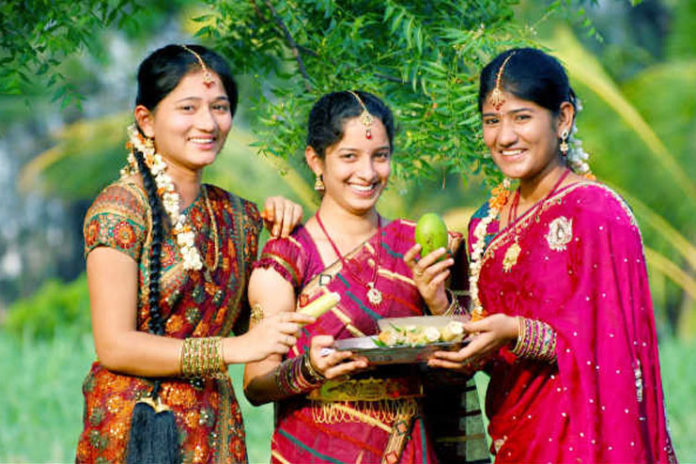 Ugadi is celebrated as the New Year's Day for the Hindus in the state of Andhra Pradesh, Telangana, Maharashtra as well as Karnataka. In Maharastra Ugadi is known as Gudi Padwa. It is the festivity that is observed in the regions on its first day of the Hindu lunisolar calendar on the month of Chaitra. This month typically fall in March or April of the present Gregorian calendar.
This day is observed by drawing many colorful patterns onto the floor called kolams, or mango leaf decorations on the doors called torans, as well as buying and giving gifts such as the new clothes, or giving charity to the poor. A special bath is followed by the oil treatment, preparing as well as sharing a special food called the pachadi, and visiting the temples. Ugadi Fashion Trends includes wearing new clothes as well as gold.
In the preparation for New Year, men and women in those four states go to buy new clothes as well as ornaments. Men traditionally, dress in a white or even off-white linen shirt that is paired with a cotton lungi or in a long loin cloth that is embellished with gold zari. While visiting temple, men don the Angavastram, which is of rectangular cloth in similar color and embellishment. However in recent times, men always prefer wearing new shirts as well as trousers. Both attires are to be complimented with a gold chain or a gold wrist watch to match.
On the other hand women wear many types of opulent clothes on this day such as brocade sarees like Kanjivaram in rich colors with thick gold zari borders. Then they accessorize this look by adorning the hair with jasmine flowers. Jewelry mostly consists of pure gold necklaces, earrings, as well as bangles in traditional motifs.
Even the youngest girls in the family, dress in silk lehenga cholis. This ensemble is then completed with a string of jasmine flower in the hair and some jewelries such as pearl necklaces, or maang tikkas or even gold earrings.
One of the more contemporary style for this is when the women and the young girls wear cotton sarees in a traditional gold zari designs or even colorful thread work. So here, are some ugadi fashion trends and style for women and young girls to look out for and look completely fashionable this festival.
Ugadi Fashion Trends
1. Half Saree For Women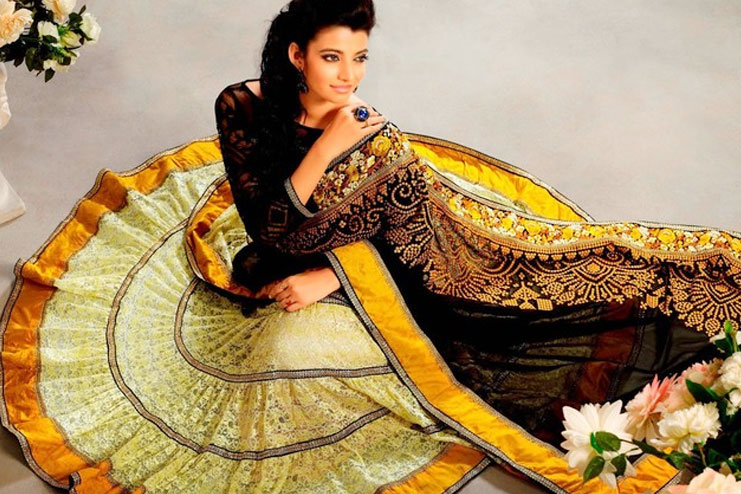 This amazing black and gold half saree, is the best when you are looking for a half saree to complete the look of ugadi fashion trends. The borders of the half saree pallu, is covered with gold zari work, and the lehenga is neted with gold border. What can be more celebrating than wearing gold and starting your year with gold.
2. Blue Half Saree For Women
Blue is the shade of purity and peace. Then why not try out something in the shades of blue? This amazing piece is embellished with gold zari border and studs. Wear this one with minimal makeup and of course your favourite gold jewelry.
3. Lehenga Style Saree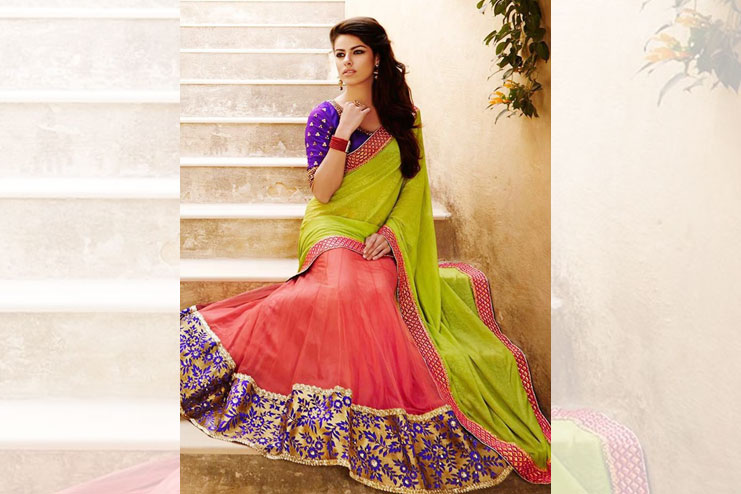 This saree have neted green pallu and peach color lehenga. With pink borders on the pallu and gold border on the lehenga. Try out smokey eyes and traditional gold jewelries with it. It can give you a mesmerizing look for this new year.
4. Dark Blue Pure Kanchipuram Handloom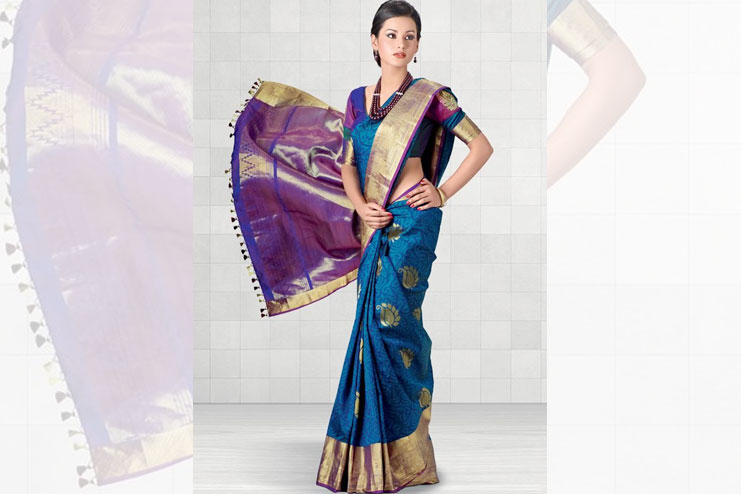 If you are more into saree, then this traditional blue saree with golden border and purple and gold pallu is the one for you. In this one you will look more beautiful as well as more sophisticated. Do not forget your gold ornaments with it.
5. Multicolored Checkered Kanchipuram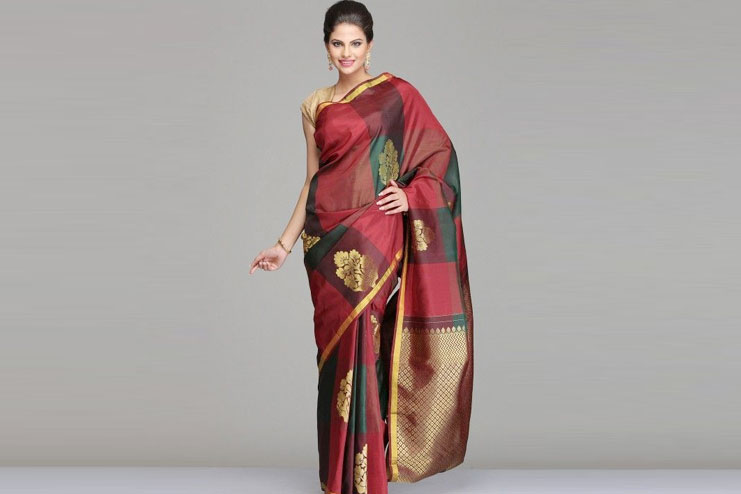 When talking about saree, then one of the main color combination that everybody likes is this multicolored checked Kanchipuram silk saree. This saree is designed with gold border as well as gold zari pallu. You can wear this with a gold coloured blouse as well as your favourite gold jewelries. So while shopping never forget about this type of multicolored Kanchipuram.
Fashion Tips Wearing Sari That Can Make You Beautiful
6. Red Colour Butter Kanjivaram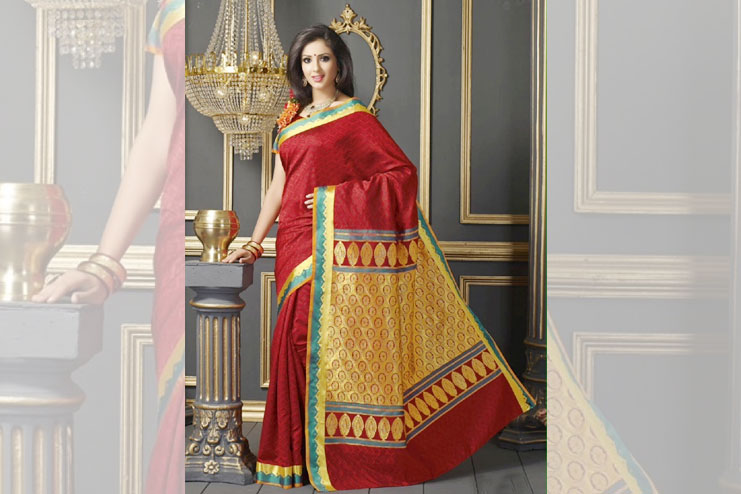 Red is the universal color of auspiciousness. Then why not during such a beautiful new year festival of Ugadi? This beautiful saree have gold zari border as well as combined gold and red pallu. What can be more beautiful way to look gorgeous this Ugadi!
7. Half Saree For Kids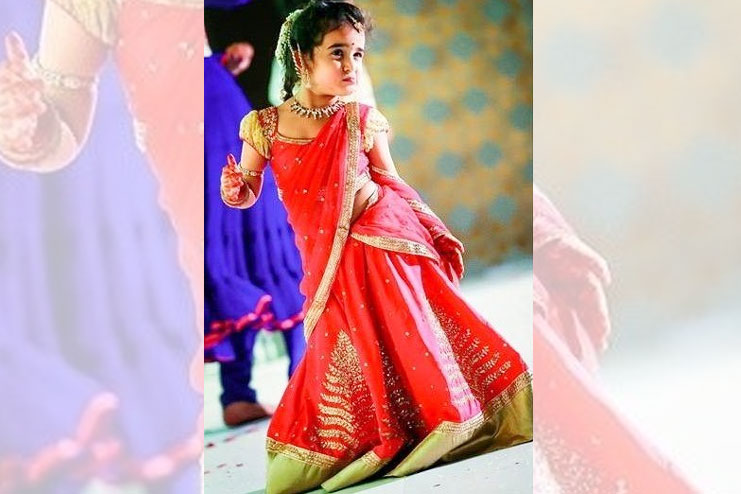 Just like this beautiful image, if you are also interested in dressing up your kid in lehenga choli or half saree – this beautiful attire is embellished with gold zari work. You can make your little one go more beautiful with faux gold jewelries.
8. Red Embroidered Kids Lehenga Choli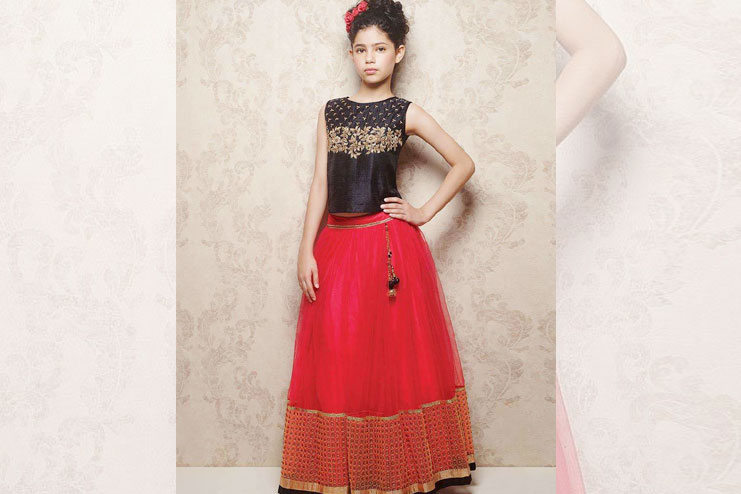 Another idea for children's dressing is in this unique long red skirt and black top. This black and red top with the gold zari work can be one of the best attire for your girl this ugadi.
9. Designer Lehenga Choli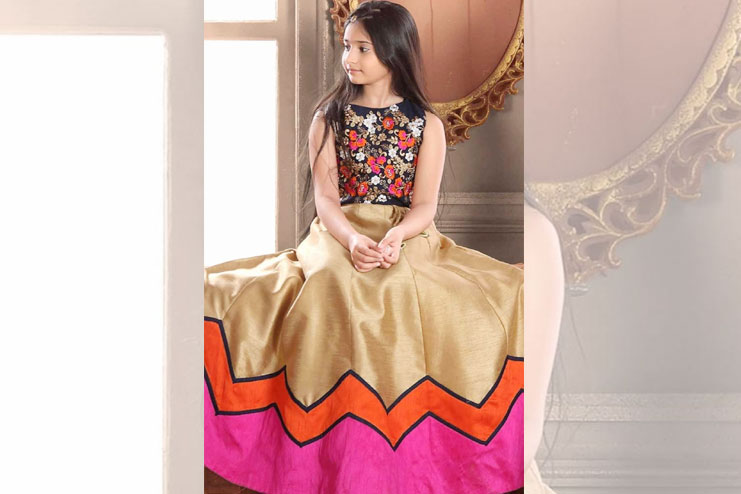 When it comes to kids, there are more number of options that you can try from. Just look at this gorgeous lehenga for your baby girl, it have embroidery done all over the top and the lehenga consists of three different colors of brown, orange and pink. This one can be the most fashionable attire for your child to start new year with.
10. Green Red Embroidery Kids Lehenga Choli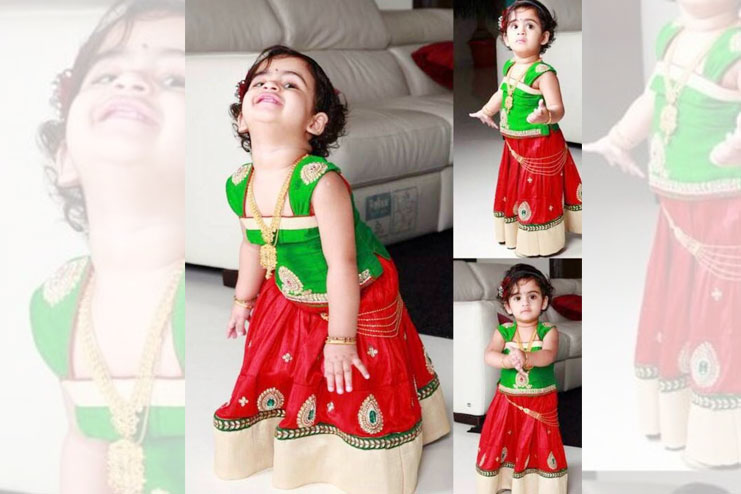 When coming to traditional wear for your daughter then you can look out for this beautiful attire for one and all. Just a red and green combination with gold zari work and gold jewelries in it can do the magic. You don't even need makeup as her cuteness can fill all the gap.
Fashion Trends In Casual Wears