With the soon approaching colourful festival of Onam, we have very little time to make those last minute decisions, to style the evergreen and beautiful Kasavu saree with a quirky twist and help you stand out with your exceptional sense of style. All you need is a perfect pair of accessories, a great blouse and some other fun elements to jazz up your name style. So, here we have for you, some beautiful ways in which you can style your simple elegant Kasavu saree into something that tunes it to your style and gives you an instant wow factor that no one can ignore.
1. White on white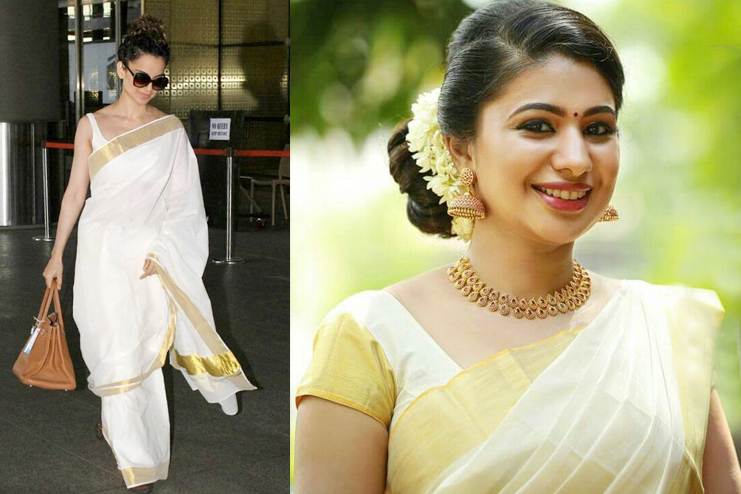 Nothing pairs as gracefully with white as the pearly golden zari. The charm of gold and white makes you look ethereal and pristine, and we love the glow it adds to your face. So leave all those colours aside for a more traditional look, complete with heavy temple style Jumkies and Gajra to make you look like a perfect Malayalam beauty.
2. Golden and White Purity-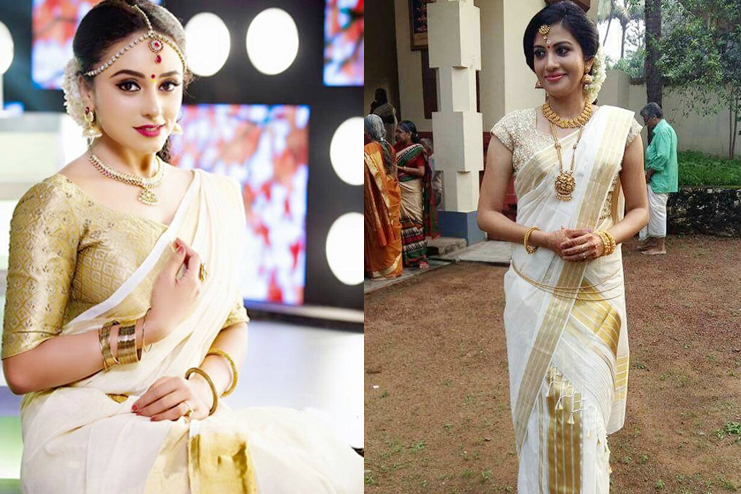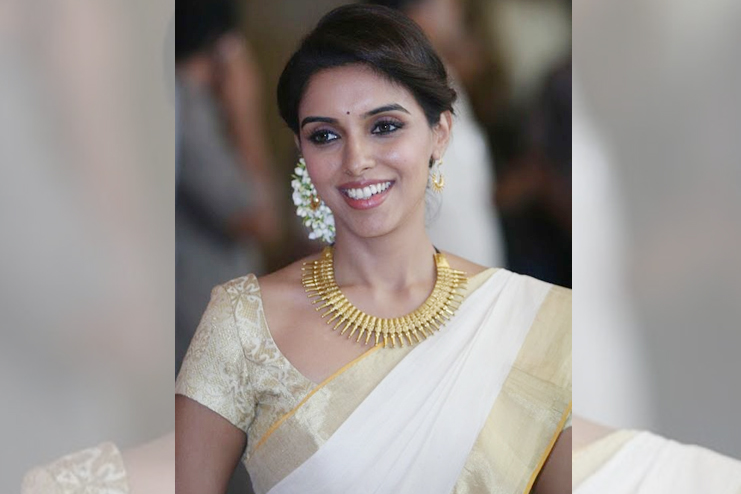 For ladies you love their zari's more than anything else, this is the perfect way to increase the gold in your outfit and make it look much grander. Add a blouse which is either completely gold or has a dash of zari pattern that can keep you shining throughout the day. Add a beautiful boat neck blouse for an element of sophistication.
Beautiful Uppada Pattu Sarees Designs And Style
3. A Complementing Raw silk Blouse-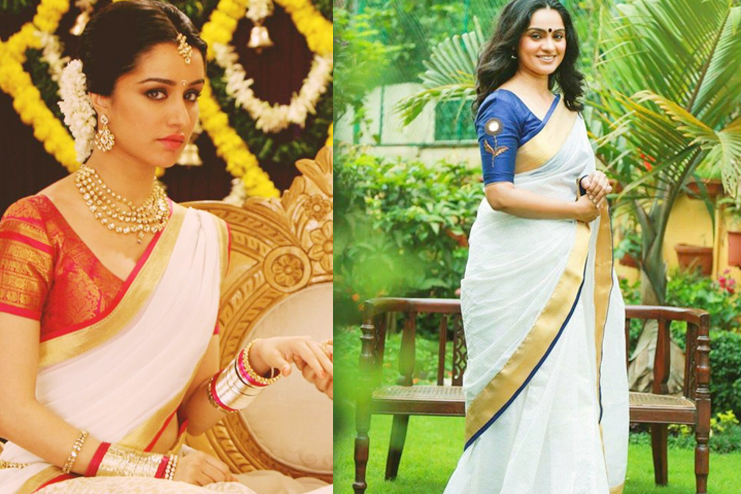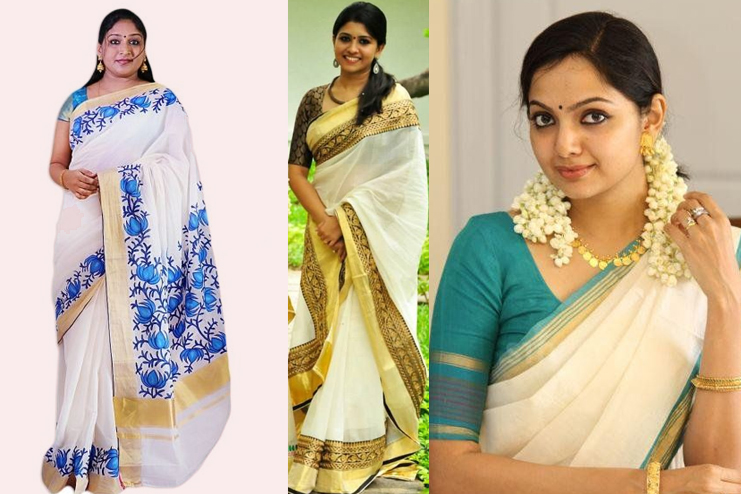 So, if your sari has a tinge of colour in the border, this will be a perfect way to highlight that colour more and make the over all appeal of the saree for festive. The blouse could be kept simple or also be embellished or embroidered. Add a chunky piece of jewelry will make it look really charming and adding just a simple same colour bindi, will pull the entire outfit together.
4. Contrasting Colours-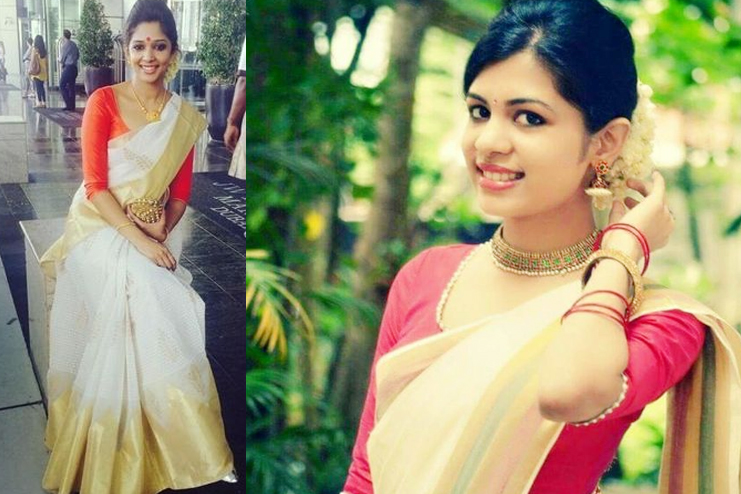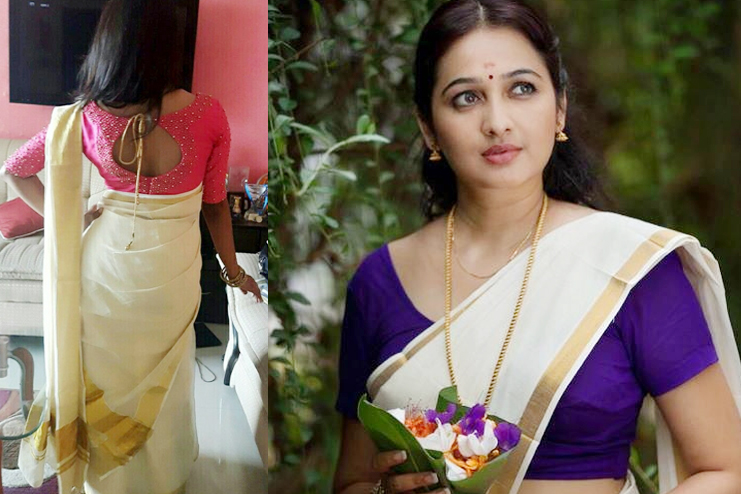 If you have a simple Kasavu sari without any motifs and you want to make it look a little more decked up, just add a blouse of simple contrasting raw silk. This will make the look more fashion forward and it will lift the spirit of the outfit from simple to Edgy.
5. Brocade Grandeur –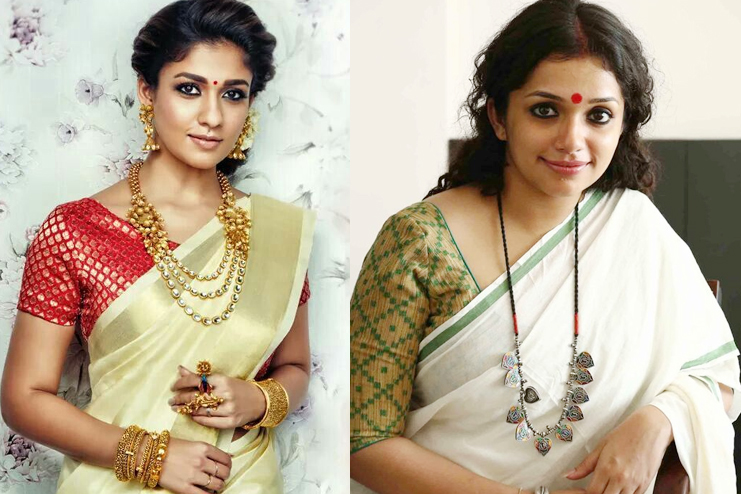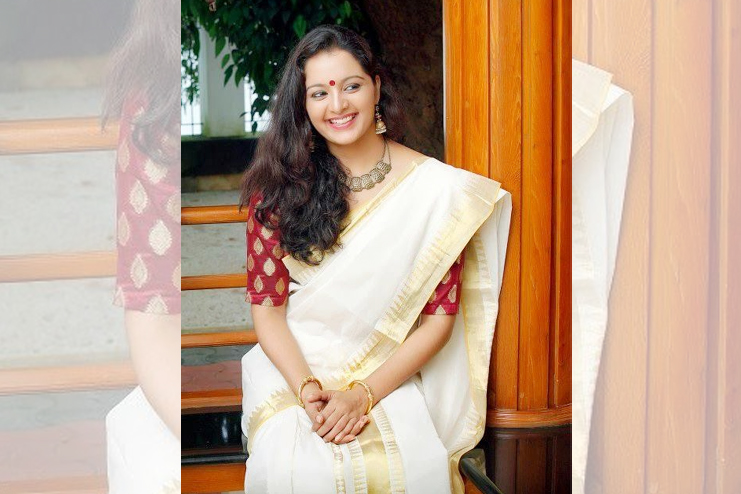 Adding a simple piece of brocade into any outfit will make it look even grander. The fabric looks like a regal, rich festive piece that pairs well extremely well with white and instantly adds a feel of festivals to it. Definitely, opt for a brocade blouse if you plan to host family over. It will be a great way to shine out and look like a complete fashionista.
6. Earthy Vibe with Kalamkari-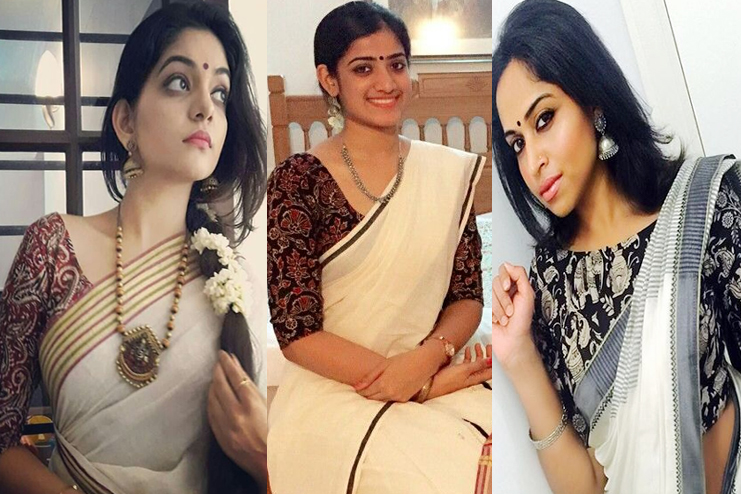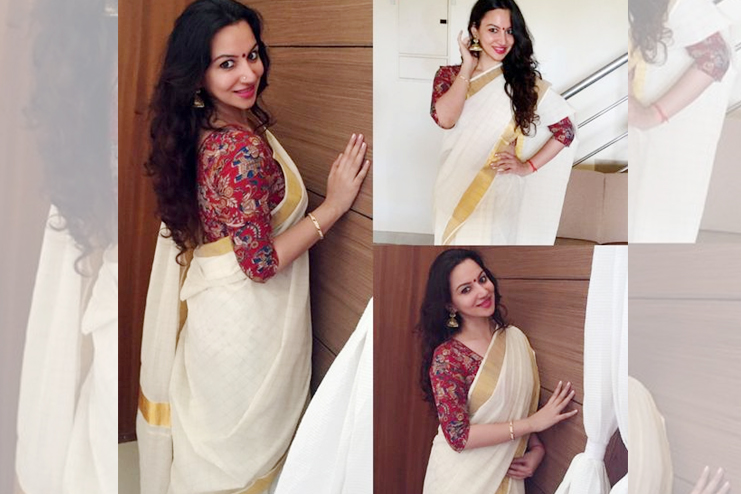 For a more simple function where you want to just breathe and relax but still want to make a statement with your style. Choose this latest trending kalamkari blouse with your favorite Kasavu and it will look like the bohemian mixed with traditional style vibe. This is a highly versatile piece that will go with every kind of Kasavu you have.
7. Embroider to Glory-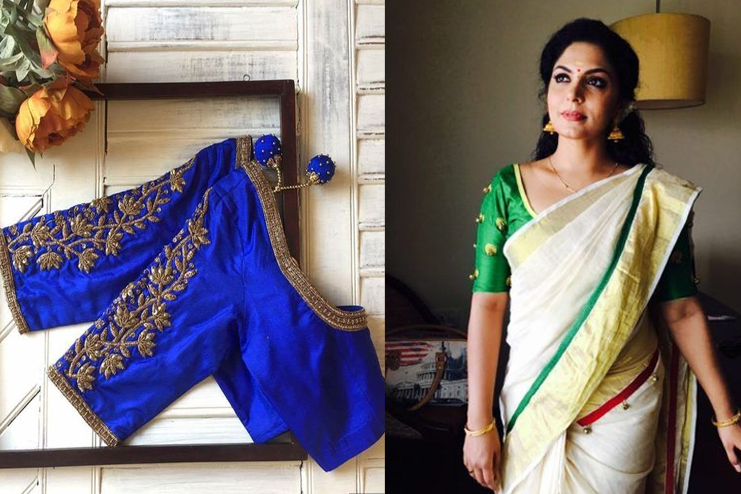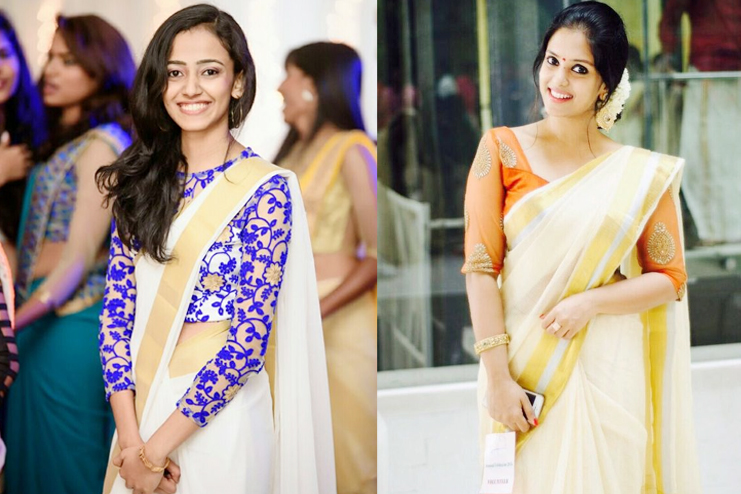 For a heavier function choose to embroider your blouse in either a contrasting colour or the same. This will give your Onam style a look inspired by celebrations. We love how this will be a perfect option for your Onam kasavu and still be very versatile contrasting options for a lot of other sarees. Tip- Use an old embroidered blouse of contrasting color with golden embroidery and pair it with this ethereal saree for a festival meets celebration look.
8. A Hint Of Prints –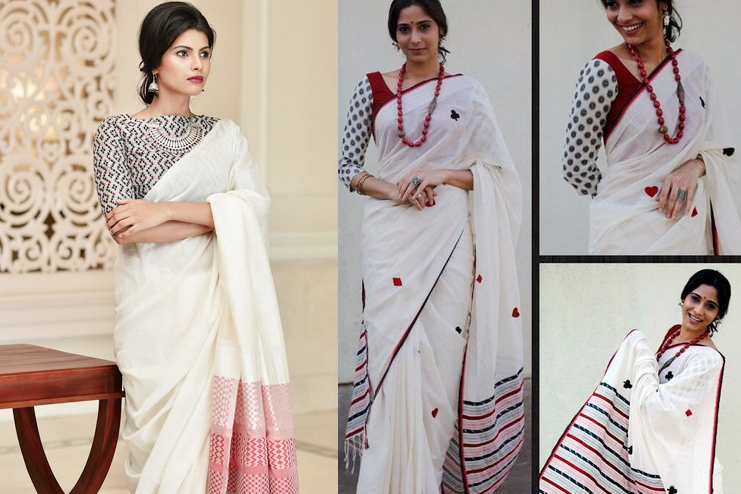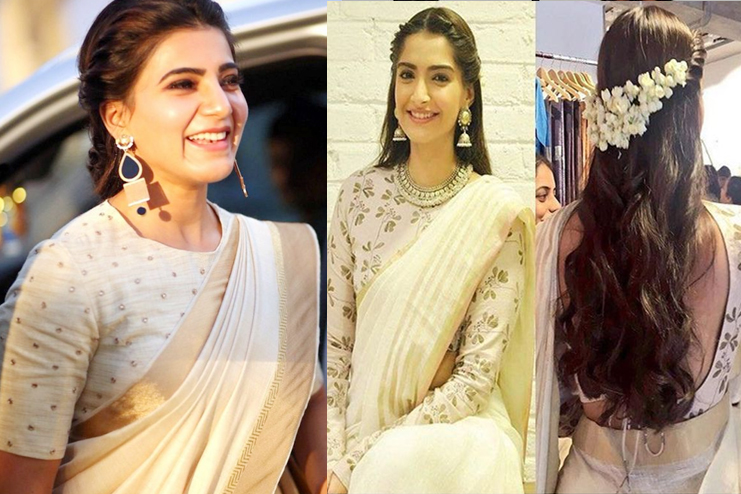 This quirkiest outfit option of all we love how it lifts the mood of the outfit and makes it more fun. The prints take the attention off the simple sari and it makes it more appropriate for the morning. This should be a great option for women who want to add an element of fun to the simple sari and keep the fashion element intact.
9. The Indo-western Twist-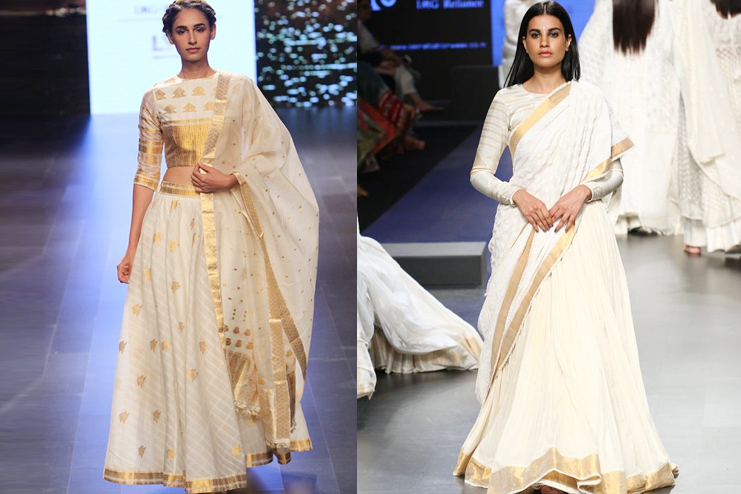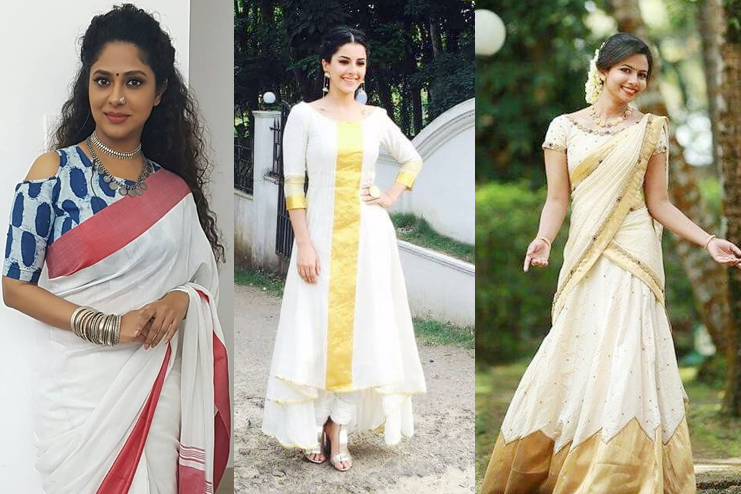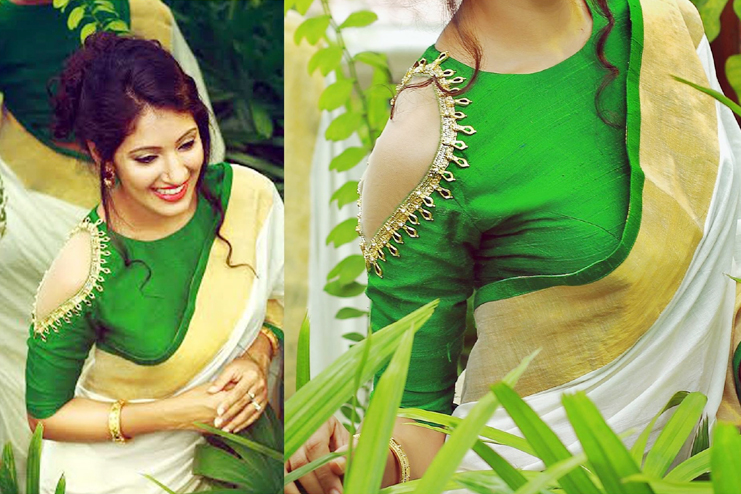 For those who want to wear the traditional Kasavu saree but are bored to wear it similarly every time here is a great twist in the tale to incorporate for a more fun way to dress this Onam. Make your saree into a simple aline kurta with a zari panel, Or a lehenga or wrap it like a half saree. Wear your saree with a cold shoulder blouse and add chunky jewelry to complement the vibe. Make sure you have enough time to thank people for the compliments that are surely going to pour.
To keep your style simple yet edgy choose to pair your pretty Kasavus in the above styles and get hordes of compliments and love. Just don't forget to add a tinge of Flowers in your hair, some ornate jewelry, a pair of Jhumkis and a nice smile to go with your dress, and we are sure you will look amazing. Have a great Onam.