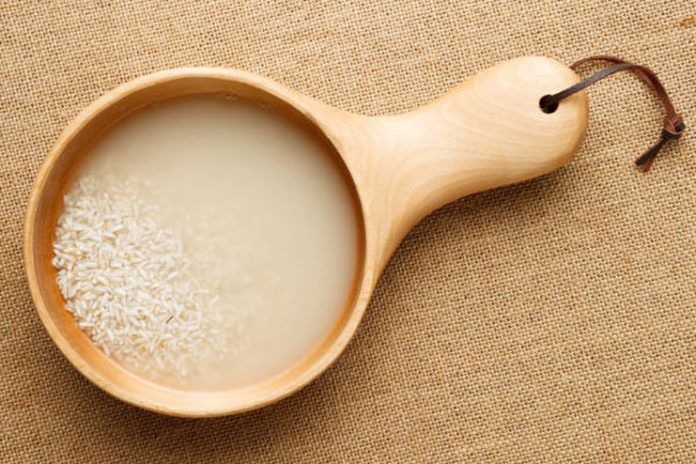 Rice Water Benefits: Japanese women have been known to have the most radiant and youthful skin, all thanks to their age old beauty secrets. One such sensational beauty secret we discovered is Rice water. It is known to give you not just shining hair and youthful skin, but also tightens your pores, reduces sun tan and much more. It is also super easy to make at home and here's all that you need to know about it.
What is Rice Water?
Rice water is basically the water in which rice is either cooked or left over for a while before removing. Optionally it may also be fermented.
This water has all the nutrients from the rice grains dissolved in it. It contains a heavy amount of starch from the fermentation.
This fermentation also results in a few traces of Pitera, a substance known to refine the texture of skin and even skin tone.
Rice water also serves as an abundant source of Antioxidants, Thus, slows down aging. It also contains Various vitamins Like Vit. B C and E and also minerals which help in conditioning your hair.
How to Make Rice Water at Home?
Rice water with its numerous benefits is also extremely easy to make at home. It can also be stored for 4 to 5 days in a refrigerator. Although you should not ideally use it too many times a week. Preferably once or twice a week. It is advised to make rice water fresh every time as much as possible.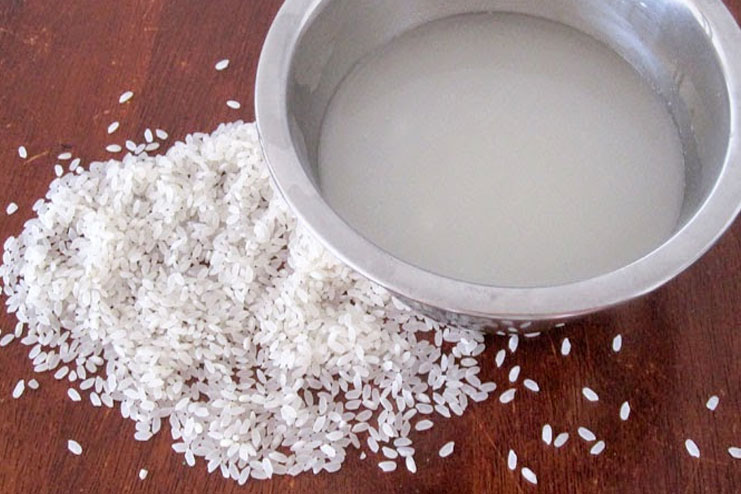 For making Rice water you'll need-
A medium sized container.
Rice (any type or kind will do)
And water.
Firstly Pour the rice into a container and add water.
Knead the rice with your hands to remove any dirt or chemicals on the rice.
Leave this water for 20 seconds and throw it away.
Immerse this rice in the water again and leave it.
Occasionally stir it with a spoon or your hand or you can even knead it, It will turn loudly after this step.
Leave it for at least 30 mins. and keep kneading.
Remove the rice and the water is ready for use.
The Cooked Rice Method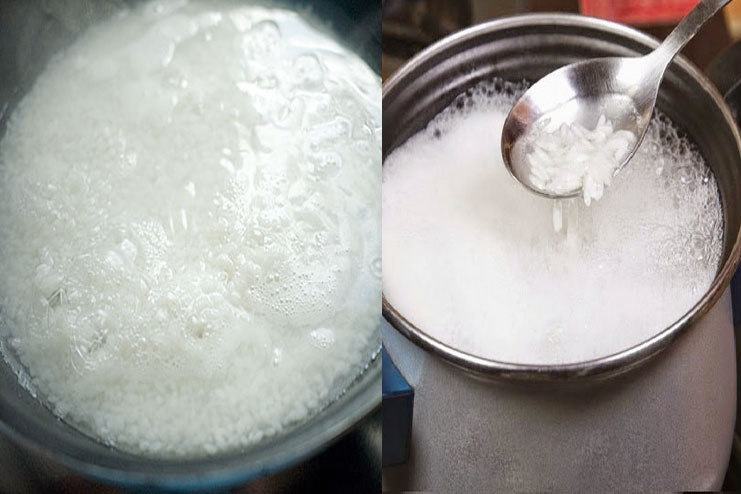 In the Asian cuisine, Rice takes a major part. This cooked rice water is used by Asian women for ages to rinse their hair and use it on their faces as a beauty treatment.
The above method also gives the same result. This method only does it quickly and gives a more concentrated and cloudy mixture.
Repeat the same procedure of washing the rice for 20 seconds.
Put water in rice to a ration of 3:1. That is 3 cups water to 1 cup rice.
Allow it to boil on medium flame.
After the rice is almost cooked.
Strain out the Rice water.
This can be diluted if it is too cloudy and thick.
The Fermented Rice Water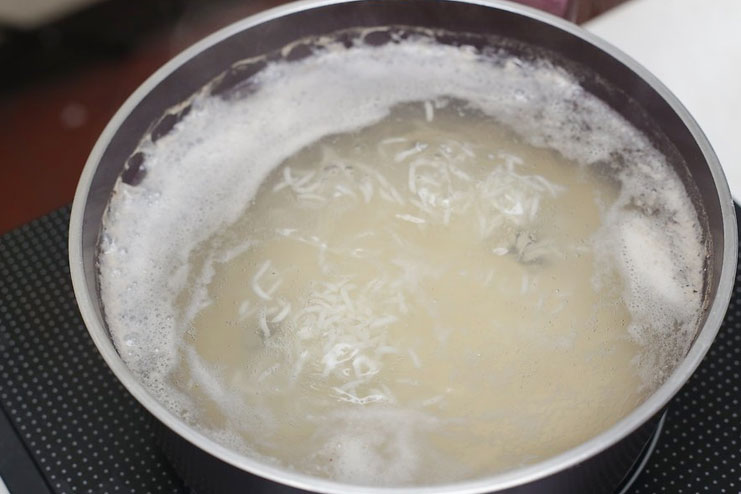 The fermented rice water is known to be of better benefit for hair. The fermentation process lowers the pH of the water and turns it slightly acidic, which is close to the human hair's pH. It improves hair growth substantially.
To make rice water follow these steps-
1. Rinse the rice in water for 30 seconds.
2. Immerse the washed Rice in water in a medium container and add slightly more water than normal.
3. Keep swirling this water regularly till you're satisfied with its cloudy colour.
4. Keep aside this water for 1 to 2 days to ferment at room temperature.
Note- If the weather is cold cover it up with a cloth to encourage fermentation.
5. Remove the rice and the rice water is ready. Unlike the normal rice water, this water can be stored and kept for 3-4 days.
How to Use Rice Water for Skin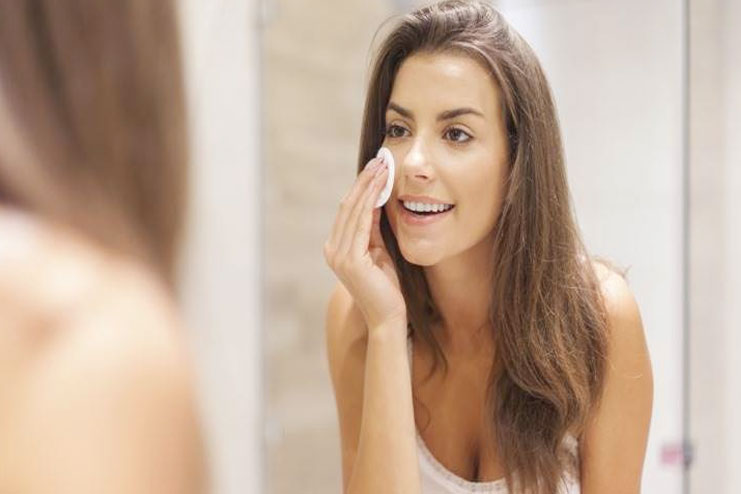 As you know by now Rice water contains a lot of vitamins, minerals, and antioxidants. It is a very good skin medicine. It has multiple applications
Just dip a cotton pad in this water and massage and cleanse your skin as you normally do. Rub it all over your face and let it get absorbed into the skin and dry.
You can also dip a cotton ball into cold rice water and apply an even layer over your face and let it dry a little bit to moist state and then wash it off with plain tap water.
Apply it over sun burns or inflamed skin with a cotton pad and leave it. Repeat this process in every few hours.
For skin irritation or eczema you can soak a small towel in rice water and place it over the affected body part for a 10 to 15 minutes before removing. It will help in recovery and soothe the irritation out.
How to use Rice Water for Hair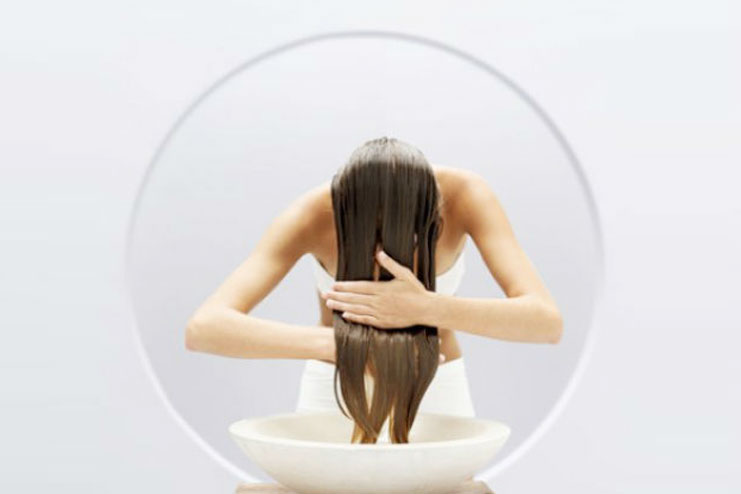 It is preferable that you use a small tub to collect the water while doing this technique as it can be reused several times in the same wash before throwing it.
You can wash your hair with a normal shampoo then pour the rice water over your head and let it seep throughout. Position your head in a way that the water collects in a container tub below. Use this same water and pour it over multiple times. After this step, Rinse your hair and let it dry.
You can also apply a slightly concentrated rice water as a conditioner on your hair and leave it for 5 to 8 minutes before washing it off.
You can also add a few drops of essential oil to it if the smell is a bother.
Benefits of Rice Water
Using this simple but efficient treatment will give you results not just for your skin and hair but also some health benefits. Here are a few merits of using rice water for face and hair.
Benefits of Rice Water for Skin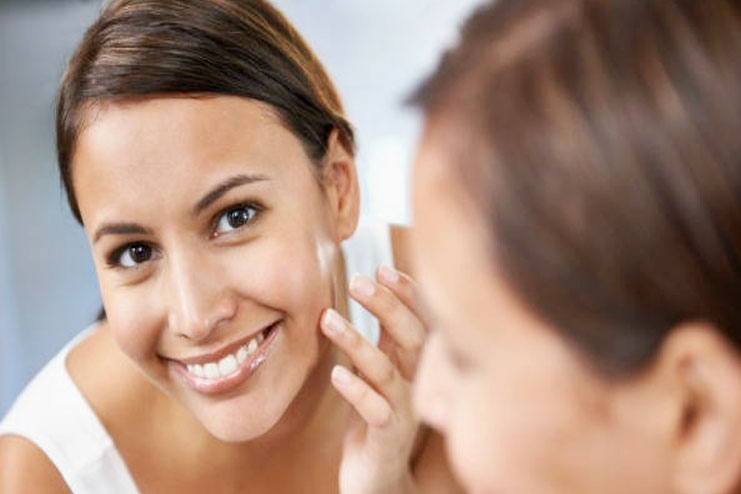 1. Regular usage of rice water will help in reducing the process of aging.
2. It has antioxidants that prevent wrinkles and tighten pores.
3. It will help in having a even skin tone
4. The Pitera formed by fermentation can help is softening of skin. Both face and body.
5. It heals acne and inflamed skin. It also reduces the redness and pore spots.
6. It is a good remedy for Tan burns. It helps in healing any sunburns too.
7. Rice water heals Eczema and dry or itchy skin and it prevents any further damage.
Benefits of Rice Water For Hair
1. Rice water has amino acids that help in hair follicle growth
2. It strengthens the hair and improves growth.
3. It Moisturises the scalp and reduces dandruff
4. Shiny hair is the easiest out come of rice water and it can be seen almost immediately after the first wash.
5. It is an excellent treatment to remove lice as the starch present within kill, not just the lice but also the nits.
6. It is a very efficient hair cleaner as it does not dry out the hair.
7. The hair gains strength and thus leads to reduced hair fall.
Other benefits of rice water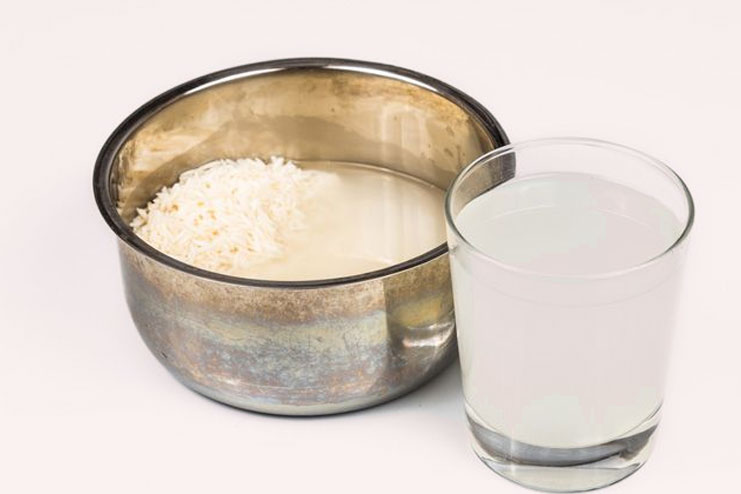 The beauty benefits of rice water are very well known, but the lesser known are its medicinal and health benefits. Here are a few additional Rice water benefits we know might help,
Adding a cup of rice water concentrate to warm bath water can help in any skin dryness or Skin Psoriasis in the long run.
It contains essential amino acids that help regenerate muscles.
You may also drink it as it contains heavy starch, it is thus, a rich source of carbohydrate and hence provides energy.
Regular consumption prevents gastroenteritis or food poisoning.
It cures constipation.
After reading all these health and beauty benefits of Rice water I am sure you'll never be throwing away any excess water after cooking your rice. Even though the fermented water smell takes a little time to get used to, but when you start seeing the positives of its use you'll sure be hooked to this amazing Rice water treatment for life.
By Kalyani