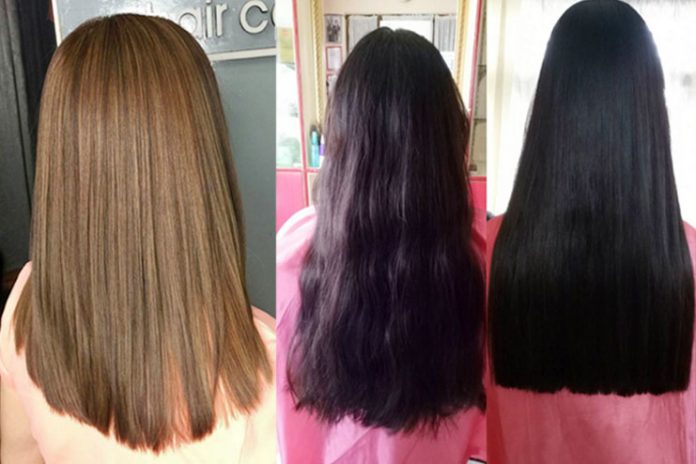 There is something about sleek straight hair that makes us go weak in the knees. And even though we completely adore and love the curly hair women to the core, straight hair remains a dream for every girl right from her teenage. In the years of our mothers, there was just one way you could have straight hair, That was by birth. But, thankfully we are born in an era where you can have almost any hair you want in this world. Want straight hair? Rebonding is your answer. It is a cosmetic procedure that involves chemically rebonding your curls to form straight smooth hair that looks like a waterfall. And even if you have read every bit of rebonding information and have your eyes set on this particular treatment for months now, here are a few lesser known helpful tips that will make your rebonding experience an even better one.
What is Hair rebounding?
Hair bonding is basically a chemical procedure that internally breaks the bonds that make your hair curly and creates a straight bond within the hair, after which the hair strand becomes completely straight permanently. This is a tedious process that involves first chemically breaking the hair bonds then smoothening and later rebonding the hair. This Procedure will completely change the texture of your hair and will turn it into silky smooth goodness.
How is Hair Rebonding Done?
Hair rebonding is a process that takes several hours to completely do it with a perfect finish. It can be divided into three major steps. First being Cream softener step, Then ironing and at last applying the hair neutraliser.  This can be done at home too,  but since it is a chemical process it is best advisable to be done by an expert.
Hair is washed properly with a mild shampoo. The conditioner step is skipped since it will be done at a later point.
Your hair is left to dry naturally, or a hair dryer is used on cold setting. Keep slowly brushing it out and let it completely dry out.
Hair is parted into sections. If hair is thick and voluminous then smaller sections are to be made with no of sections being more, whereas for thin and sparse hair growth larger amount of hair can be taken in a single section.
Cream softener or relaxant is applied to each section properly and thoroughly and the hair is stretched out straight with a comb. Usually, hard foil or plastic board is used to keep each section separate and straight.
Leave it on for 30 minutes. For thick and extremely curly hair, leave it on for 10 mins. Extra otherwise do not keep it for more than 30 mins for wavy or thin hair.
Rinse it off with cold water. You may use normal water but do not use warm or hot water. It can inflict damage on your delicate hair.
Blow dry hair on lowest heat setting and apply keratin lotion generously.
Part hair into the section and flat iron using a ceramic plate ironing device and flatten the hair out completely from base to ends. Do it until it is shiny and extremely smooth. Do not leave any tangles, curls or unruly hair.
Apply neutralizer to your hair in sections and keep them straightened while they are left out for drying up to 30 mins. It will form permanent bonds of the straight hair and keep them straight permanently.
Rinse off the hair and let it dry naturally or by dryer with the cold setting.
Apply a good serum or leave in conditioner and flatten out any more curls if you have left them out earlier.
These hair are left out for 3 days before they can be washed again.
How to take care of rebonded Hair?
After the rebonding is done you already feel like fairy princess and the overwhelming joy of having the perfect haior that yhou desired all your life may distract you from the post-procedure care, But do not make this mistake if you want your hair damage free and want the rebonding to last forever.
First off, do not wash your hair for at least three days after your hair rebonding procedure. Even while washing your face make sure you do not make the roots of your front hair wet. Be careful or use facial wipes for 3 days.
For 3 days after rebonding, do not use a hair tie to tie your hair, Hair clips or hair band as It will permanently make a mark on your hair. Also, do not tuck your hair behind your ears, it will curl up that strand.
While sleeping do not tie hair in a pony, or sleep on it randomly making it unkempt and curly. Make sure you sleep cautiously keeping your hair straight.
Do not use heat tools for a good amount of time. Your hair has already seen a lot do not make them go through another tough test.
Use a wide toothed comb for a few days. Preferably a wooden one. Keep your hair straight by regularly combing it.
Keep your hair away from the sun and other environmental factors like snow, smoke and dust. Use a cover if you are going out. Take an umbrella, a scarf or a hat to protect your hair.
Use a straight hair shampoo. You have straight hair now. Remember? Forget the curly hair shampoos they can be overly heavy for your new hair. So change them.
Always use a conditioner after hair wash. After rebonding of hair, hair can turn very dry if it loses moisture and its natural conditioning. To prevent this, always use a conditioner.
Apply a serum to the ends and length of hair. This will maintain the texture.
Regularly apply hot oil to your scalp and massage gently to improve circulation of blood.
Use natural hair masks like a banana hair mask, Olive oil mask, Egg hair mask etc. to keep your hair healthy and nourished.
Include Ghee and nuts in your diet this will augment better hair health and growth.
How Is Rebonding Harmful?
At the end of the day hair, Rebonding is an artificial and chemical procedure that is hampering the natural structure of your hair. As a result, it can sometimes have undesirable effects due to different reaction of every person's body to the invasive treatment. People who lack proper nourishment in their diet may be more susceptible, Or people who do not care for hair that often. It can lead to following hair problems.
Hair can be chemically damaged. It can happen if the procedure is not carried out well or incorrectly. Also, post procedure care is important or else it can damage your hair no matter what.
Using a straightening iron can be harsh. For achieving a smoother finish sometimes overheating of a hair strand can burn it off, leading to dry and dead hair that eventually loses shine and makes the hair look coarse unruly and dull.
The cream relaxant also weakens the bonds at the roots. This can make your hair weak and make it more susceptible to hair fall.
The growing hair will still naturally grow according to your natural hair texture, this can make the hair a little less polished and people often resort to touching up of the rebonding treatment after six months or a year, depending upon their hair growth, this touching up practice can harm the hair and make it weak and more prone to further damage.
You Might like: Multani Mitti For Hair
 Tips And Tricks.

Make sure you find the right salon and stylist who has a good amount of experience and knows exactly what he is doing. Do not experiment with your hair and make a decision of trying out a new salon without any reviews and experiences.
If you accidentally mess up and wet your hair or find a few strands haywire going curly or sweat makes your perfect sleek hair round and again, don't worry just call your stylist and get it flat ironed and re-neutralised again.
Consult your stylist on the products to use. Use a good rebonding kit and make sure you follow up all the instruction.
Although this process can be done on your home at home the best advice is to get it done from an expert. He knows different hair types and has experience. He will know exactly which product will work for you and how much time to keep each one. Do not try to save money but end up have straight hair front and curly back. Go to a stylist instead.
Post re-bonding your hair make sure you ask your stylist which shampoos and conditioners, serums and sprays to use. Keep them handy and do not forget to take a hair spa every few weeks.
Lastly, keep your hair free of heat styling. After all sleek smooth and straight hair in itself is a statement, Do not try to make it into anything else with heat. Enjoy it till it lasts, and maintain the health of your hair.
So while this seems like a lot of work to do, the only thing that you need to do is drive up to the salon and relax till he gets it all done and when the process is done and you see your beautiful silky hair, In the sheer joyous moment, don't forget to bookmark this page for hair care after re-bonding and superb tips that tell you exactly how to take care of hair re-bonding without any extra effort.
Recommended Articles: