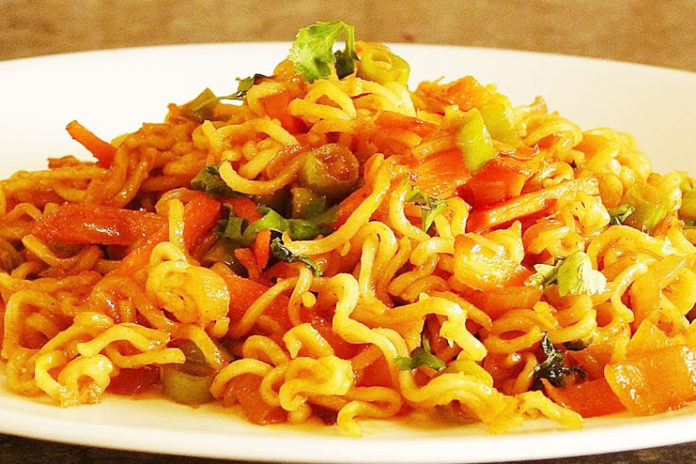 These tasty Noodles is easily made with ready made spices and chopped vegetables. The Quick Masala Noodles has a nice crunch. The sauces impart a pungent tangy flavor. Enjoy this the delightful quick masala noodles.
Preparation Time: 10 min; Cooking Time: 10 min; Servings-3-4
Ingredients
Chinese Chicken Noodle Pack(with the taste maker)
2 medium sized onions
1 big tomato
1/2 tsp ginger-garlic (adrak-lehsun) paste
1 each of whole mixed spices( easily available in the market)
1/2 tsp chili powder
1 tsp mild madras curry powder( easily available in the market)
1/2 capsicum, sliced lengthwise
coriander (dhania) leaves for garnishing
2 tsp oil
water – to cook noodles
1 tbsp tomato ketchup
Salt to taste
Method
1. Heat oil in a non-stick kadhai and add whole spices.
2. When it's well-fried add finely chopped onions till its cooked
3. Add ginger garlic paste and fry till raw smell disappears.
4. Add finely chopped tomatoes and fry
5. Add red chili powder, salt, curry powder, and the seasoning from the noodle packet.
6. Fry till oil separates and add capsicum and fry for 2 min.
7. Add required water and add the noodles.
8. Cover with the lid and cook.
9. Better make it a bit dry without any gravy.
10. Finally, add ketchup and give a good mix.
11. Garnish with coriander leaves and serve it hot.
Also, Read Fried Ramen Noodles and Eggs Recipe