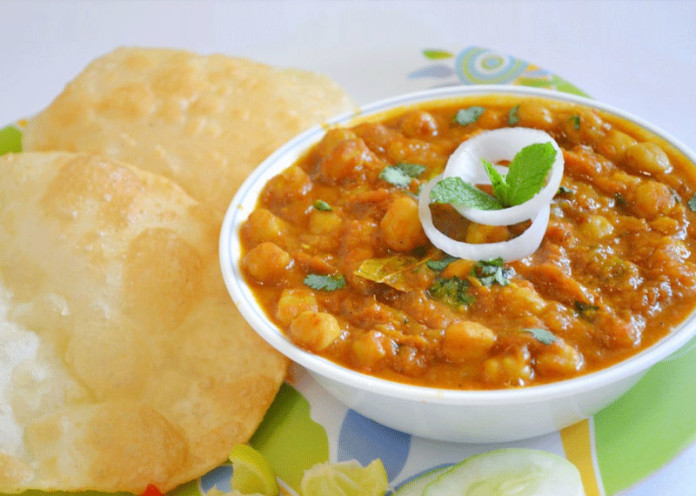 Kabuli Channa or white Channa are the most famous kinds of Channas that are used for making Chole recipe. Spicy, tangy and made with lots of love for food and the person you are making, can go a long way when it comes to food. Making the Punjabi way is very easy and it makes the dish better than you think! Here we are to give you the Punjabi Chole masala recipe from the scratch. Adapting the taste from the dhabas of Amritsar, you are going to blow your husband's mind with tasty chole and hot bhature!
Preparation
Soaking time: 8 hours / The better method is – overnight
Preparation time: 20 minutes
Cooking time: 45 minutes
Cuisine: Punjabi, Indian
To dry roast and grind into powder
Bay leaves – 3
Black cardamom – 1
Cloves – 4-5
Cinnamon stick – ¼ inch piece
Black peppercorns – ½ teaspoon
To grind into paste
Onion – Roughly chop one or two onions
Tomato – About 3 or suiting the taste
Green chili – 2
Ginger – ½ inch piece, chopped
Garlic – 2 cloves, sliced
For curry
Have a cup of Dry chickpeas or kabuli chana or chole
Oil –3 tablespoons
Cumin seeds – ½ teaspoon
Salt – to taste
Red chili powder – 3 teaspoons
Coriander powder – 2 teaspoon
Turmeric powder – ¼ teaspoon
Anardana powder (dried pomegranate seeds powder) – 1 teaspoon
Water – 2 ¼ cups
Amchur powder (dried mango powder) – ½ teaspoon
Cilantro or coriander leaves – 2 tablespoons, finely chopped
How To Make Chole
Clearly wash the Channa in cold water until the water is plain and clean.
It is better to soak the Channa in the water overnight or simply for 8-10 hours! It is apparent that they will double up once you soak it in water. After this, keep it in the cooker for 4-5 whistles or according to your need.
Start-off with the dry, spicy powder. Add a little oil and fry bay leaves, black cardamom, cloves, peppers and cinnamon stick in a small pan.
You will smell the aroma of the spices. Now slowly medium roast it.
Take to the grinder once it cools. It helps if you use a smaller grinder since the particles are small and may not be too powerful on the big grinder.
Make fine powder out of it. Keep it aside.
Chop the onions, tomato, ginger, garlic and green chili.
Grind it in your grinder and make a smooth paste. You may retain the paste in the grinder itself.
Let the paste cool for a while. Now add some oil in the tava and leave it for a minute.
Add the paste and now add red chili powder, turmeric powder, coriander powder, anardana powder and prepared spice powder. It is better to cook it for a while till the oil oozes out.
After all this add your Channa that is now cooked and mix it well with the mixture.
Add a little of water and cover it with the lid. After it's done, stir with spatula and check if the channa is cooked well and mixed with the spices. Test taste the gravy and check for salt, spice, etc. It is better that the gravy is not too thin and watery. It is better to keep it a little thick.
Add amchur powder towards the end and mix finally.
Serve it hot with Bhatures and make sure to cut onions and slices of lemon for taste. Add coriander while serving for the smell.
-Pavithra Ravi