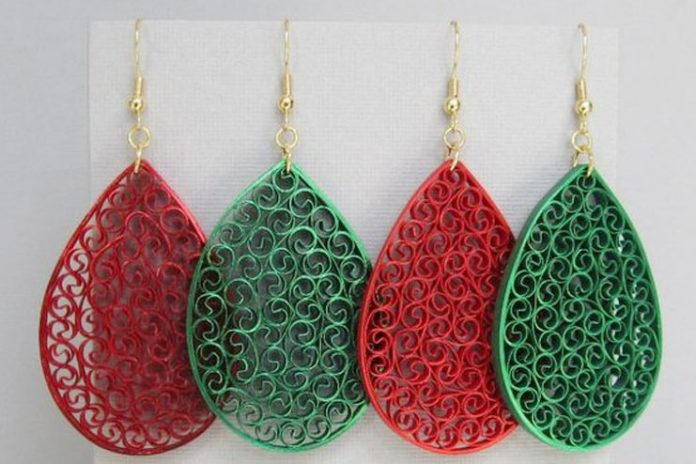 The newest trends in imitation and fashion jewellery these days is so cute you will not be able to take your eyes off it. The beautiful Paper quilled beehive earrings are so intricate that it looks almost impossible to replicate it at home. But we are here with a very simple way to teach you how to make quilled beehive earring at home. With minimal supplies and an infinite number of combinations and designs, this art will keep super hooked in the making process and also keep you looking very fashion forward at the same time. Here is a simple tutorial to teach you how to make these simple paper quilling earrings at home.
What Will You Need?
Paper Quilling Strips.
Paper Quilling Tool.
Glue.
Earring Hooks
Metal Rings
Paper and Pen
How to Make Paper Quilling Earrings-
• Take a pen and paper sheet and draw a design about how you want your earring to look. You may use some designs taken off from the internet or create something of your own.
• Mark all the comprising members of the design that you want to make separately. For example in a design like this.You have to first make the two pink large circles of different diameters. These are the members of the earring frame.
Also, Read Stylish Jumpsuit Designs For Kids They Would Love Wearing
• Now take a strip of 5mm (or small if you wish) paper strip and start quilling paper to make two identical circles of same diameters. We have to make circles which are of two sizes. Take the diameters in the ratio 1:3 for better beehive effect.
• Now arrange the frame and use glue to hold it in place.
• Take another paper quilling strip and use a quilling tool to make a continuous scroll from that strip.
• Arrange it to fill up all the empty space between your earring frame. You may use just one colour or split up single scrolls and paste it together.
• Take a small metal ring and insert it in your earring design at the point where you want it suspended.
• Attach your earring hook on the metal ring and your earring is ready. Make sure to not press the earring so hard that it will deform in shape. Keep both the earrings identical.
• Here is a great and simple video to explain the process even better.
Pair these beautiful beehive quilled earrings with almost any type of dresses. Be it Indian ethnic, Trendy casuals or business smart. You can just make it really suit the colour and design according to your taste and choice of drama. This is the most simple way to make the jewellery design of your choice and yet spend less than 50 rupees. Do give this DIY a try and wear your own creation with pride and joy.