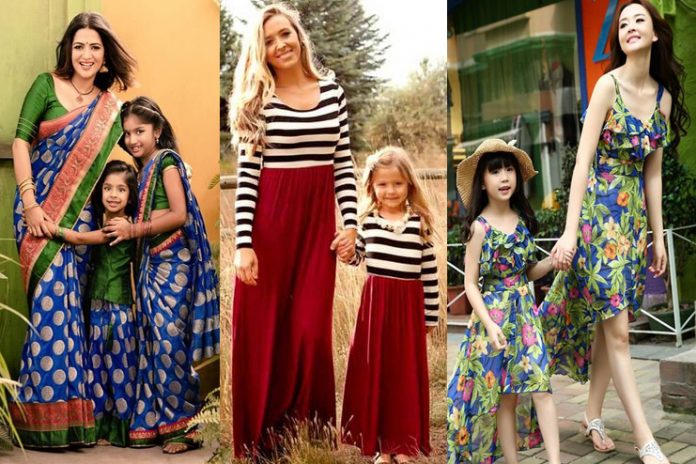 When fashion has taken a twist towards more and more incredible things each day, why leave behind the lovely mom and daughter style and fashion duo which has been lately trending. Yes, the mom and daughter matching dresses have completely taken over the fashion market.
A daughter always wants to be like her mum, and nonetheless, be a version of her. Wants to style up like her, dress up like her and talk, walk or even act like her. No she does not want to be a copycat but a reflection of you. There was a time when the market was all about the sibling dress and style fashion trending all over. But the new gen says it clear that age difference doesn't matter, trying to gap between the eternal relationship of a mom and daughter. The mom and daughter matching outfits are completely in trend.
How many of us have seen the kids clothing and wondered how ridiculously cute they are and wont they come in our size? Well thanks to the trending mom daughter matching clothes, the dream has come true. We have seen celebrities with this approach too, trying to team up and flaunt with their kids. This article unfolds the mystery of the amazing trend and choices of mother daughter matching clothes in India and why you must buy them. Be it a traditional outfit or a trendy party dress, wouldn't it be lovely to flaunt it with your adorable daughter?
1. A lehenga and skirt patter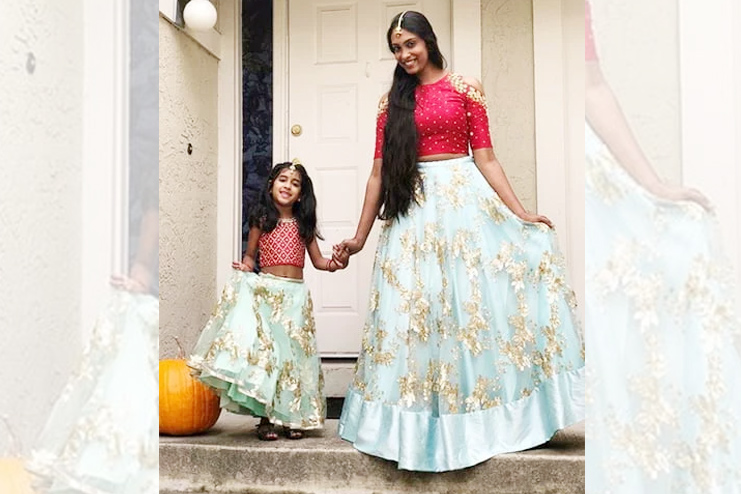 How adorable when you see a mother and daughter twinning completely? Take a look at this picture where you see a mother daughter wearing similar blouse and lehenga and flaunting their coordinated mother daughter dress. It does not necessarily have to be inch by inch same. But the trend only says to team up which you can see in the picture.
2. The patterned combo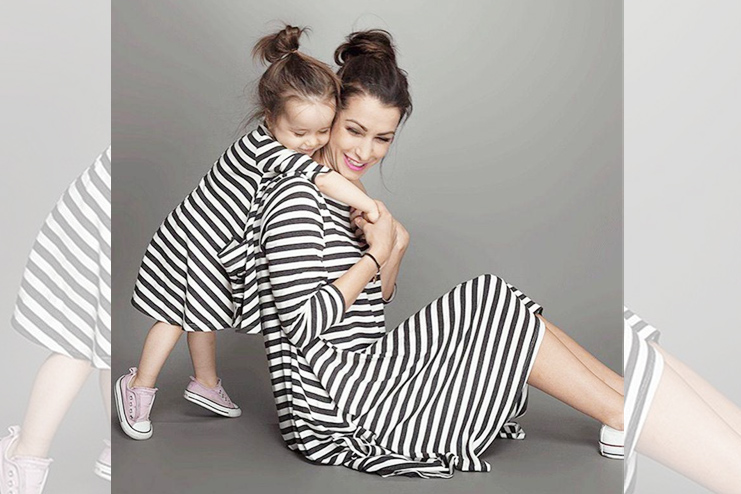 How about another adorable one where a mother and daughter simply wear dresses with stripes and a sneakers to team it up with. Both you and your little one could be in their comfort zone of wearing completely soft and comfy clothing while also giving a serious mom daughter matching clothes trend goals to the others. Consider the hairdo as well- a simple pony tail or tied up bun for both makes it look overall complete and same.
3. Tennu suit karda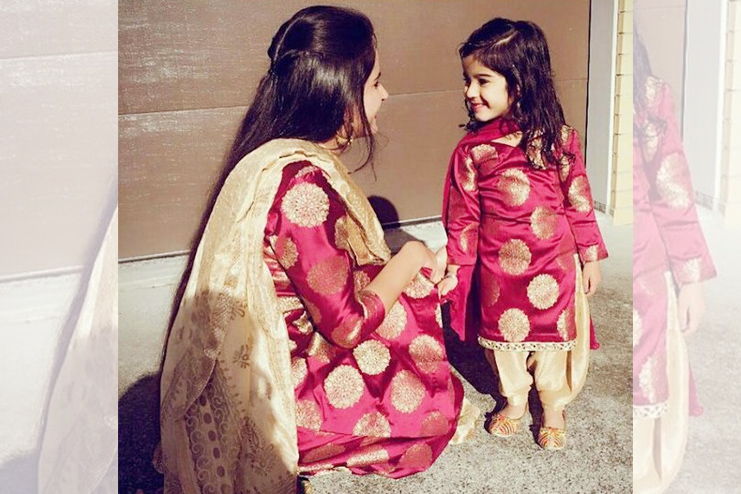 That's right, you can simply get a cloth piece and stitch yourself a Patiala or a suit with dupatta and with the remaining cloth, tailor make a comfortable one for your daughter too. How cute both the mother and the daughter look in the vibrant maroon and golden combination Indian wear! Wear a jooti along with similar hairstyle and earrings would just make you both look picture perfect.
4. Combine the combo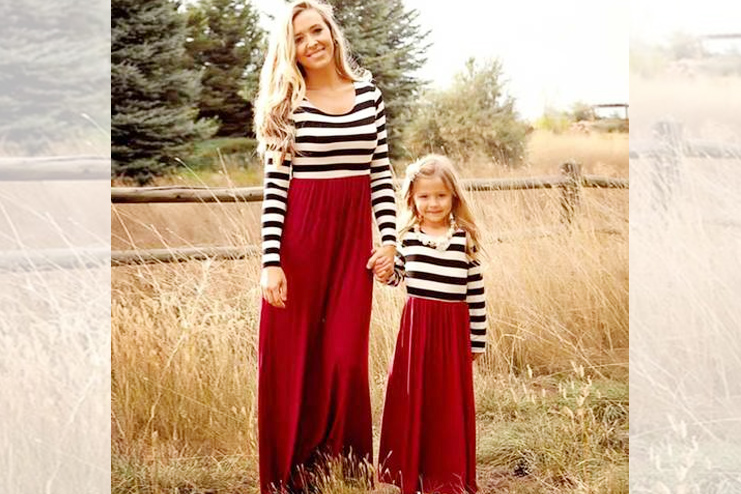 A lot of stores today sell such trendy coordinating mother daughter dresses. But if you look at them, they are simply the easiest combination of the things available for both mother and daughter. If you have a striped t-shirt, all you need to do is to pair it up with the right bottoms which match, isn't it? Take a look at this mom daughter picture with a maroon skirt and striped t-shirt. The lovely two take the mom and daughter matching dresses trend to the next level effortlessly.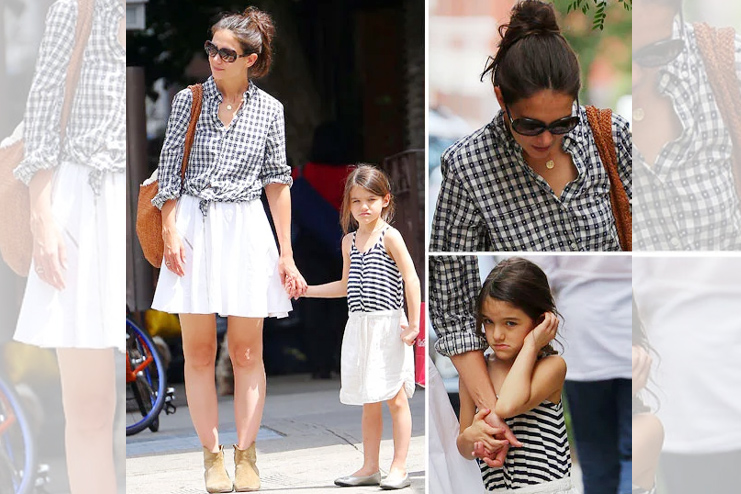 Similar to what Katie Holmes did too with her cute little daughter and had all the media and fans eyes following her through the crowd.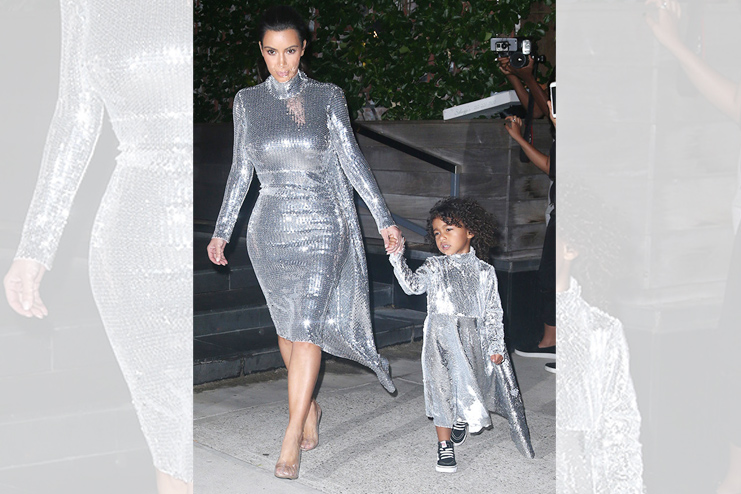 Watch out the all-time trendy and fashionable Kim Kardashian teaming up with her cute daughter for an event.
5. It is never too old to twin with mother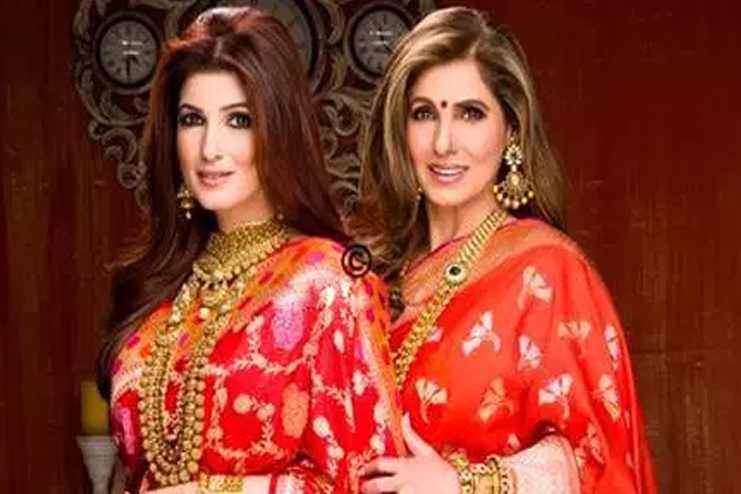 Dimple Kapadia with daughter Twinkle Khanna look spectacular in the beautiful saris and jewelry they are decked up in. The mom and daughter matching dresses trend is not just for the young daughters but also for the grown-ups where you can only awe at them when you look.
6. The family T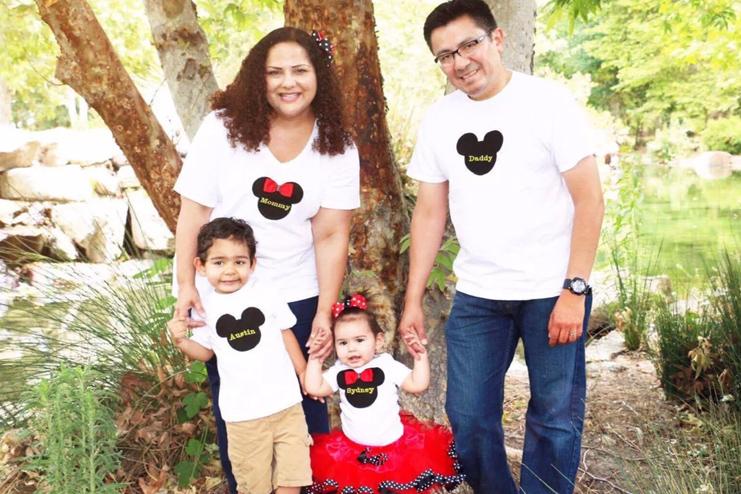 Why restrict the fashion to daughters only? If you are off on a holiday or a picnic or any outing, bring on the trend to team up with the whole family. T-shirts today are available in various sizes which are usually unisexual too. The whole family gets to click a lot of perfect portraits while they also enjoy the day together.
7. The glamour match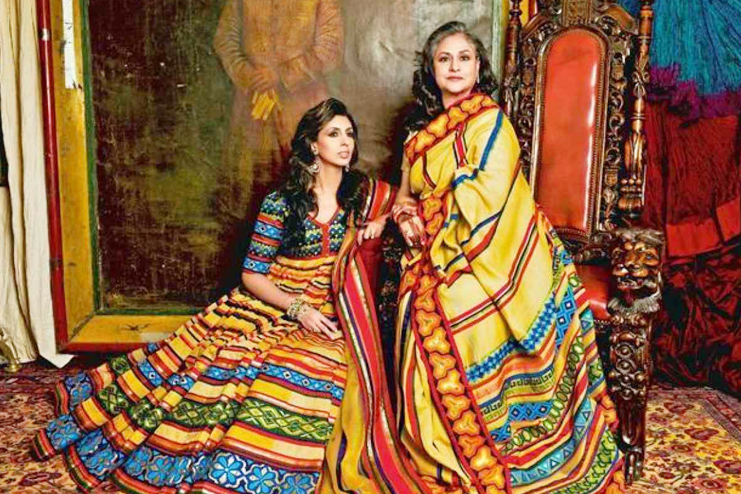 Check out the Bollywood divas Shweta Bacchan and Jaya Bacchan flaunting the trendy Indian dresses and look while the mother wears a sari and the daughter wears a floor length dress. The mesmerizing mother daughter matching clothes gives the other mothers a big time goal to achieve.
8. Indian Sari for mom daughter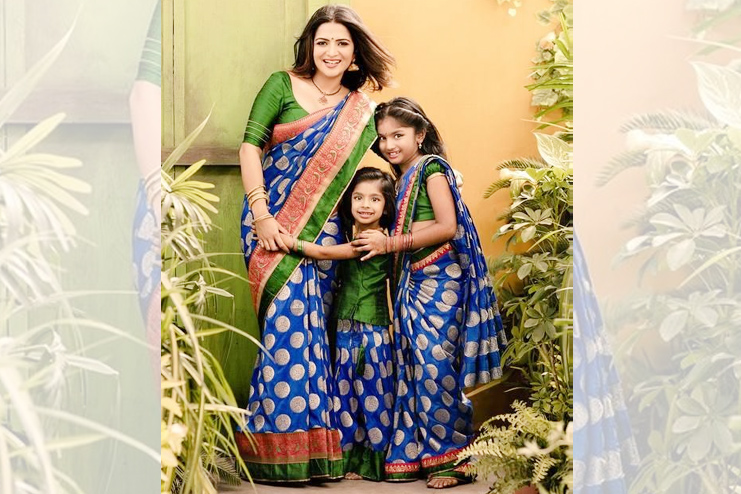 You love saris and want your girls to try them out? Take a look at the above picture and all you see is beauty and love. The mother draped a blue silk sari same as the elder daughter whereas the youngest one wears a lehenga of the same sari fabric with a long blouse to stay comfortable.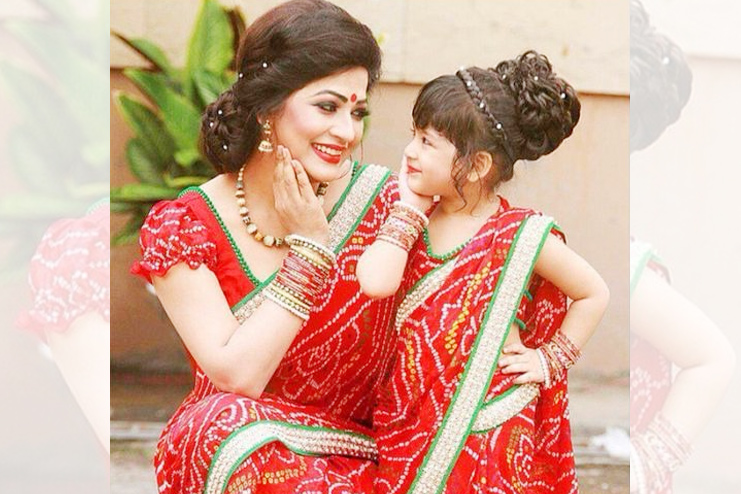 Another picture in Indian traditional wear, where the mom and daughter in the same sari and hairdo who look amazingly cute together.
9. Say yes to dress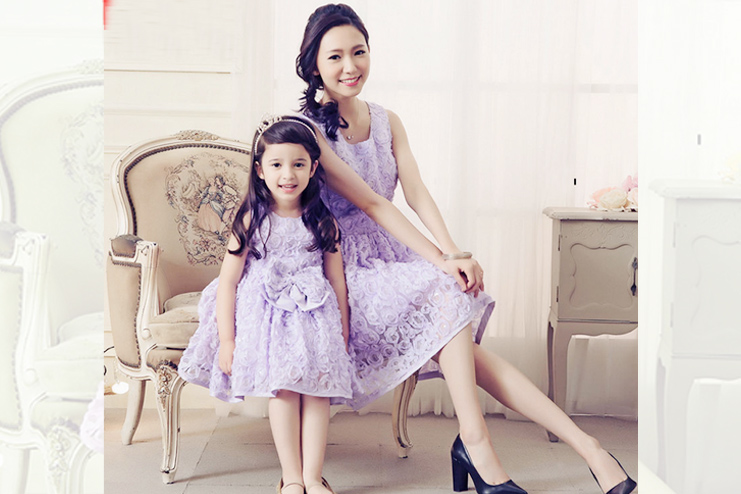 Be it a simple outing or a party, it's time to say yes to dress. No wonder your baby does look cute, but you could add a tinge of cuteness to it by pairing your dress with hers.
10. Match it at night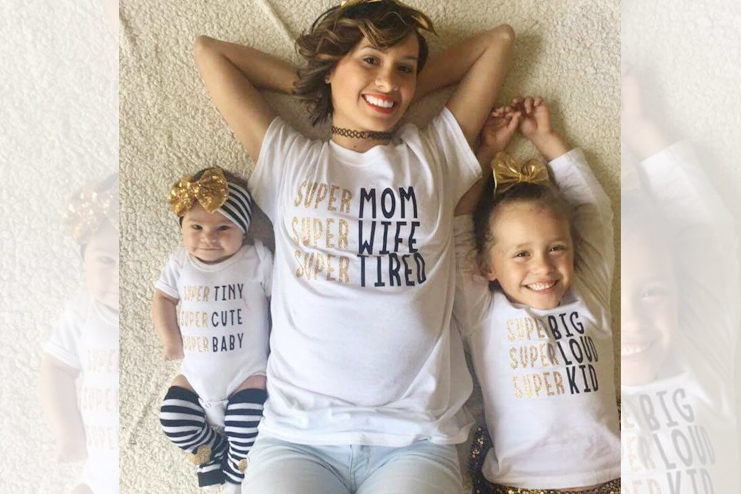 The most comfortable and much worn dress is usually the night dress. Your kids would love to pair up the night dress with you as they feel as one and rejoice the time at home.
11. Be the beach waves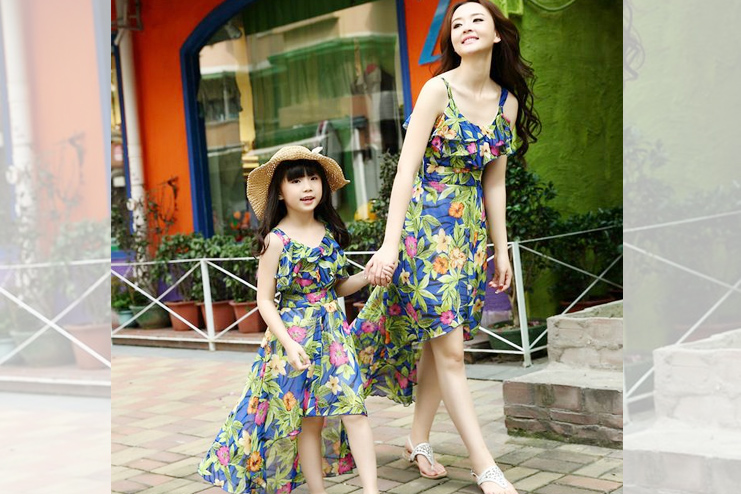 Enjoy sand and sun with salty water this summer with your girls wearing a beach flowery wear. They look great both on kids and elders. Mom and daughter matching dresses does not look to be going out of fashion at least for this decade.
Read more on: