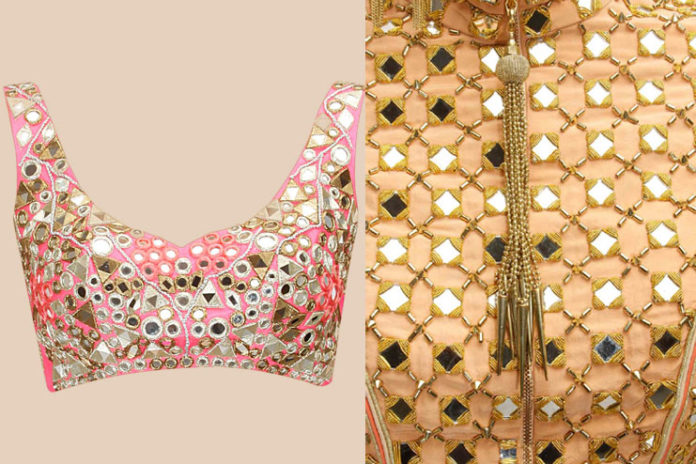 The new trending mirror work blouses are everything a simple drab plain saree needs, to achieve that instant glam makeover. They look glitzy and glamorous, and we love how easily they make the most simple traditional clothing into classy party wear with ease. These blouses have made quite a stir, and everyone wants to have this as a staple blouse in their wardrobe. We have made a guide to choosing the best of Latest Mirror work blouse designs and how to pair them with the best saree.
1. Front Mirror work Blouse-
This pattern of the mirror work blouses is the most subtle way to include this jazzy mirror work theme to your wardrobe without looking too loud and over dressed. This pattern can be incorporated by either having some mirror work done around the neck or having a beautiful embroidery or yoke pattern on the neck. Adding a smaller standing collar can give it an ornate elegance and an illusion of wearing a Rani Haar.
2. Mirror sleeved blouse-
Adding mirror work to your saree blouse will add a glamour quotient to a simple blouse and make it look like a million bucks. You can pair this with beautiful traditional silk sarees to give it that extra special look and it will be best suitable for festive occasions. This pattern will look absolutely gorgeous with Bridal designer blouses having mirror work.
3. Mirror with net-
The blouses with a net back or front neck are the favorite trends this season and pair it with the mirror work glamour and you have yourself the winner of all hearts. This blouse looks elegance personified and you can literally forget wearing jewelry with it as it will just steal the show.
4. Full mirror work body-
For your friends wedding, you want a blouse to look absolutely glamorous and the saree to look really perky and youthful. Well, pair it up with this saree and you will love all the attention. This blouse can have varied amount of mirror work over it according to your taste. This blouse is best suited for Net sarees and Sheer fabric through which this blouse can twinkle and shine.
5. Mirrored back-
For sarees with a lot of print, opt for this mirror work Blouse pattern with a subtle back mirror work design in a solid silk fabric to keep the wow factor and tone down the prints. This blouse will look almost absolutely great on silk sarees and sarees with Kundan and mirror borders.
For more such designs we found a video with ample inspiration.
6. Neon mirror work blouse-
This blouse we have seen celebrities wear and trend for the longest period of time. This is a breath taking a piece and such beautiful neon color complement the shine of that mirror work. This can be paired really nicely with sarees which are or subtle pastel shades and of chiffon and other flowy fabric.
7. Brocade silk with mirror-
This is a stylish take on the age old traditional brocade blouses. They look very classy and are fun to pair with almost all types of sarees. This Mirror work Blouse pattern will work best with silk and handloom sarees.
8. Cold Shoulder-
The most fun type of blouse and our Favorite is definitely this cold shoulder mirror work blouse which has all the sophistication and quirk to it a well it is just classy enough for every party. Pair it up with either a lehenga or a saree and you will love the compliments you are sure going to get.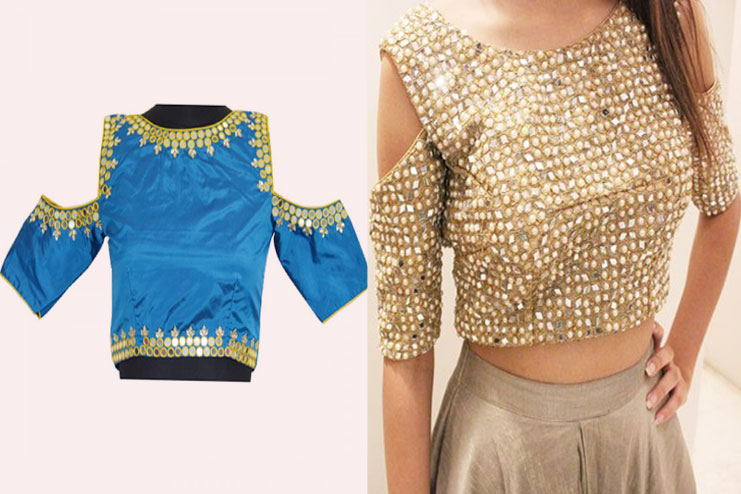 Tips-
Always wash your Mirror work Blouse inside out and with mild soap and cold water. Do not wash in the machine, only hand wash it.
Mirror work tends to be itchy around the neck the sleeves always try blouse on before buying.
These blouses tend to reflect light and take pictures might be tricky, to avoid that stand in the diffused light and shut the flash off in the camera settings.