These modern day trendy neck designs for the Kurti are a great addition to your fusion outfit which also looks super stylish and yet flaunts a very ethnic hint of charm. The different necklines in the Kurtis do look great on not only with traditional salwar but as well as churidars and are also fun to pair with peppy leggings and sometimes even jeans.
These classy, as well as fashionable Kurtis, can be worn around the clock through nine to five daily basis to get dressy evenings. There are many kinds of design options from which you can choose easily from, depending upon the taste and body type. Kurtis can offer a fun tweak to a traditional Salwar Kurtas which you can carry off easily without looking boring. The colors, prints, silhouette patterns, etc. All rev up to this smart attire, giving an entire attitude that deserves.
As an Indian, we love to wear different styles of trendy Kurti designs. From long Kurti to short Kurti, or from long sleeves to short sleeves, we desire many different designs and buy them. Sometimes we even long for Kurtis by famous designers, that have latest Kurti design or Kurti patterns. So here, are some latest Kurti design 2017 that looks like a new style Kurti and can give you a beautiful as well as gorgeous look.
Trendy Kurti Design
Here are some trendy Kurtis designs that you must know about and wear them to look beautiful:
1. Angrakha Style Bright Yellow Kurti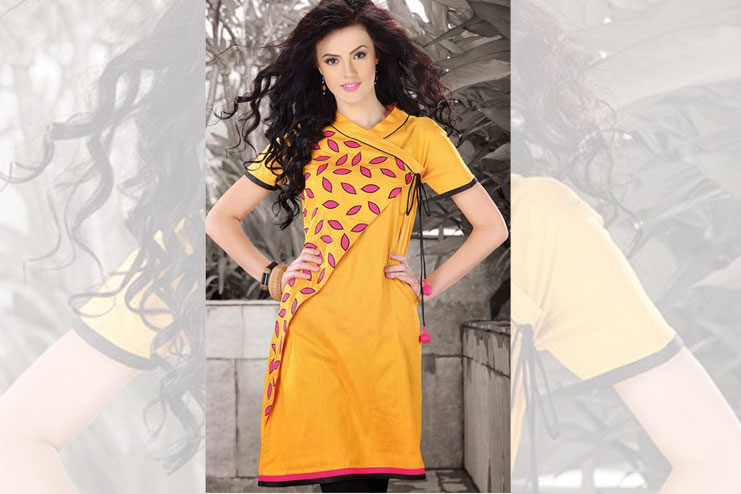 This amazing and beautiful angarkha style bright yellow kurti, is styled with a mix of fabrics and colors. You can even see a flat collar impact around the neckline which is then emphasized by the detailed black piping which surrounds the neck. The look is very fancy with a contrast of the pink as well as a black embellishment that can spell magic. Try to keep your makeup low and wear fewer accessories like matching earrings or even one or two bangles in one hand is enough.
2. Casual Maxi Kurti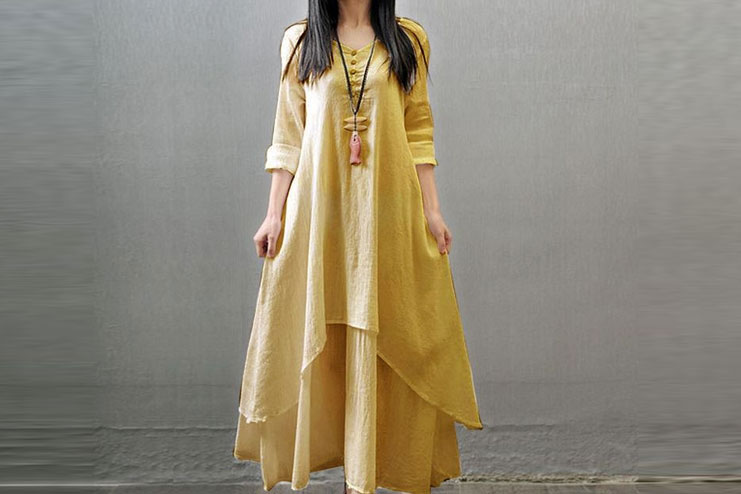 Well, casual maxi kurta's are very common to see, especially when in summer because of its heavy material and is also full sleeves. You can wear this type of Kurti's with contrasting colors like black for this one. This maxi Kurtis are also available in many different colors as well as shapes. You can even get the one with neck designs. Makeup must be less, and not too voluminous can even wear accessories but try to be subtle, like Kolhapuri shoes with fancy necklaces as well as earrings.
3. Women Mustard Solid A-Line Kurta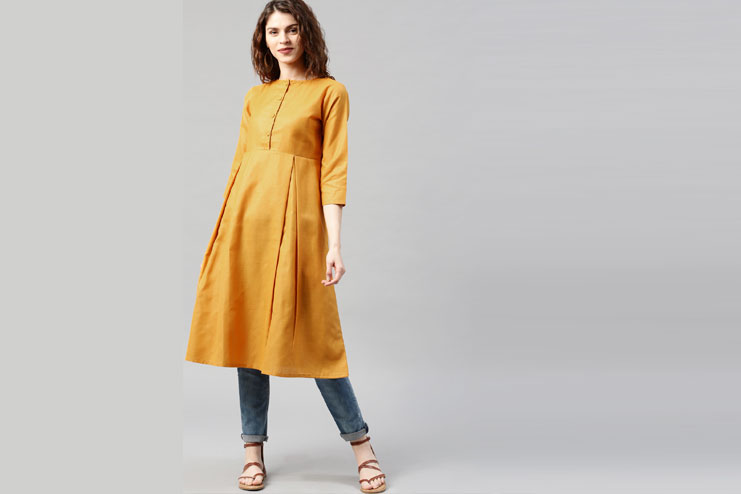 This amazing Kurti design is the latest Kurti designs for girls that can be worn with jeans. You can wear this Kurti even at your workplace. It is exquisite, authentic, and simple that looks beautiful on you. You can wear this Kurti with accessories like simple strap shoes, a simple stone bracelet, and simple makeup. You can leave your hair open and frizzy just to add more style to it. This Kurti is the must have in your wardrobe.
4. Black And White Latest Kurti Design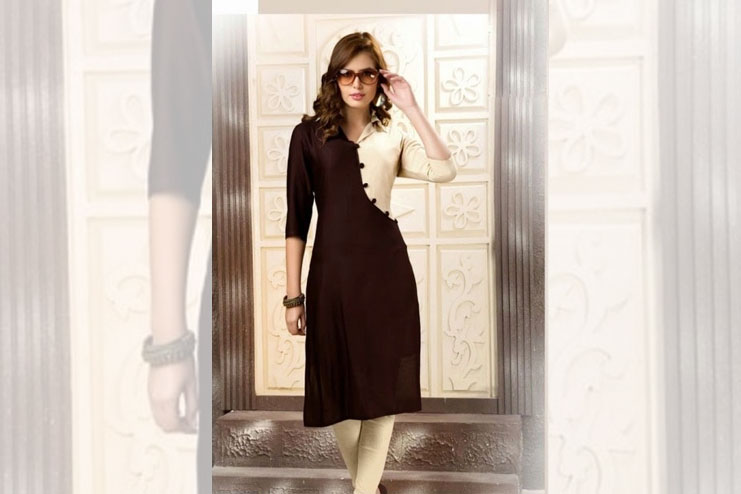 This another beautiful monochromatic black and white Kurti have the latest neck design that can make you look stylish. An office wearable this one can be worn with accessories like simple yet stylish and fancy bangles, with sunglasses, and heels. Try to do makeup that is less voluminous and more elegant.
5. Simple Cotton Kurti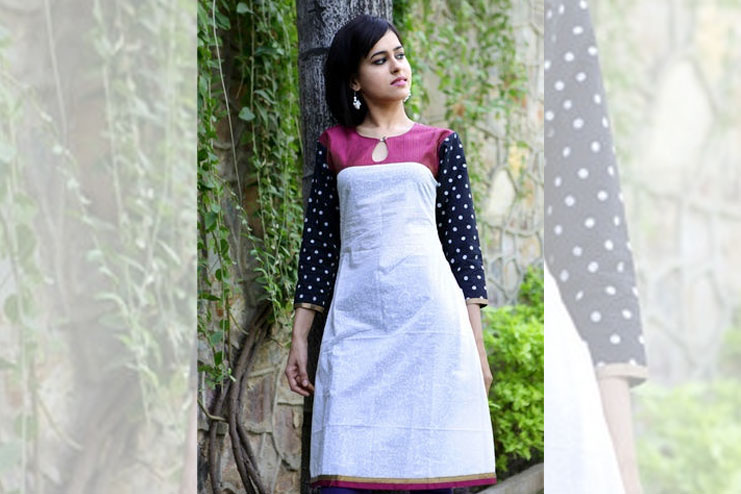 As you can see from the image, this Kurti is quite very simple in design and have a very attractive quality. You definitely do not want to miss on this one. You can wear them with leggings or even jeans. It's beautiful polka-dot half sleeves give it a major fashion goal with the golden hemline. This Kurti even has a different neck design. You can wear this Kurti with stylish and funky earrings, fewer accessories and less makeup.
6. Designer Indo-Western Salwar Kurti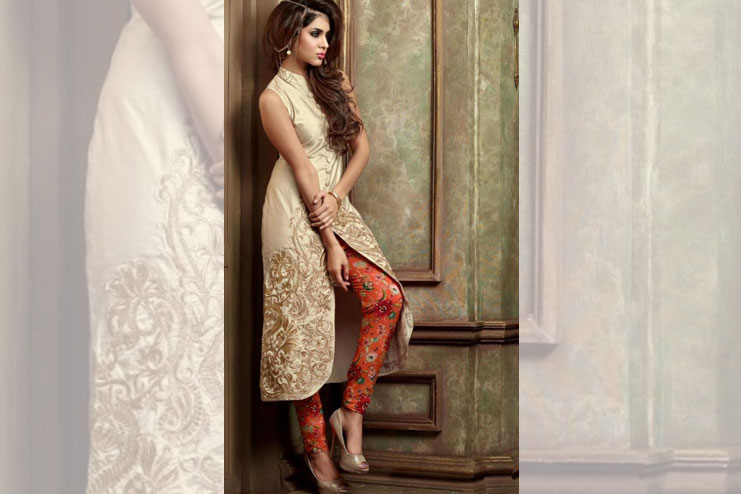 This beautiful Indi-Western salwar kurti is the must for any occasion. It is elegant, beautiful as well as designer. You can even wear voluminous makeup, with accessories. But, try to keep the accessories a little down and not too heavy. A simple gold bracelet and earrings with a headband are enough to cover up the whole look. You can even make a stylish and different hair part.
7. Angrakha Kurti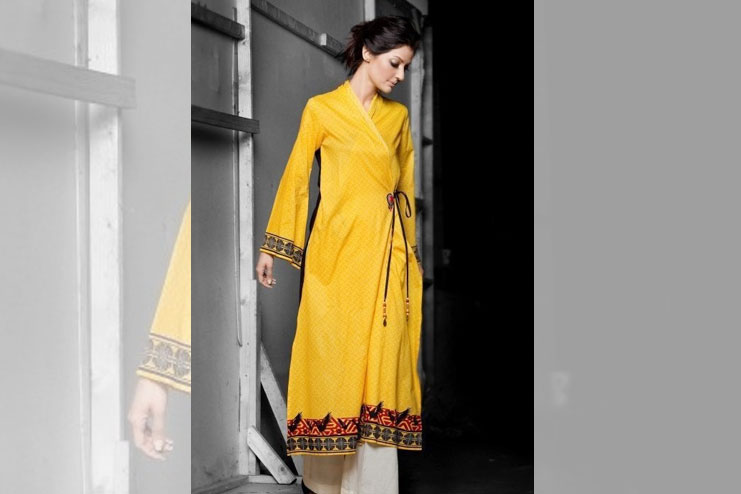 This one is another angarkha Kurti with a lot of different style and design. As you can see, this Kurti has black and red border designed work and black thread design on the sleeves. You can wear this special Kurti even with a palazzo. Can even be worn in the office or to any art show. You can wear this with sandals, light and subtle makeup, and very less makeup.
8. Latest Designer Kurti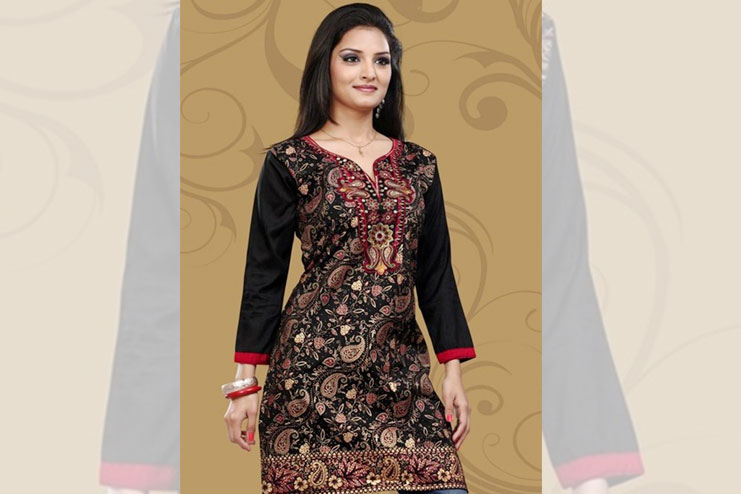 This amazing full sleeve black Kurti is another must have for your wardrobe. It has this amazing golden designs all over the body and plain sleeves which give it a more uncommon look than ever. You can wear accessories but try to be easy and light like a simple pendant with one or two bangles and an earring. Makeup must be subtle as well as elegant. You can even wear this Kurti with your favorite jeans or even leggings.
9. Designer Long Kurta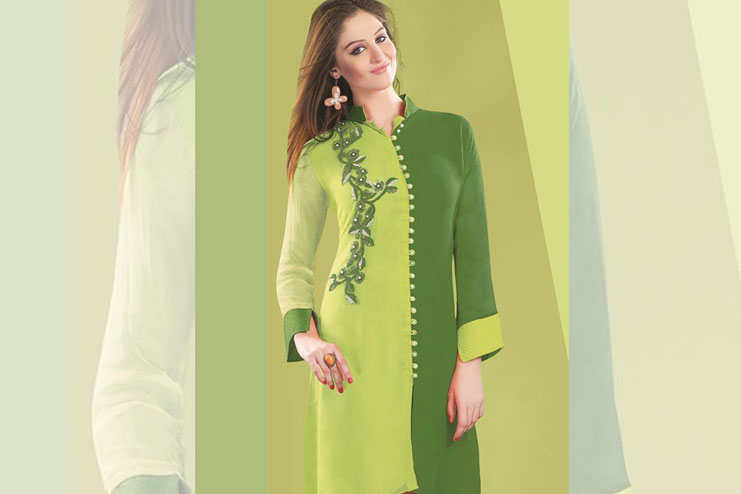 This amazing designer kurta is what you need when you are going for shopping. It has beautiful embroidered work done on one side of the kurta, and it is like giving a color monochrome touch. One side is made with dark green kurta and another side with a light green kurta. Try to keep your makeup subtle as well as light. Accessories must be very simple as well as elegant like unconventional earrings or rings.
10. Indo-Western Long Kurta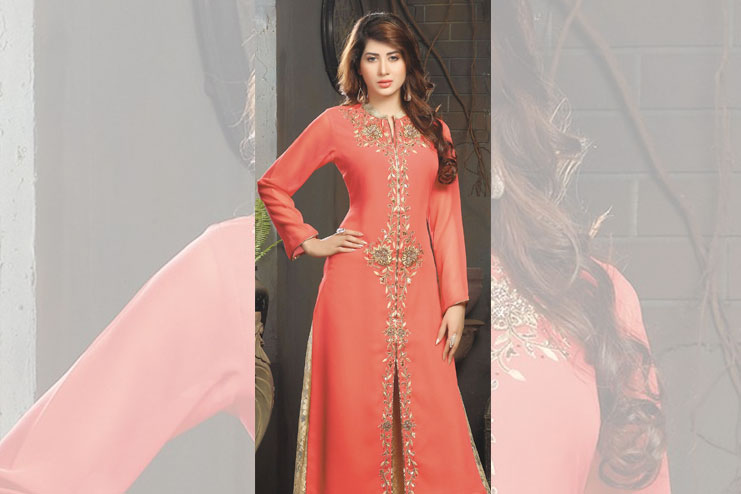 Another beautiful Indo-Western Kurta that must be on for fancy occasions is this amazing peach one. It has been designed with golden zari all over from top to bottom and can easily be worn with a palazzo. Try to keep your makeup subtle, and light and accessories must include a stone bangle, earring, and ring.
11. Casual Short Kurti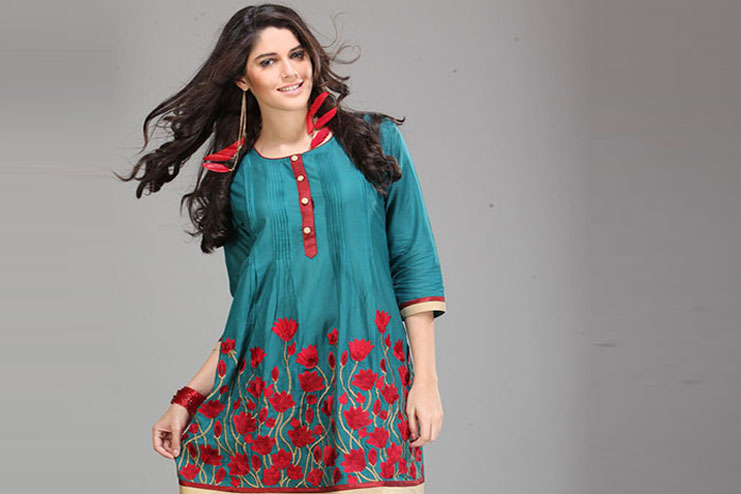 Casual Kurtis is more famous as because they can be worn everywhere. This is a short Kurti so you can easily wear this Kurti with a pair of jeans but leggings are also suitable. You can wear funky earrings and bangles as accessories. Try to keep your makeup subtle for more elegance.
12. Ombre Shaded Kurti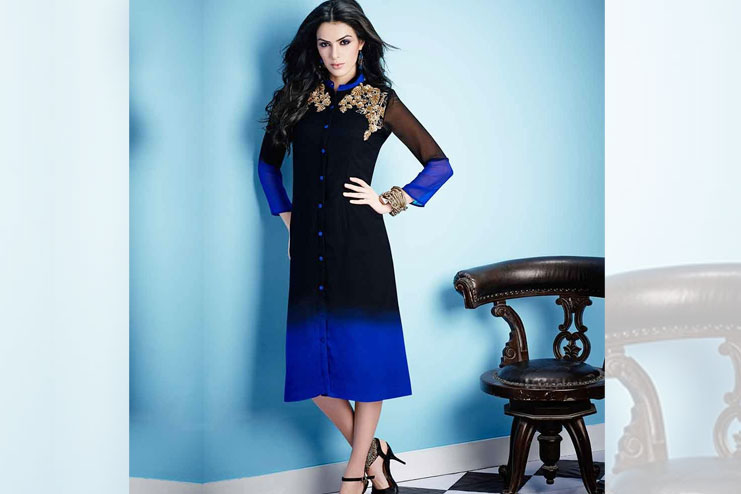 Now guess what has been left out? It's this amazing and shiny black and blue net ombre kurta which you can wear with a golden legging. A must kurta for your special occasion. As there is a golden zari work, you can easily wear a golden pant that can even be a palazzo. Accessories can be heavy like a golden bracelet chain, and golden hanging earrings.