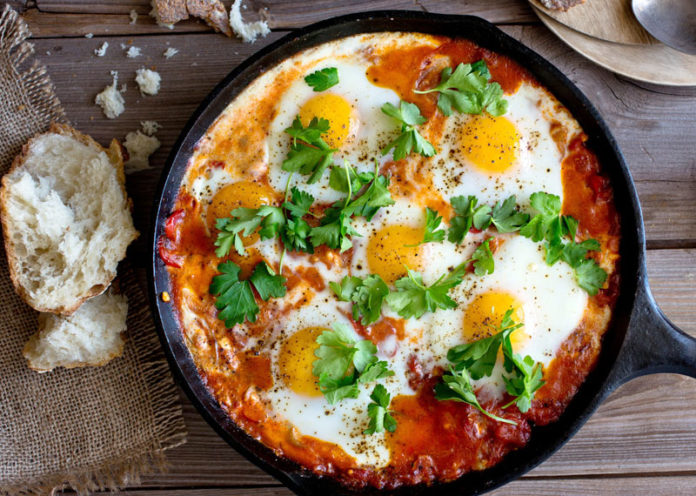 Do not be daunted by the name of the preparation. Shakshouka is a simple middle eastern dish of poached eggs, that is prevalent in both Arab and Jewish cuisines. Eaten by people over the entire gulf region and parts of Northern Africa.
Seasoned by black pepper and ground cumin, the spices respectively enhance as well as balance out the sting of the jalapenos and fresh paprika that form an important ingredient of the dish.
The diced garlic, stirred over olive oil impart their juices to the tomato puree to form that perfect sweet, yet slightly acidic taste, that we have come to enjoy in ever so many dishes, across innumerable cuisines.
Delicious Shakshouka Recipe
Ingredients Required
2 tablespoons olive oil
3 garlic cloves, crushed
1 (14-ounce) can diced fire-roasted tomatoes
1 jalapeño pepper, seeded and minced
½ teaspoon paprika
½ teaspoon ground cumin
2 tablespoons tomato puree
½ teaspoon salt
Coarsely ground black pepper
6 eggs
Procedure
Pour the olive oil on a hot pan and add the garlic, paprika, and jalapeno immediately.
Please note that Olive oil is a lighter oil than any of the vegetable oils, we use in Indian cooking. Hence it has a tendency to catch fire easily, if heated on the pan for too long.
It also looses its flavors very fast under extreme heat. It is for this reason that the garlic and the paprika are added at once, and together, so that they absorb all the flavors of the oil.
Stir until the garlic and the paprika turn slightly dark.
Add salt and even some sugar if you have a sweet tooth. Sugar helps to caramelize the ingredients and imparts a glaze to the overall dish.
Add the ground cumin and the grounded black pepper.
Add the tomato puree and mix all the ingredients well.
Before the mix thickens in consistency, crack the eggs, and cover the pan. Let the preparation simmer for about 3-4 minutes.
Your Shakshouka is ready to dig into.
Check more mouth watering food recipes here
By Abhro