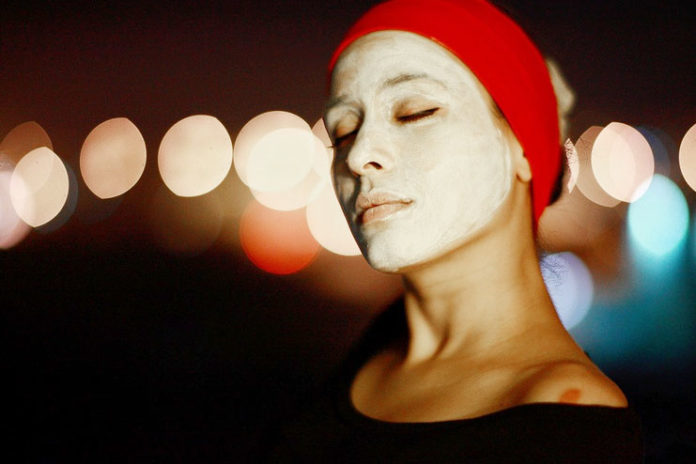 How would you feel If you enjoy a good nights sleep with no worries, and someone repairs your skin to some brilliant glow till the morning? Amazing, right? Well, this is exactly what overnight masks are for. Women who cannot find time from their busy schedules to visit a salon or get a good treatment done before an important meeting, This overnight facial treatment masks are your saviors. Just whip up these simple Homemade facial masks and apply for the night and wake up with amazing skin benefits. You will be amazed at the simplicity and the superb results of these masks. Just, try some of these yourself and be amazed.
Here is a list of 14 most Amazing overnight facial masks to keep your skin healthy, beautiful and Rejuvenated.
1. Green Tea Mask-
This anti oxidant rich green tea mask helps to rejuvenate tired looking skin and balances oil secretions of your face. The potato juice added in it helps to give your face an even tone and reduce any kind of dark circles, Pigmentation and dark spots. Try this mask out for an amazing result right from the first use.
Take 2 tea bags of green tea and dip in a hot cup of water. Let it cool completely. Now in a small bowl take 2 tsps of this green tea and 2 tsps of freshly extracted potato juice. On a clean washed face apply it generously with a cotton pad. Also, don't forget to cover yours under eye circles. Leave it overnight and wash in the morning. Clean and clear skin right from the first use.
2. Overnight Tomato Mask-
Tomato contains acid which is known greatly for its skin lightening and tan removal properties. Add milk and you get moisture nourishment and tan removal in one single face pack. One of the best overnight masks for tan removal and skin lightening, this tomato mask can also help in reducing dark spots and acts as an anti aging treatment.
Take a small tomato and grind it into a fine paste. Add 2 tsps of raw milk and mix well. With a face pack brush, Apply a thin layer. Let it dry and cover it with another layer. You may also reapply 2 to 3 times. Then let it stay overnight. In the morning wash with plain water followed by a moisturiser. Your skin will look reborn and new. It has great hydration for every skin typs and also helps reducing open pores. It will impart your face an instant radiance and glow.
3. Overnight Yogurt Mask-
Yogurt is made from milk which contains Lactic acid. This lactic acid helps in removal of dead skin cells. Also, this ingredient along with honey is known to help dry skinned ladies hydrate their face and achieve a more supple skin texture. It also prevents microbial activity caused by oil secretions and prevents acne and breakouts.
Take 2 tsp of Curd and mix 2 tsp of honey, Blend it well and apply a layer all over your face and neck. Let it stay overnight and wash off in the morning. Women with dry skin can skip the moisturizer as it is very hydrating in itself.
4. Banana Mask-
Use this overnight facial mask at home for a facial like glow without going through the time consuming facial steps of scrubbing, massage and face pack. Just make this simple mask and leave it overnight for a great glowing skin that is healthy and soft.
Take 2 spoonfuls of banana pulp and mix a tsp of egg white. Blend together. Now add a few drops of essential oils. Apply all over face and neck and let it stay overnight. Wash it in the morning to discover your glowing bright face.
5. Overnight Milk Mask-
For ladies who love to take care of their skin on a daily basis and love to pamper themselves with facial treatments, this natural overnight facial mask is a great way to maintain your healthy skin and keep in nourished and beautiful. This milk and honey pack is one of the best overnight masks for routine maintenance.
Take 2 tsps each of Honey and raw milk. Apply it in layers, one each after the first one dries and leave it for the night. Wash your face in the morning for a much soft and nourished looking face.
6. Coconut Oil Mask-
This is a great sheet mask for women who have acne prone oily skin. This mask is great to nourish your skin, disinfect your pores and prevents acne breakouts. The tea tree oil is a great way to treat prevailing acne and prevent any more occurrence.
Take a Tsp of coconut oil and add a few drops of tea tree oil in it. Massage this mix all over your face, neck, under eye etc. Keep massaging in upward circular motions for 10 minutes. Dip a face cloth in hot water and cover your face with that towel for 10 mins. Remove the towel and let the mask stay overnight. Wash it in the morning and notice the difference yourself.
7. Overnight Honey mask-
For ladies who have acne marks and want to heal the skin and make the marks disappear, honey can be a great ingredient. Honey helps in replenishing the natural moisture of skin and tomato juice helps in skin lightening and to even tone the skin.
Take a 1 tsp of Fresh tomato juice and add 1 tsp of Honey. Mix well, apply over your face and neck. Apply 2 to 3 layers. Let it stay overnight and wash in the morning. It will heal your skin slowly and make the acne spots disappear.
8. Cucumber Mask-
One of the most relaxing skin ingredients is Cucumber. It has the ability to soothe not just your skin but also your body. This mask will not just relax and rejuvenate your skin but also lighten your skin tone and give you a clear looking skin. One of the best overnight masks for ladies with sensitive skin, it also helps in treating acne due to antiseptic properties of turmeric. Apply this for a quick fix to soothe inflamed facial skin.
1 tsp each of Lime juice and Cucumber juice. Add 2 pinches of turmeric ( also add half a tsp of Glycerin for dry skin). Apply it all over your skin and let it stay for the night. In the morning use a mild soap t clean our face and follow it up with a moisturizer. It will work great right from the first use.
9. Overnight Lemon Mask-
This is a great skin repairing natural overnight facial mask for women who suffer from dark spots, uneven skin tone, dark circles and acne issues. Both lemon and almond oil act as natural skin bleaching agents and even out the excess pigmentation of your face. This mask will make your skin look much younger and healthier.
Add 1 tsp each of almond oil and Fresh lemon juice. Mix well and apply all over your face with a cotton pad. Massage it in circular motions for 10 mins and reapply. Leave it for the night and wash it in the morning. Follow it up with a natural moisturizer like olive oil or shea butter for dry skinned ladies.
10. Overnight Almond mask-
Another way to reap the benefits of almond or your skin is to apply it directly to your face. Almonds will help you achieve a lighter skin tone and give you even skin tone.
Soak a few almonds for few hours before sleeping. Blend them to a paste consistency and add a tsp of raw milk. Apply it in layer all over your face and neck. Leave it for the night. Wash it in the morning t discover the new you.
11. Chamomile Tea Mask-
Chamomile tea is a great way to achieve the fair skin tone along with a glowing face as a quick fix for an important meeting or a party you want to attend last minute. Leave this homemade facial mask overnight and see the difference just the next morning. You fall in love with the benefits of this simple face mask.
Dip some chamomile tea sachet into a hot cup and let it cool down. Add 2 tsp of honey and 2 to 3 drops of lavender oil. Mix well and Dip a face cloth or tissue in it. Place it over your face. Let it sit over night and wash off in the morning. Your new glowing fairer face will amaze you right from the first use.
12. Oatmeal Mask-
Oatmeal mask acts as a great way to reverse the effects of free radical damage to your skin. It also removes any dead skin cells and excess oil produced at night. Apply it twice a week for complete removal of excess oil on your face.
Soak 2 tsp oatmeal in water and let it soften. Add 1 and a half tsp honey to it. Mix well and apply an even layer over face. Let it stay over night. Wash it off in the morning to discover the glowing oil-free face.
13. Watermelon & cucumber Mask-
Water and cucumber can help you soothe irritated skin and rejuvenate the skin pores by relaxing the skin inflammation. It also helps reducing blemishes and spots. It tightens the skin and closes open pores. It is a great way to get a glowing face with a relaxing mask.
Add 2 tsp each of watermelon juice and fresh cucumber juice. To bind these together add a spoonful of either gram flour if you have oil prone skin and milk powder for dry skin. Apply a layer over face and let it dry overnight.
Wash with plain water in the morning. Repeat once a week for best results.
14. Essential Oil Sheet mask-
Essential oils are a great ingredient for any overnight mask as they can soothe your senses and provide you a sound sleep. At the same time, it is great in fighting acne and helps in relaxing your skin and infected skin pores.
Add 3 to 4 drops of essential lavender and tea tree oil in 2 cups of water. Dip a face tissues in this water and soak it for 5 mins. Squeeze out the excess water and place this tissue over your face. Leave it overnight and remove in the morning. It is a great way to feel fresh and still achieve that glowing skin.
Tips For Applying Overnight Masks-
Always cover your pillow with a towel before sleeping.
Let the mask dry out a little before you sleep.
Consciously sleep on your back and not face down.
You can cover pulpy mask like banana and oatmeal etc. With a face tissue to prevent it from dripping and smearing.