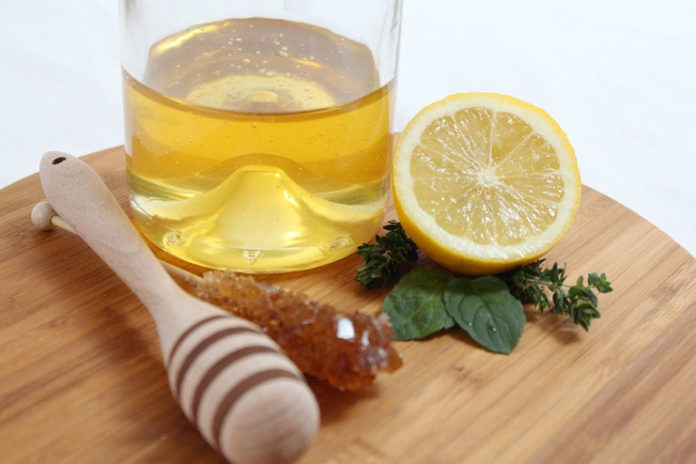 Growing up did you ever notice how our grand mothers and mothers always used honey in every face pack that they made? It was a staple in every house to not just drink it in warm water every morning but also to be used in Ubtans and every beauty treatments they did. Honey Lemon Mask was one of the most common face masks that women from early age have been making. One of the benefits of a honey lemon face mask is that it works for every skin type and it is super easy to make. No matter what your skin concern is, a Honey Lemon Mask is always a great remedy for your skin. It is a perfect natural treatment to achieve a healthy and glowing skin in the easiest possible way. Since, we realise how a honey face mask is great for every girl, we have compiled here 4 simple homemade honey lemon face masks that will transform any skin type and naturally impart you a glow you will absolutely love. Here is how to make them.
Honey Lemon Masks For Different Skin Types
1. Sensitive Skin
This honey and Aloe vera mask is a great remedy for sensitive skin since honey can impart skin lightening properties and Aloe vera Gel can soothe the skin from within. Sensitive skin can easily act out on applying different kinds of heavy cosmetic products. So to avoid your skin from getting inflamed or irritated use this simple mask. If you are wondering how to make a face mask with honey and Aloe vera here is a simple honey face mask diy.
Ingredients you will need-
Small bowl
1 tsp honey
1 tsp fresh Aloe vera gel.
How to make it-
Scrape off fresh aloe vera gel and smoothen it out.
Add 1 tsp in a bowl and mix with 1 tsp Honey.
Apply it all over your face and neck
Leave it on for 20 mins.
Wash with warm water.
It will heal any skin inflammation and rashes on your sensitive skin. This diy honey mask is good for use once every week. It keeps your face healthy and glowing. Honey will keep your skin glowing and aloe vera will improve the tolerance of your skin. You can use this mask 2 to 3 times per week. This mask has no side effects and can be used by ladies of all skin types.
2. Dry Skin
If you have dry and flaky skin, this homemade honey mask will help you completely remove your skin's dryness and keep it looking more hydrated and soft. This mask contains honey and yogurt which goes deep into your skin and maintains its natural moisture. To make this honey facial mask here is what to do.
Ingredients you will need-
Mixing bowl
Few drops Lemon Juice
2 tsp Full cream Yogurt
1 tsp Raw Honey
How to make it-
In the mixing bowl beat and smoothen out the yogurt.
Add few drops Lemon Juice
Add 1 tsp raw honey and mix well.
Apply it all over your face and leave it on for 20 mins.
Wash with cold water and pat dry
This lemon honey mask mask is rich in AHAs that are extremely helpful in removing dead cells. This will keep your skin looking nourished and supple soft. This masks literally feeds food to your dry face and makes it healthy. The vitamin C also disinfects your skin.
3. Acne Prone Skin
If you have acne prone skin, there can be no better face pack for your skin than this homemade honey lemon mask. This honey face mask is easy to make and it gives almost instantly visible results. The various ingredient in the mask will help your skin skin infections and bacterias.
Ingredients you will need-
Mixing bowl
Gram Flour or Besan
Lemon juice
Honey
Turmeric
How to make it-
Add 2 tsp Gram flour to the bowl.
Add 1 tsp lemon juice and raw honey each.
Add a half tsp organic Haldi/ turmeric and mix it all together.
Apply all over you face and neck and keep it on for 20 mins.
Wash it off and follow it up with a light moisturiser.
This diy honey face mask contains great for removing acne issues and even the spots of acne over the face. Honey lighten skin tone and Lemon Juice will help it further. The best remedy we suggest is Lemon and honey for acne since they are both great disinfectants. The turmeric also has anti fungal. Anti bacterial and anti viral properties. This can subsequently reduce acne occurence to minimum over time. Use this homemade honey lemon mask once every week.
4. Dark Spots On Skin
The best use of a honey lemon face mask is for ladies who suffer from dark spots on skin. This is a great hands on remedy for quick and natural way on reducing and treating dark spots at home.
Ingredients you will need-
A Mixing bowl
2 tsp Fresh lemon juice
2 tsp Raw Organic Honey
How to make it-
In the mixing bowl add all the ingredients and mix well.
Wash your face with warm water for 2 minutes and pat dry.
Apply a layer of this mask over your face and leave it for drying.
Use cold water and wash off the honey lemon face mask.
Pat dry and follow it up with a moisturiser.
This honey and lemon mask contains Vitamin C and nourishing agents that naturally bleach your skin and still maintain your skin's natural moisture content and balance. Right from the first application your skin will feel smooth and soft. After using it for a few weeks the spots will lighten due to the natural bleaching properties of both honey and lemon. Initially for a month you may also use it twice a week for faster results.
Some Other Masks Using Honey And Lemon
1. Avocado and Honey
These amazing super fruits are packed with abundance of  iron, potassium, calcium, sodium, copper and magnesium. Avocado and honey mask moisturizes the skin and maintains its balance. Avocado in this mask is known to protect the skin from solar radiation and reduces any inflammation caused by eczema, psoriasis and acne. Just add some Avocado pulp in honey and create your own DIY honey mask for glowing and younger looking skin.
2. Cucumber And Lemon Juice Mask
This Mask is a perfect remedy for ladies who are tired of their oily skin. This mask contains cucumber that helps in soothing sunburn and lightening dark spots. It is a great remedy for treating and reducing acne scars as well. Just add lemon juice to crushed cucumber pulp and mix well. Add fee drops glycerine if skin is dry. No apply all over your face. Leave it for a while and wash off. In 2 weeks time you will notice the stark difference in your skin's behaviour.
3. Honey and Green tea-
Green tea is powerhouse of antioxidants. These antioxidants are known to fight damages caused by free radicals. This helps in skin rejuvenation and slows down the aging process of your skin.It also removes blackhead and reduces any type of skin inflammation. Just take a tsp green tea powder and add honey. Apply over face for 20 mins and wash off. In about a few days you can see an undeniable radiance and you will glow like a bride.
WIth these simple diy honey face masks you can keep your face looking healthy and glowing without any hassles. The simple and naturals ingredients will make sure that your skin doesn't get any kind of side effects and continues to improve from within. We hope these simple recipes of honey lemon masks are of use to your skin concern and type. With a slight effort to make them at home these amazing honey lemon masks are all that your skin will ever need for the beautiful radiance that you wish for.