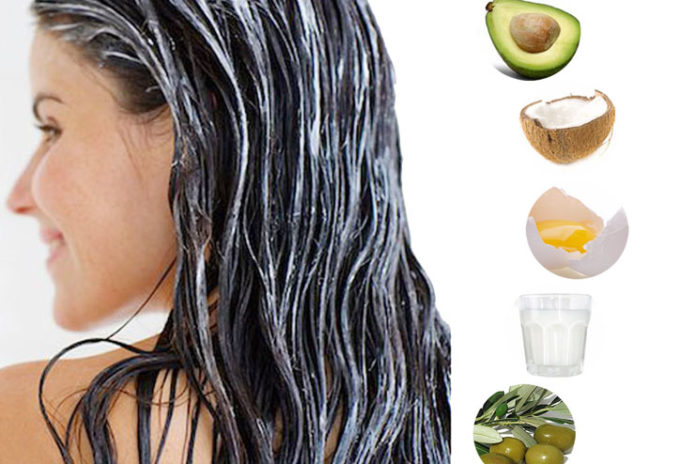 Having the wonderful shiny and radiant and long tresses like Rapunzel may be a distant dream. But we can easily get the shine and radiance with utmost nourishment by using some natural and homemade ingredients. A lot of attention and care is needed to manage lustrous and voluminous hair, and artificial ingredients with harsh chemicals may affect the hair health.
Therefore there is an increasing need to adopt organic and natural ingredients for all our hair and skin ailments. These homemade applicators not only help in getting shiny and beautiful hair but also deeply nourish them for better growth ahead. A homemade conditioner is an answer to all our hair ailments. These homemade conditioners not only strengthen the hair from roots but also give them the same charm and shine like the ones flaunted by models on TV.
How to condition hair with all the dry and dull hair days, remains a challenging task. Moisturizing after the shampoo affects the outer cuticle layer of hair strands is important to prevent any damage to the thin hair. Let us first understand the importance of hair conditioners.
Common hair problems and causes of hair damage :
We all are honestly obsessed with hair, and any bad hair day is capable enough to get us upset and irritated. Everyone has their not so glorious hair days and how to get over them without affecting the quality and strength of our hair is important. There are even more hair deformities which need immediate attention and care. Let us know the hair damage causes and repair damaged hair naturally by fixing the underlying hair damage. The most common hair problems we all suffer from include:
1- Hair fall:
Hair fall, by and large, affects 60% of people at any given time. This may be psychological too, but the impacts have been far too many. People have been opting for shorter hair due to growing hair problems. With increasing stress, pollution, heat from the sun and improper lifestyle, there is a significant need to pay more attention to hair care. Due to the chemicals we use in the form of hair applicators and salon products, the hair strands loose their strength and become brittle. They shed more than the new hair growth thus resulting in dry dull and thin hair
2- Graying of hair:
Premature graying of hair has also become a prominent cause of concern. People in the pre teen and teen stage are now seeing more and more gray and white hair like never before. This all can be summed up to the improper lifestyle, stress in life and at work, use of harsh chemicals, random sleep cycle and ignorance to healthy diet
3- Split ends:
The hair ends get split up and show multiple thin ends. The protective outermost layer of hair called cuticle when gets damaged and peels back, these split ends become prominent. These can be due to exposure to sun, unhealthy diet and improper hygiene.
4- Dandruff and flaky scalp:
When our scalp loses moisture, it gets flaky and stars losing outer skin resulting in dandruff. This can be embarrassing and a lot of concern for its difficult to clear seasonal dandruff easily. Dandruff also causes the hair to lose moisture and become dull and dry.
5- Frizzy hair:
We often tend to make weather the culprit for our frizzy hair. But that is not the case always. Frizzy hair is the most common problem related to dehydration or loss of moisture from hair roots. The cuticles get rough, and the hair gets unmanageable and frizzy, mostly during weather changes like spring and autumn time. The outside humidity levels also keep fluctuating, and the body also experiences a lot of dehydration thus increasing hair damage
6- Sun burns:
Exposure to harsh UV rays and that also continued direct exposure makes the hair damaged and brittle. Sunlight soaks away all the moisture and nutrients leaving damaged and brassy hair which is too dry. They also cause discoloration of hair in addition to scalp issues like scabs and pigmentation
Best homemade hair conditioner for soft hair:
Natural homemade hair conditioner guarantees hassle free application and no side effects for normal skin types. Its high time we stop spending money and resources on salon or spa treatments, as they do more harm than good. Homemade hair conditioner for damaged hair and for rough hair have been vouched by one and all, for immense pleasing results within a few weeks of application. Some of the homemade hair conditioner recipes include:
1- Banana, honey, and olive oil deep conditioner:
Banana is a rich fruit with amazing potassium contents. It is also rich in vitamins and minerals which help in strengthening and nourishing the hair. Banana minimizes shrinkage of hair. Honey on the other hands is a natural humectant which locks the moisture in the hair and also provides hydration too. Olive oil is a magical solvent which penetrates deeply and moisturizes and enriches the cuticle layer.
Procedure:
Take a ripe banana and mash with the banana peels, as the banana peels have more potassium and other nutrients as compared to the fruit.
Add honey and olive oil to it and blend it in a blender.
Now make a smooth paste and using your fingers apply on your hair and scalp generously
Wear a shower cap and leave it for 30 minutes.
Now wash with lukewarm water
Repeat twice a week for amazing results
2- Coconut oil and olive oil mixed with honey hair conditioner:
Coconut oil is a magic potion for all skin and hair ailments. It has some wonderful anti-inflammatory, anti-oxidizing and anti-microbial properties which deeply nourish and moisturize the hair. Pure coconut oil also makes up for hair keratin loss. Olive oil adds more nourishment and honey acts as a natural humectant providing moisture and strength.
Procedure:
Mix Coconut oil and olive oil in a bowl and warm it for 2 minutes
Now add honey and mix it well
Apply this to your hair soon after shampoo.
Wait for 30 minutes also cover with a shower cap
Now wash with lukewarm water
Repeat twice a week for great results
3- Cinnamon milk and honey conditioner:
Cinnamon helps in improving blood circulation and thus makes way for cell regeneration and growth. Milk adds moisture and richness to hair from its roots. And honey acts as a natural humectant providing and shielding hair strands from infection.
Procedure:
Add milk, honey and cinnamon powder to a blender and make a smooth paste
Now using your fingertips apply this to your hair strands.
Cover from scalp to hair ends, every area properly
Wear a shower cap and leave it for 30 minutes
Now wash your hair with lukewarm water
Repeat twice a week for good results
4- Avocado and apple cider vinegar mixed with Shea butter for homemade hair conditioner:
Avocado is a fruit rich in amazing vitamins and minerals which not only add nourishment and shine to hair but also provide ample other benefits for health and beauty. Apple cider vinegar is a naturally occurring alkaline solution with antibacterial, anti-fungal, antiseptic, anti-inflammatory and anti-oxidizing properties. Shea butter provides rich nourishing and moisturizing properties to the hair
Procedure:
Mix Shea butter and avocado by smashing with fork
Now add apple cider vinegar to make a smooth paste
Apply this using your hair brush all over the scalp and hair
Leave for 30 minutes and wash with lukewarm water
Repeat twice a week for amazing results.
5- Yogurt, coconut milk, egg and orange conditioner:
This conditioner helps in curing hair fall problem and also dandruff issue. Yogurt is a rich and naturally occurring probiotic with amazing anti-microbial properties. It soothes and calms the inflammations on hair scalp. It also nourishes hair from its roots to strands. Coconut milk provides hydration and strength. Orange has rich citric acids and healing properties. Vitamin C and bioflavonoids present in orange stimulate hair growth and prevents hair fall. Egg is rich in proteins and helps in aiding hair growth and providing moisture from the roots
Procedure:
Add one cup Greek yogurt and coconut milk to one beaten egg white
Add orange juice and blend it to form smooth paste
Now using fingers apply this paste generously all over the scalp and hair.
Wait for 30 minutes and wash with lukewarm water
Repeat twice a week for great results
How can I make my own natural hair conditioner:
Well, its as simple as making a light snack. As yes all ingredients are readily available at your home. And making your own natural hair conditioner is to target your hair care treatments with utmost pure ingredients while keeping the synthetic and harsh chemicals away. All natural hair conditioners carry carrier oils, which are strictly based on your hair type. List of some carrier oils based on hair types include:
A- For normal hair use jojoba oil, coconut oil, and olive oil
B- For oily hair use grape seed oil and jojoba oil
C- For dry, damaged and frizzy hair use shea butter, castor oil, olive oil, jojoba oil and coconut oil
D- For hair with dandruff problem use Castor oil, olive oil, avocado oil, sesame oil and coconut oil
E- For thin hair use grape seed oil, avocado oil, castor oil and sweet almond oil
Some DIY deep conditioner for hair growth:
DIY hair conditioner is simple and easy with the above natural carrier oils added to ingredients at home. Some of these include:
1- Hair conditioner with apple cider vinegar and carrier oil:
Check your hair condition and pick the carrier oil from above
Now add apple cider vinegar to it, since ACV or apple cider vinegar has low pH levels it makes the hair acidic thus closing hair cuticles. This will lock the moisture and proteins in hair
Mix some water to ACV and add your carrier oil- Massage this with your fingers on your scalp and cover entire hair length
Now leave for 2 hours and wash with lukewarm water then
2- Egg yolk, distilled water, and carrier oil natural hair conditioner:
Egg yolk is the most popular hair conditioner from centuries.
Egg yolk is protein rich and stimulates hair growth.
Now take boiled distilled water and add egg yolk to it
Whisk it to form a smooth solution
Now add your carrier oil and blend it
Apply to hair and leave for 10 minutes
Apply it every time your shampoo your hair
3- Natural hair conditioner for split ends:
Add shea butter to boil and put olive oil to it, keep stirring
Now mix Vitamin E oil and let it cool down
Add your carrier oil to this and form a smooth solution
Apply all over the scalp and hair
Leave it overnight and wash with lukewarm water the following morning
Best conditioner for natural hair:
1- Egg yogurt mayonnaise hair conditioner:
The vitamins in egg help in increasing natural oils of the scalp and reducing dryness and dandruff. This strengthens the hair follicles. Yogurt makes the hair lustrous and adds moisture. This is one of the best homemade hair conditioners for hair fall and dry hair.
Procedure:
Add one cup Greek yogurt and one cup mayonnaise to a bowl
Whisk them and add already frothed egg
Now using your fingers apply to your hair.
Cover scalp and hair properly
Leave it for 30 minutes and wash with lukewarm water
Repeat every time you shampoo your hair
2- Baking soda, distilled water, and avocado hair conditioner:
Baking soda is a disinfectant that absorbs grease and dirt from scalp and hair. Avocado provides nourishment and minerals to hair. Distilled water provides a healthy and safe medium for blending the two
Procedure:
Mash avocado using a fork
Add baking soda and form a paste
Now keep it covered for 5 minutes
Add distilled water and smoothen the paste
Now apply this to your hair and scalp.
Leave it for 15 minutes and wash with lukewarm water.
Repeat once a week after shampoo, for amazing results
3- Catnip distilled water home made hair conditioner:
Catnip is a recent treasure which increases hair thickness. It also strengthens the hair from roots.
Procedure:
Take dried catnip and add distilled water to it
Let it boil once and then keep it aside to cool down
Now whisk it and apply this water to your hair after shampoo
Keep it for 10 minutes and wash with lukewarm water
Repeat once a week post shampoo for great results
4- Mint and tea conditioner:
Mint and tea are not only great for hair conditioning but also help in enriching natural hair color too. They strengthen the hair and make them smooth, shiny and lustrous. Mint provides soothing and calming properties which prevent scalp inflammations and infections.
Procedure:
Boil mint leaves in water and add tea leaves
Keep them boiling for 10 minutes
Now strain and collect the water in a spray bottle
Spray this water all over your hair after shampoo
Leave for 10 minutes and wash with lukewarm water
Repeat twice a week
5- Sesame seed oil and aloe vera conditioner:
Sesame seed oil is rich in antibacterial, anti-fungal and infection fighting properties. These help in healing scalp fungus, dandruff, itchiness and scalp infections. It also soothes and calms inflammations of a scalp.
Procedure:
Mix aloe vera gel and sesame seed oil in a bowl
Add yogurt and olive oil to thicken and nourish the paste
Apply all over your scalp and hair
Leave it for 15 minutes
Now wash with lukewarm water
Repeat once a week for amazing results
6- Beer hair conditioner:
Beer is rich in Vitamin B and proteins in its malt and hops. Beer also has rich sugars like sucrose and maltose which tighten and strengthen hair cuticles. Also, increase hair shine. Beer can be an effective remedy for normal and dry or damaged hair. Just spray beer to hair after shampoo and leave for 20 minutes. Then wash with lukewarm water. Repeat twice a week for amazing results.
7- Herbal infused hair conditioner:
This herbal infused hair conditioner can be easily prepared at home using simple ingredients. Add aloe vera, clove seeds, and tea leaves into a bowl. Add distilled water and let it soak. Now boil it for 2 minutes and strain it. Apply this solution to your hair after shampoo. Leave it 5 minutes and wash with lukewarm water. Repeat once a week
Some of the ingredients which have amazing hair moisturizing benefits:
These homemade hair moisturizing agents not only help as good conditioner for dry hair but also can be used for all hair and scalp problems. These include:
1- Coconut oil:
Coconut oil makes great hair care treatment and nourishment. The fatty acids present in it, moisturize and treat hair scalp. It is ideal for deep conditioning and treating dry and dull hair
2- Honey:
Honey is a natural humectant which hydrates the scalp and hair deeply. It also helps to retain and draw water keeping it moisturized for long
3- Yogurt:
Yogurt is a natural probiotic rich in lactic acid which gives nourishment and strength to hair. It is also a rich source of biotin which helps in maintaining a healthy scalp and growing hair long.
4- Eggs:
Eggs are rich protein rich substances with hair care properties. They also strengthen hair follicle and provide nourishment to cuticles to stay intact and provide luster
5- Banana:
Banana is rich in minerals and vitamins and especially potassium. It nourishes and strengthens the hair from roots to ends
6- Beer:
Beer is filled with vitamins and proteins in addition to sugar which strengthens the hair. These nutrients in malt and hops make beer a wonderful hair care ingredient
7- Avocado:
Avocado is a rich fruit power packed with vitamins and minerals. It helps in strengthening keratin and hair cuticle also nourishing the scalp
8- Apple cider vinegar:
ACV is a magical ingredient for hair and skin care. It helps in balancing pH levels and also bringing the acidity level of the scalp to a normal state. It acts as a disinfectant, anti-inflammatory, anti-oxidizing agent and nourishing ingredient too
9- Lemon:
Lemon is rich in vitamin C and has some antiseptic, healing, anti-microbial and anti-inflammatory properties. It also has lightening properties thus useful for natural hair bleach too.
10- Garlic:
Garlic is a natural herb which combats hair loss and promotes healthy hair strands. It prevents a lot of hair ailments and strengthen hair from roots
11- Tomato juice:
Tomato is a rich source of Vitamin A which makes hair stronger. It makes the severely dry hair become hydrated and shiny again. They act as a good conditioner for dry hair.
Homemade hair moisturizer:
We have one magical and miraculous homemade hair moisturizer recipe which proves great for all hair types and almost all major hair problems. These include shea butter, coconut oil, jojoba oil, olive oil, sweet almond oil, pure aloe vera gel, Vitamin E oil, Few drops of rosemary or chamomile essential oil
Melt shea butter and coconut oil in a mason jar in a microwave. Now add the remaining ingredients and mix them well. Refrigerate for overnight and the amazing homemade hair moisturizer is ready for use. Just apply a night before you shampoo and try to massage well whenever you apply it
The above compilation on Homemade hair conditioner for nourishment and hair care is to help you in using the most natural, homemade and hassle free ingredients to enrich the hair strength and radiance. Do a patch test before proceeding with any of the above and check with your dermatologist for more severe issues
Share ahead and keep writing, we love hearing from you