Every girl dreams of having those beautiful long locks at least once in her life. Blame it on the Disney princesses like Rapunzel, but we all love long and thick hair. It is literally one of the best features of a females face. But what if you do not have that lovely thick mane and instead you suffer everyday styling your thin and scanty hair? Well, we have something really great for women with scanty hair. Here are 12 gorgeous hairstyles for scanty hair and a list of best hair care tips for scanty hair. So the next time you head out to a brunch or a party all you have to do is scroll through this list and make whatever suits your fancy.
Perfect Hairstyles For Scanty Hair.
1. Teased High Ponytail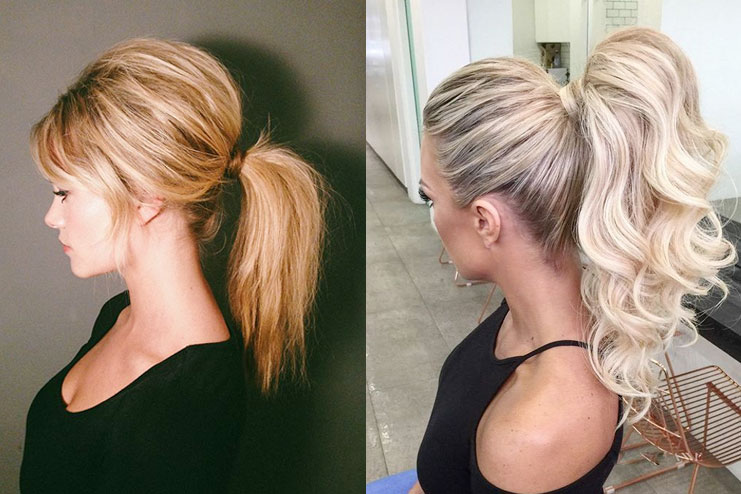 If you have mid length scanty hair that you find difficult to style and you do not know how to make it look fuller and voluminous, this hairstyle will soon become your go to hairstyle for scanty hair. Just use a simple thin comb and lift up a section of hair from the crown and tease them. Gradually move towards your face and tie it all up in a high pony. Take a section of hair frm the pony and wrap it around the pony to hide the ponytail.
This hairstyle will instantly will add volume to your hair without any external extensions. Add a slight hold by using a nice hair mousse of hair spray. This will be perfect for a date night out with your husband.
2. Loose Fishtail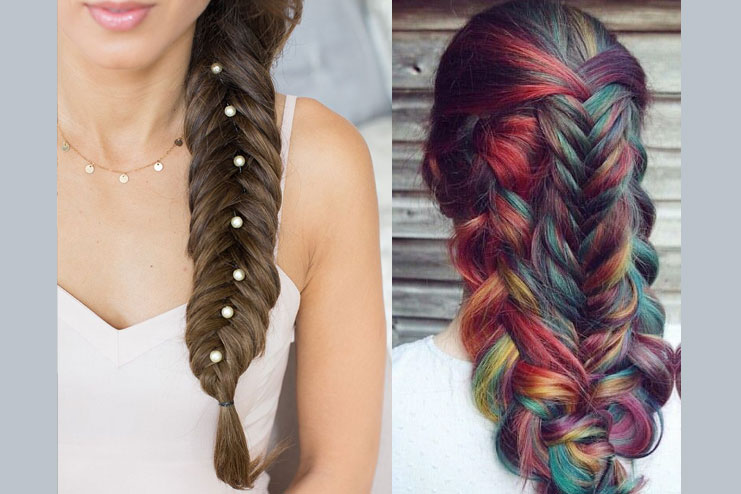 A Fishtail braid is simple to make and it looks uber chic and classy. A fistail braid can serve as a perfect hairstyle for scanty hair for women. Women with thin hair can make the fishtail slightly loose and fluff it up after making it. To add a sense of volume it can club it up with a crown puff. Make the side braid slightly side wards and pull it in the front. Believe us when we tell you that it look ultra glam with a smoky eye and fearless bold red lips. You can also add small embellishments to make the braid even prettier.
3. Deep side part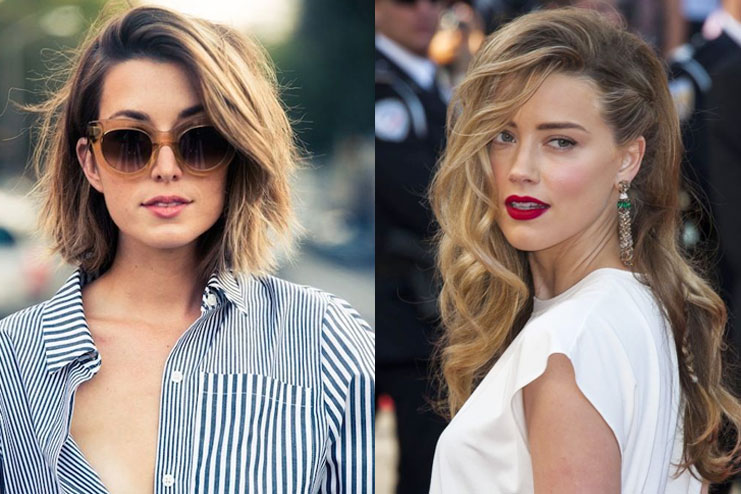 One of the best haircuts for scanty hair is shoulder length hair. This length is perfect to handle and style and can be very well accessorized too. And if you are one of those women who have shoulder length hair there is a great tip to make your scanty hair look absolutely full and healthy. Stay away for center part and make a deep side part. A deep side part will give the visible side a heavy influx of all the hair on your front crown and the other side will look sleek and beautiful. This hairstyle can be paired with almost anything.
4. A Section Pulled Back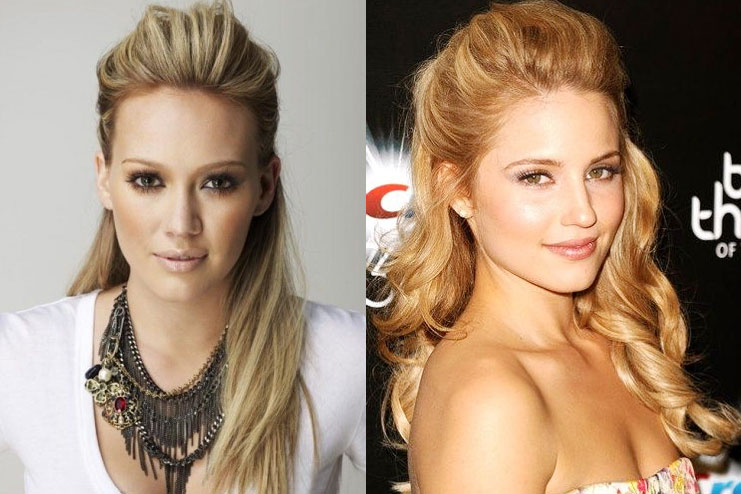 One of the biggest drawback for scanty hair for women is the scalp usually tends to show up from between the hair sections. This makes the hair look dull and unhealthy. Make sure you keep your hair looking thick and bouncy by doing this trip for any of the hair styles you follow. Take a section of exactly the front section right above your forehead and back comb it a little. Hold it together and pin it up like a puff. It will not only make your hair look voluminous but also keep the scalp covered making it look healthy and full.
5. Headband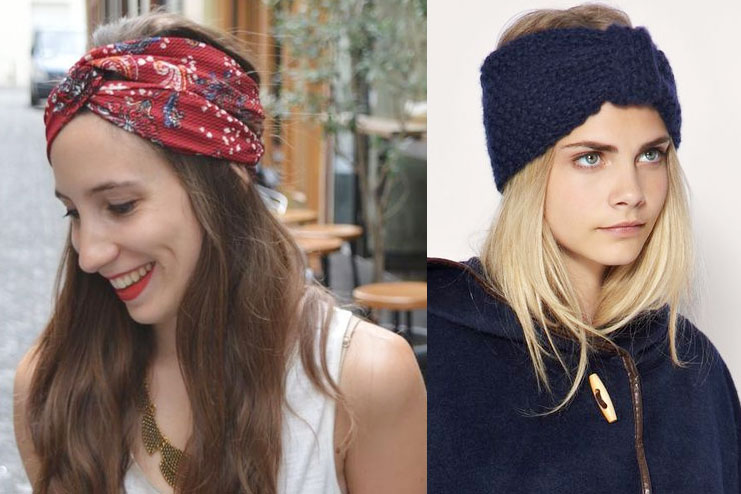 The best part about using beautiful accessories is that it pulls the attention away from the hair and towards the headband. For ladies with scanty hair, this can be a great hairstyle for thin hair since it can make you hair look puffed up and clubbed together.
6. Pixie with texture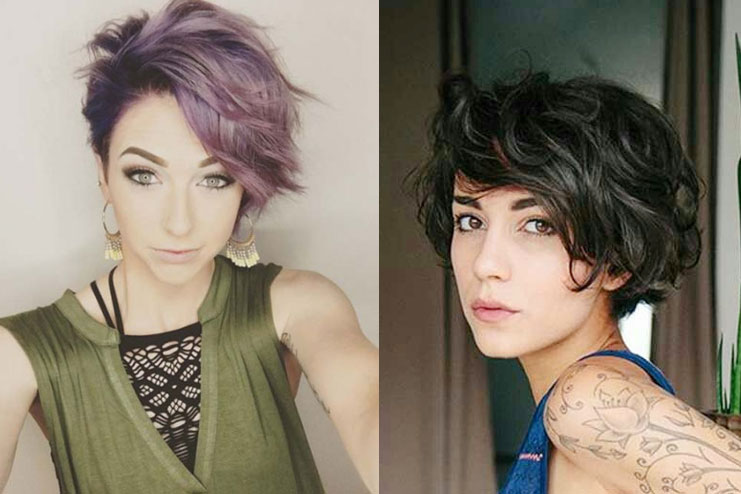 This is definitely one of the best haircuts for scanty hair. When the hair is already thin, it looks even more thinner when you grow them out a lot. It you pull it together in a braid it can look thin, Usually thin hair tends to go frizzy too. In such cases it will look really unkempt. So for the best and most hassle free haircut for scanty hair is a textured pixie haircut. Use a mousse or gel to style it together and create a messy kind of waves or soft spikes. This hairstyles will suit most face shapes and it will be a great option for a trendy look for western as well as a really sophisticated saree type traditional look.
7. A Braided crown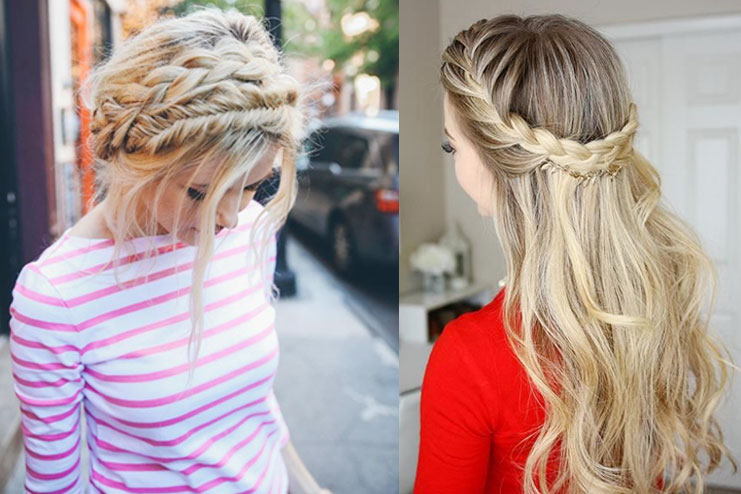 This is our absolutely favorite hairstyle for thin hair. It looks absolutely gorgeous. It looks dainty and intricate at the same time. It looks as though a beautiful crown of hair has been placed on your head and it actually makes the heads turn. It is a great option for ladies with scanty hair since the crown can add width to your hair. You can add slight texturing sprays and mousse to keep your hair look more full and less flat and limp. To give your hair volume you can make this hairstyle with a little change. You can pull all the hair up or half up and half down can also be a great option.
8. Messy Bun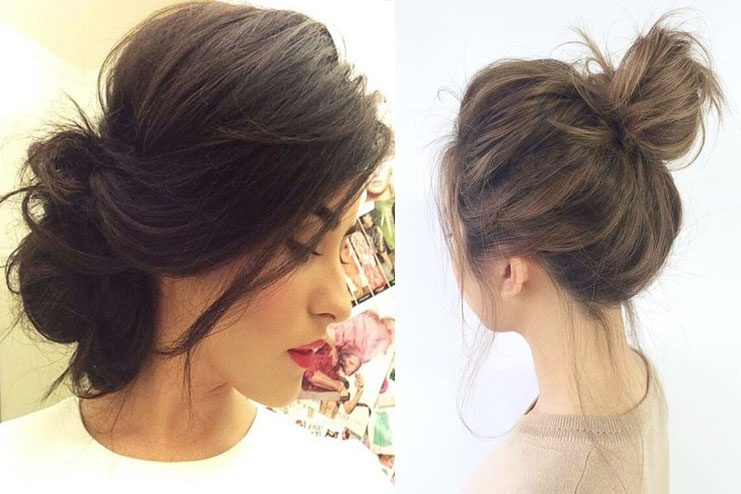 If your hair is thin but textured, we suggest you make this hairstyle every day. This has all the feels of a glamorous look as well as a classy sophisticated vibe too. A messy bun is easy to make and it gives you the versatility to  paired with casual as well as traditional indian clothes as well. The best thing about a messy un is that it does not require any nice finishing. For people like me who are super clumsy and cannot for the life of me, make even a perfect parting, hairstyles can be a herculean task to achieve. So the quick fix is this amazing hairstyle that the messier you make, the better it makes you look like a pro.
9. Long Bangs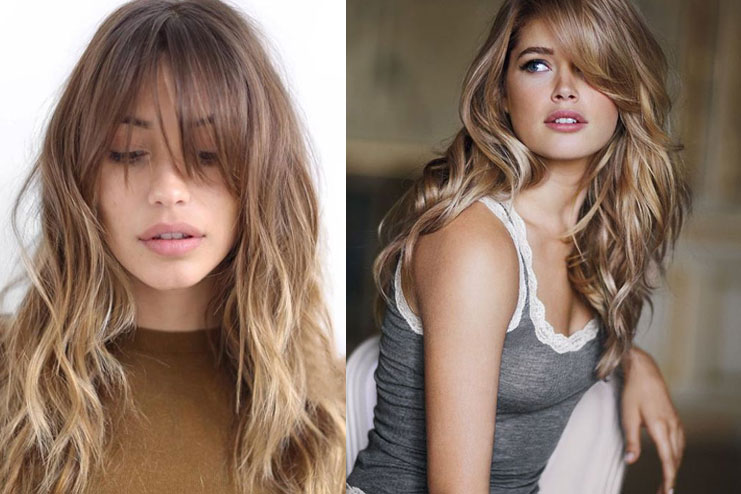 Whoever said that bangs are for thick hair ladies didn't know about the long bangs. Yes ladies, even women with scanty hair can now have those gorgeous bangs too. There is just one simple way to customize them for your hair volume. Just keep them slightly long. Longer bangs makes it look like you have more hair on the crown. You can keep it upto the base of your eye and it will instantly make it look more full and thick. Try this superb hack and bangs can be one suitable hairstyle for scanty hair.
10. Waterfall Braid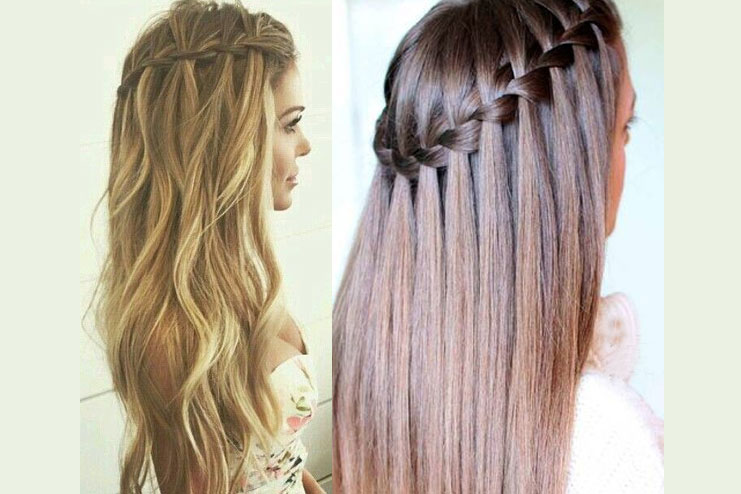 If you want a hairstyle that looks complicated and breathtaking and still allows you to maintain the volume and not make your hair look thin and scanty try this amazing hairstyle that will satisfy both your concerns. A waterfall braid is good for women with scanty hair since it doesn't tie your hair up.
11. Angled Bob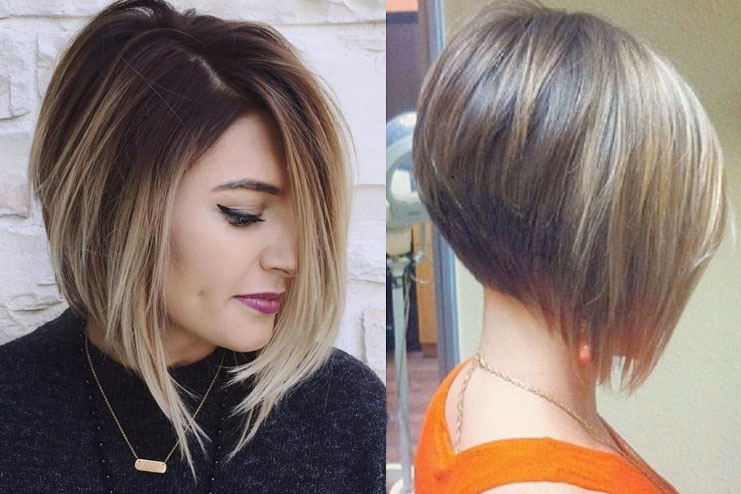 One of the best haircuts for scanty hair is the angled Bob. Angled bob is great for women with thin hair since the maximum volume of hair lies in the front. This gives it a feeling of volume and depth. The back has properly made sharp cuts that make your hair look concentrated at the back.
12. Loose waves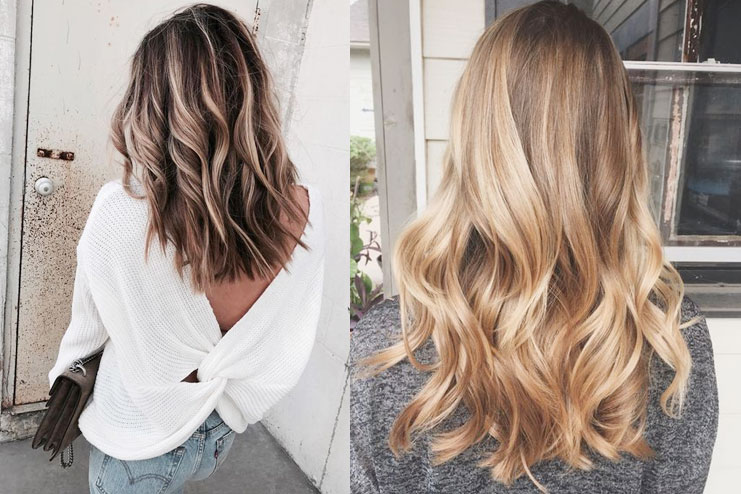 This can be your go to hairstyle for women with scanty hair. Loose waves make your hair look voluminous. The wavy effect will add texture to your hair and add Instant volume. Loose waves can be great to wear over Indian traditional clothes. The best thing about this hairstyle is that it cam be worn with any length of hair.
Tips For Styling Scanty Hair
If you like coloring your hair, it s best you color your hair a shade lighter. It makes your hair look fuller since the lighter colour does not show up then scalp that distinctly. You can also add highlights. They give a sense of depth and your hair looks more voluminous.
No matter how much you love long hair, the thin and Scanty hair with long limp length look really unpleasant. Instead of keeping thin lock of hair hanging around, it will be great if you can add layers to your hair. You can also cut down the length, same length will make it look thick. You will be surprised how healthy the bob or blunt hair looks.
Add products that can help you texturize your hair. Mousse is your best friend, it can add instant bounce and volume to your hair and make your scanty hair look full and frizz free. Mousse can also add shine to dull and frizzy hair.
Add accessories. For ladies who have scanty hair, adding accessories like a head band can be a great idea. Depending on your face type you can either choose a broader of a sleek headband and tie it around your head. Thin hair will look absolutely amazing with headbands. This is definitely one of the best hairstyles for scanty hair.
Tease you hair. While you can't do it every single day, but for ladies with scanty hair you can use hair teasing when you want to make your hair look instantly glam and full. You can pull down all your hair at once and brush it in the opposite direction. Then when you flip it back you can see the instant addition of volume in your hair.
For women with scanty hair, you can choose almost any of these best hairstyles for scanty hair and you will definitely never go wrong. With simple to follow style tips for scanty hair this is a composite guide for women who want to try out different hairstyles for scanty hair. Make sure you keep you hair well hydrated and nourished. When it gets the necessary nutrition they will automatically turn gorgeous internally as well as externally with these styles.