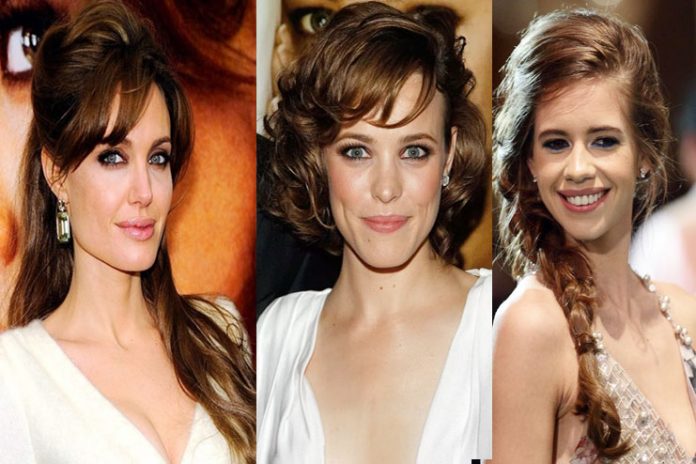 Honestly, how many of you have wondered how to style your hair for big forehead or how you could make your forehead look smaller. I am sure if you look back your history in Google, you would have lots of related searches. So, here's a list that we have compiled for you to know the best hairstyles for big foreheads.
A big forehead can be a pain sometimes; however, if you style it up right, it makes you look awesome. Big forehead usually makes you look half bald it's not done right. The good hairstyles for big foreheads not only helps in hiding the receding hairline but also brings out a style to the large forehead for people who are born with it.
Although, there is nothing that you should be ashamed of your big forehead, but there are ways in which you can style your hair to look perfect for any occasion. We have seen women look pretty and chic with brilliant big forehead hairstyles. You must know that many Hollywood and Bollywood actress have big forehead like Sonakshi Sinha, Kareena Kapoor, Preity Zinta, Malaika Arora, Katrina Kaif, Dia Mirza, Angelina Jolie, Rihanna, Allison Williams, Nicole Kidman, Rachel McAdams and so many more to this list. With so many great hairstyles for big foreheads to choose, you must not worry at all. Men and women both are pretty conscious about the hairstyle especially when they have big forehead, the struggle is for real only until you adopt certain tricks and implement the hairstyles in the right manner.
Here Are Few Best Hairstyles For Big Foreheads:
1. Side Knot Bun:
A lot of people might advise you to get bangs in the front to cover your big forehead, but, you do not have to necessarily do so. One of the best women's hairstyle for big forehead is to make a side knot bun which is not only simple but also looks chic and classy. What are clever positioning of your bun, you can get that elegant hairstyle that not only covers your big forehead but also gives you that perfect look for the day. Follow the basic steps to get the perfect side knot bun.
Separate a small portion of the front have and leave it apart while you make a pony at the back of your head with all the remaining hair. Next, if you like to curl them or backcomb them, do it in order to get some volume. Make a bun with the hair tied on the back but bring it towards one of the sides where the front hair is falling. Once you have made and secured the bun, straighten the front hair and with a loop style bring it towards the bun loosely such that it looks exactly as shown in the picture and makes you look confident in your beautiful hairstyle for women with big foreheads.
2. Updo:
We consider this to be a classy gorgeous Hollywood style for hair called as updo to hide the big forehead. Cute hairstyles for big foreheads which are not only simple to do but also goes with any sort of outfit. While you are trying to focus on your front, all you need to make sure as have some strands of your hair that are left on your face falling which could be either curled or straightened. Make sure to have a loose bun such that it looks elegant.
Brush out with a wide tooth comb knots and tangles from your hair. Gather your hair and loosely into a bun at the back and secure them with lots of pins. If you need you could always use a hairspray to let your hair stay in place. Pack your bags to one side of your face and pull out the longest trend towards the side in a way that you frame your face. At the finishing touches by gliding a smoothing serum to manage the flyaways, but always avoids it on the bangs.
3. Half-Up Hairdo With Side Bangs
Get the perfect Angelina Jolie look – American movie star and filmmaker who looks elegant and gorgeous with the half up here to with side bangs hairstyle. A sporty yet trendy and slightly messy bun covering up the forehead is simply perfect as a hairstyle for ladies with big foreheads. Bangs with your best friend to not only make your big forehead look smarter but also to draw attention away from your hairline and to that lead to your eyes and lips.
Half hair-do is very simple as you have to clutch the portion of your hair by moving your hand from write about your ears to the back and clipping it. Your bangs would be small enough to fall right on your forehead but you can always comb them and straighten it to fall on both the sides of your forehead or as you like. A simple and good hairstyle for big forehead that could be done every day without much trouble or complications.
4. The Non-Traditional Bob For Women:
The non-traditional bobs are completely in fashion. This type of a Bob is basically the deep bangs which are formed with the help of a razor rather than the scissor cutting. Non-traditional Bob does not am to cover the entire for help but, provides enough volume to the overall hairstyle Bob such that it makes them look soft on the skin and maintains the transparency of women with a big forehead.
Nice hairstyles are designed for both the genders men and women, aiming to reduce the size of the forehead and most of the cases, as natural as possible. Best hairstyle is highly adjustable in nature and hence serves as the best hairstyle for big forehead in most of the cases. There are many ways in which you could adjust the hair such that it would keep the bobs on one side and transparency on the other by separating from the forehead as per your choice. To add to that look, you could as well color your hair and make it look extravagant.
5. Feathery Curls To Hide The Big Forehead
A cute hairstyle for big forehead which could even be tried by female with short and curly hair. The girls especially from the front until the bottom covers the whole head which gives a perfect round look for the face instead of making it look elongated. The length of the hair must be preferred to be around here to give the perfect feathery curls and hide the big forehead.
6. Textured Side Braids:
One of the best Indian hairstyles for big forehead is to make a textured side braid. When you are tired of leaving your hair loose, and are willing to experiment inspired, you must always try out for this exquisite hairstyle. A very simple one to make but is a great hairstyle for big forehead female.
You must always go for a side parting for the sort of a braid, however, you might as well want to make sure the site to cover the upper corner of your forehead in a perfect manner to get that look. If you have happens to be limp, it gets worse for you because the limp hair with a big forehead might give you a lot of bad hair days. Hence, very precisely, you must go for texturizing spray in order to get some volume to your hair and focus the shift away from your hairline or forehead.
7. The Fake Bangs:
One of the smartest tricks and tips for hairstyle for big forehead female is to create fake bangs. Creating fake Bangs is also very simple and easy. All you need to do is tie your hair high with an elastic band. Hold a little portion of the hair from the Pony to make it fall right on your forehead as shown in the picture. Next, secure it with bobby pins such that the hair is wide and covers your forehead.
Once done, make a Messy bun with the remaining hair and secure it with pins. Straighten the banks with straightening iron and you are good to rock this look. The perfect bang for your hair is ready even before cutting it out. Wouldn't you love to try this?
8. The Fake Swept Bang Curly Bun
This is an amazing one where you could do so much without cutting your hair and to the bangs. It is only a clever placement and training of your hair that makes your broad forehead covered as do you have the perfect looking beautiful bangs to the side. You can either have a curly top bun or a bottom side bun to make this a perfect party look.
Wash your hair before starting the hairstyle and apply heat protectant. Partition your hair in such a way that you pick up a small section of the hair in the front which should be between both your temples. Tie this section with hair elastic about half a way down. Make sure that the top half of this section which is in the front is flat right against the forehead. Next, flip over to inside and pin it right above the forehead and under the top half such that it creates a faux side bang. Tie the rest of your hair into a pony and make a messy bun or tell them all section wise and put them into a bun and secure with bobby pins. Spray some light hairspray to keep the hair intact and finish the look.
9. Super Simple Faux Hair Side Bangs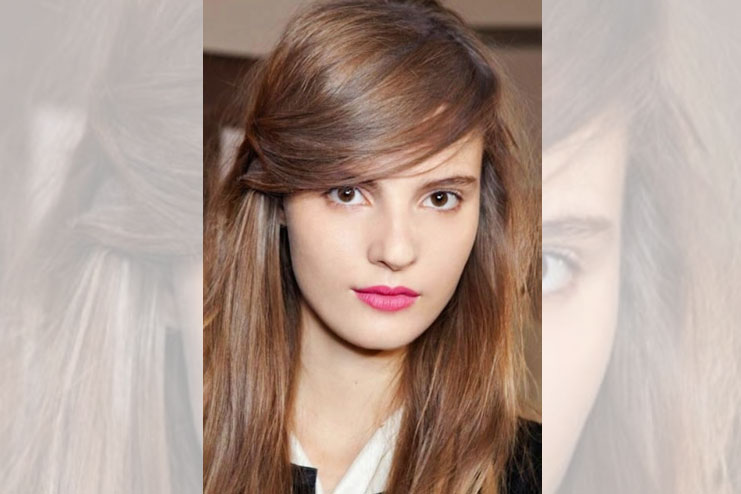 Another super simple hairstyle for big forehead would be to create a fake sidebands with the help of a simple bobby pin and open hairstyle. An effortless one that looks very cute and add the required layers to your hair. You will need to texture spray your hair before starting and follow the below steps.
Once you have texture sprayed your hair, tease down the hair at the crown of your head. Leave out the rest of your hair along your hairline and make sure to smooth back the hair at the front of the head over that teased hair with the help of a fine toothed comb. Next, pin the hair down at the back. Spray hair spray lightly to hold the hair in place.
10. Curly Bob And Straight Bangs
An old style at that comes back alive with a beautiful combination of vintage and sexy look. The hairstyle serves for all occasions. The poker straight bangs combined with curly hair makes a perfect combo. Get your haircut in banks and a long bob and follow the steps for this hairstyle.
Leave the banks and insert the once you have you have watched on to the wet hair. Leave the rollers in the hair until it dries up completely. Spray some hairspray all over the hair and remove the rollers. Pull the hair besides and pin it back behind your ears either sides. Straighten the bangs until they get poker straight to complete the look.
Read More On: