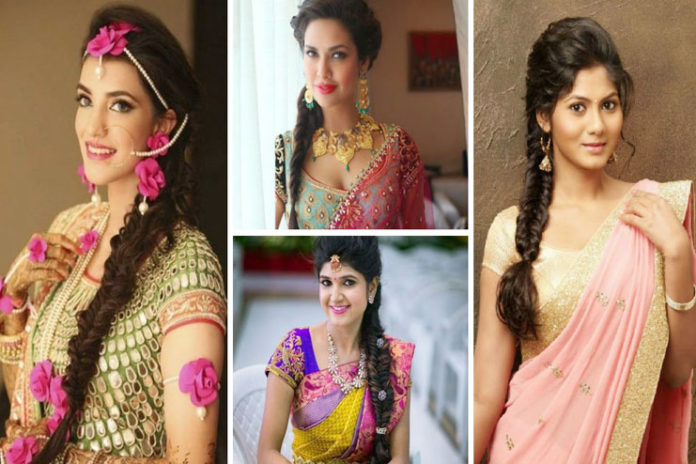 A saree is the most feminine piece of garment a women can ever wear. It demands from people an equal amount of respect as attention. It is the most elegant piece of cloth that turns any normal little girl into a graceful women with elan.
Every Indian girl has once or the other in her childhood donned a dupatta like a saree and stood in front of the mirror for hours pretending like her mother, that's how fascinated we Indian girls are by a saree. As a teenager you are really excited to wear your first saree, For a lot of us, it is to the school farewell party.
For every occasion of importance Indian women preferably want to wear sarees, but often struggle to complement it with a beautiful hairdo. A simple mistake can ruin the best of outfits. But we're here to help you out with a complete guide to finding the perfect hairstyle for that perfect saree you want to wear.
1. The classic Bun-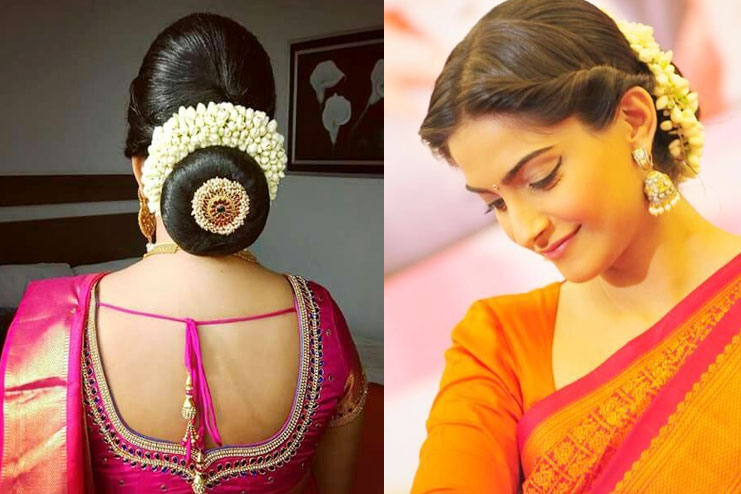 The bun hairstyle has had a long relationship with sarees. It is time tested and works fine with every traditional type of sarees. Be it Kanjeevaram, Paithani or Banarasi. Wear this hairstyle for festivals. Or even for engagement parties. If you want a classic look of poise, you should go with this look. It can be very well complemented by a flower accessory or real flowers.
2. Loose Wavy Curls-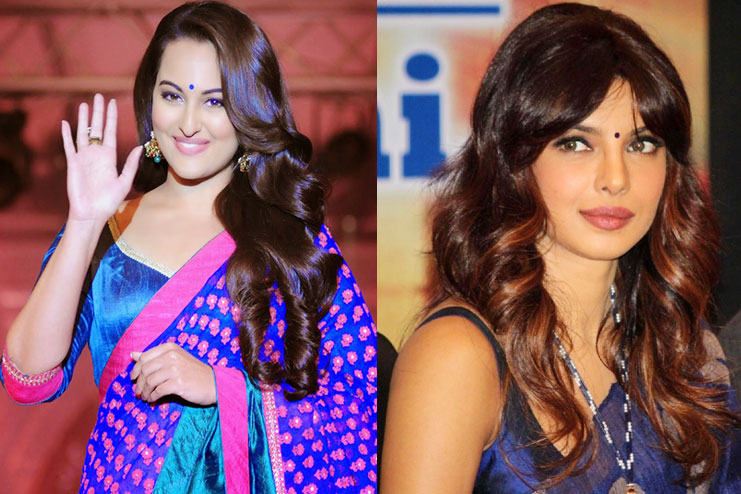 For a more fun and young hairstyle, where you don't mind swaying your hair a little you may opt for loose wavy curls. This hairstyle is best suited for a more casual look. It would go best with pinned up saree pallu and will also work in cotton sarees. To uplift the lighter curled hairstyle look. You can add a bold solid bindi to complete the look.
3. Half up Hairdo with curls-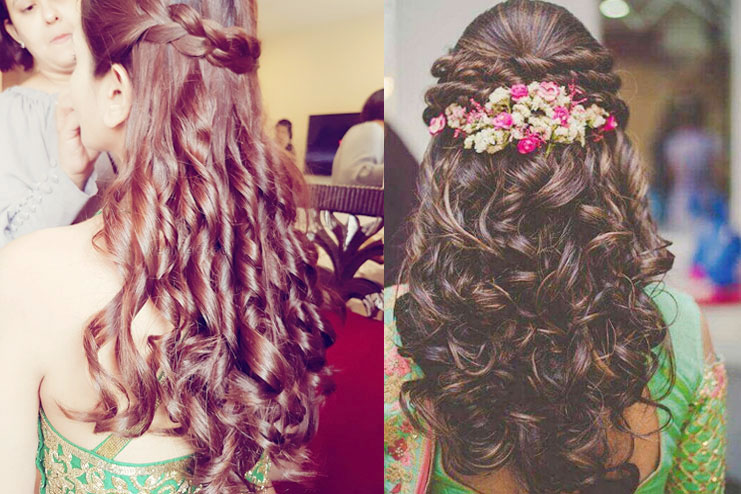 This is a really fun choice for Mehendi function sarees and sarees where you can just dance away. It looks really breezy and nice. It will be best for women with round and square face shapes. Chiffon sarees and sarees with lighter flowing fabric will look best with this type of hairstyles.
Related article: How to Have a Gorgeous Waterfall Braid
4. Curls-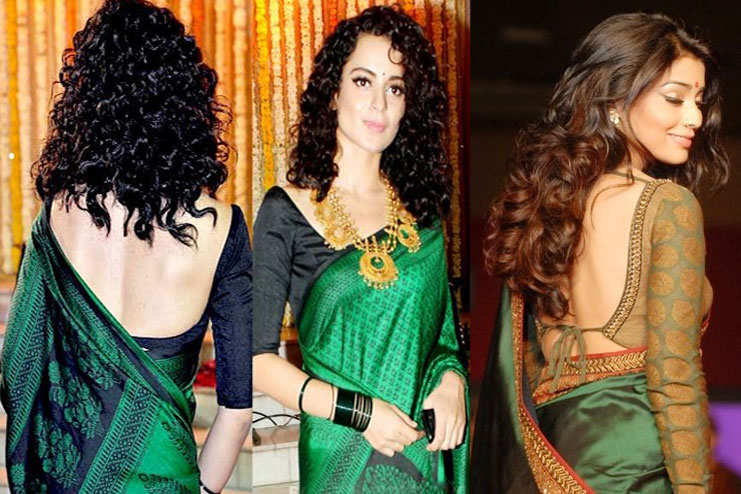 Curls will always make you stand out from the crowd. So if you are wearing a subtle saree, a curly hairstyle will definitely lift up your glam quotient. Soft curls or Tight curls both have the potential to turn any simple saree into effortless chic. You can also complement this hairdo with a little earring and a bold neck piece.
Related Article:  Easy Hairstyles for Curly Hair
5. Fishtail Braid-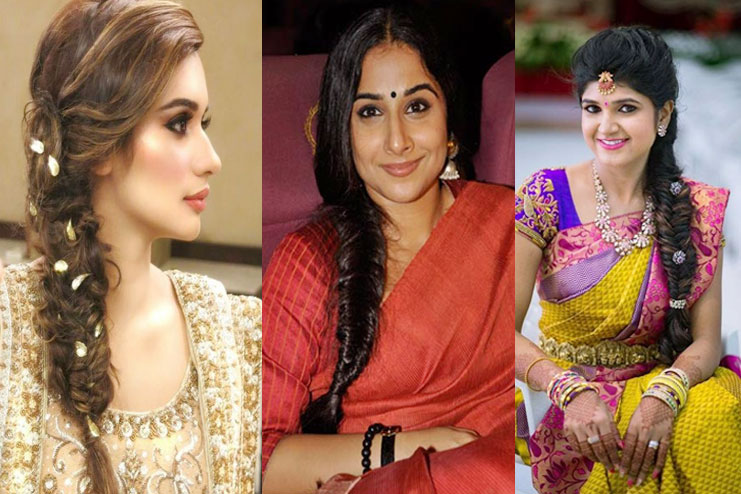 The Fishtail Braid is a simple but sophisticated looking hairstyle. This hairstyle is best suited for sarees with heavy gold zari work. Although it may be worn by any women of any age group it would best be suited for ladies with round face. You will be surprised how well it goes with round and broad face shapes. It can be worn at evening as well as afternoon functions.
Easiest and most explanatory tutorial we found on fishtail braids.
6. Normal Braid-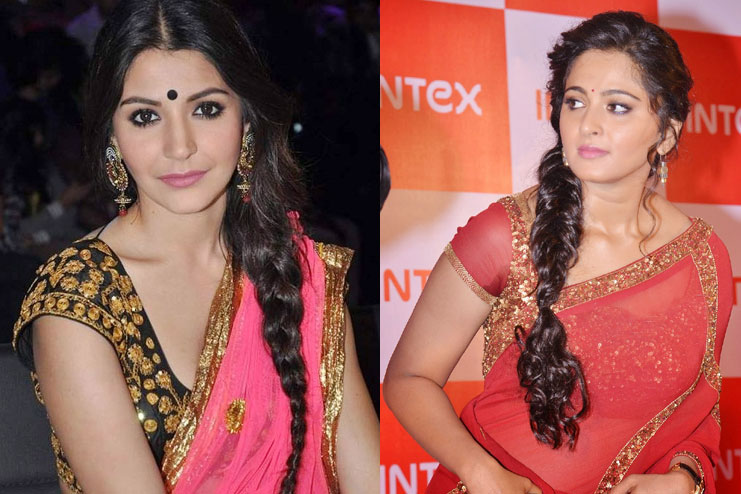 A normal Braid is for times when you are running late at the same time You also want to look chic and want that saree look to be complete. It is a simple hairdo which goes well with any saree type. It would best be suited with funky designer sarees with bright and edgy jewelry, or with sarees with a popping out neon colours.
7. Side swept hair with curls-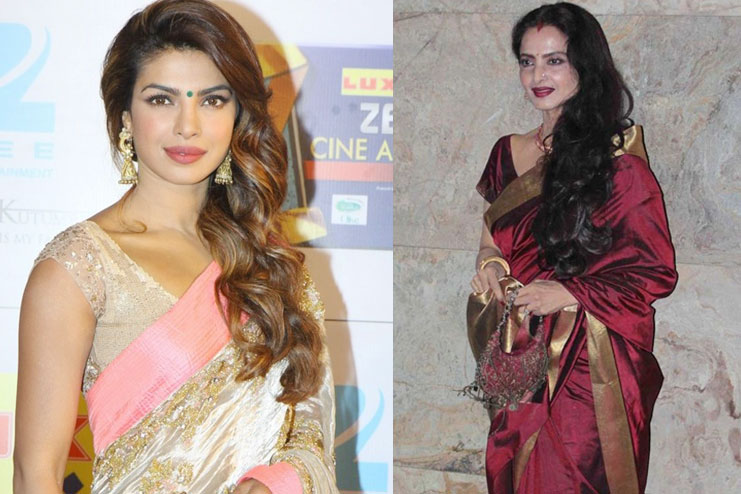 This is one of the most Graceful hairstyles ever. It gives you the poise that is required to wear a saree perfectly. It is super easy to make and it requires very less time too. It goes with Literally every saree you would want to wear it with. Be it silk Pattu sarees, chiffon designer, cotton casual or heavy zardozi Bridal saree. It just never fails you.
8. Side swept loose ponytail-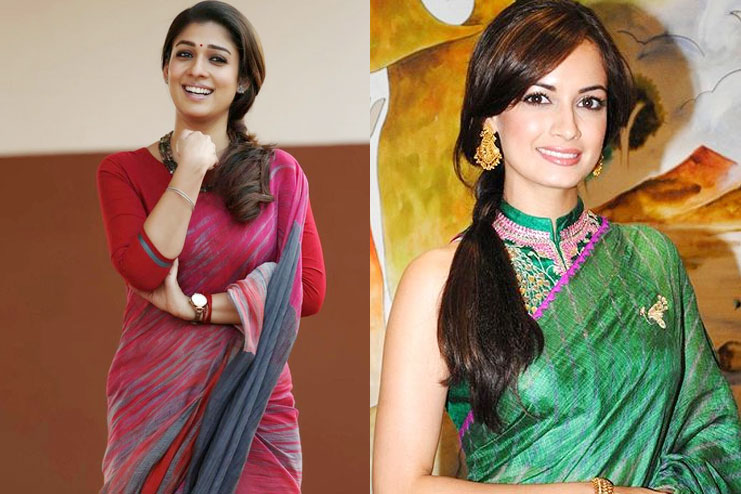 Loose side swept ponytail will look best with solid coloured sarees which do not have a lot of prints. It will create a very casual and easy going look. It is good for smaller occasions and casual outings like garden parties.
9. High ponytail-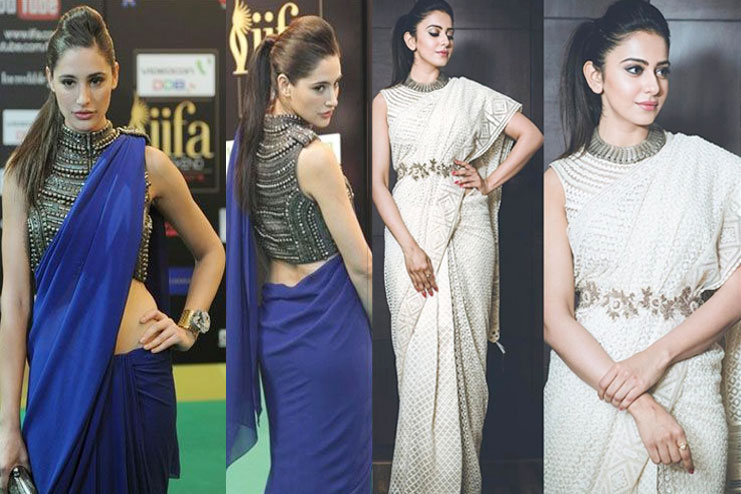 One of the edgiest hairstyles to pull off with a saree is a high pony. It looks extremely youthful and adds an extra oomph factor to your face. It is very easy to make and it will best be suited with sarees that are trendy or have some fun quirky quotient to it. It is suitable for women with straight hair more, but women with curly or wavy hair too can make, just blow dry your hair a little so that it looks slick and fine.
To perfect this look here is great video to help you out
10. Messy Bun-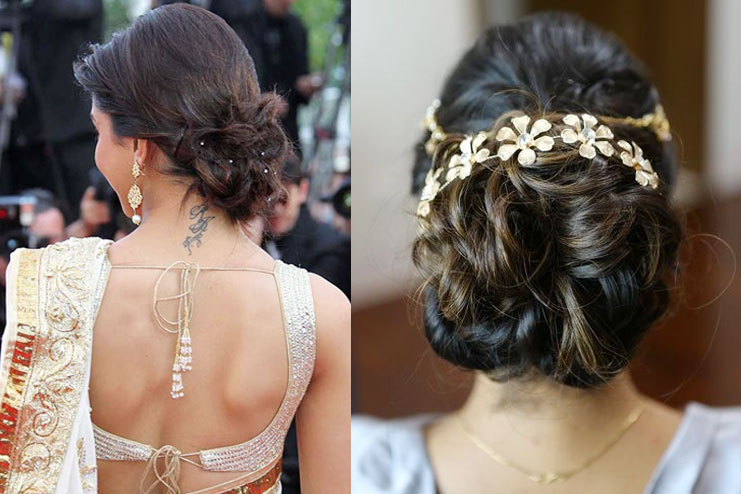 The messy bun would look really beautiful with bold lip colours and muted colour saree. It will just create a very beautiful cocktail look. To top it off it can be complemented with a beautiful hair accessory too.
It is an effortless hairstyle that will go best with sarees of either dark or very light colours.
It is the most suited hairstyle for a party where you wanna look very fashionable and trendy.
11. Front Braided bun-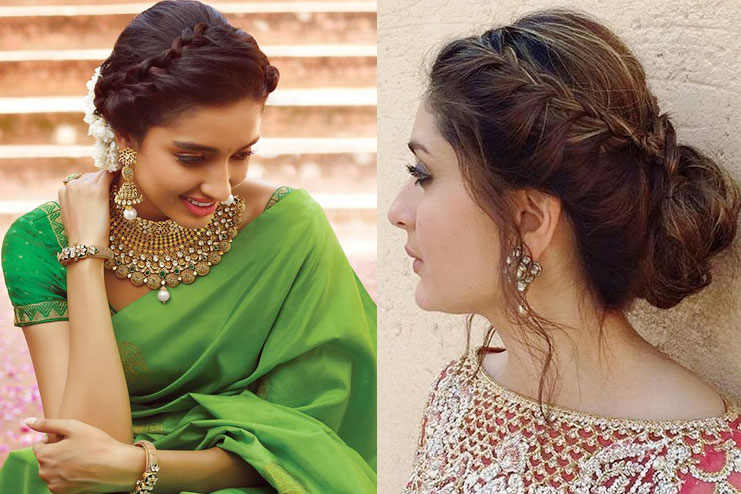 For sarees which are heavy to carry it is always better to tie the hair up to keep your hands free. This is one of our favorite tied up hairstyles. It is fun and yet classy. It has an equal amount of depth and simplicity. It works really well with a string of flowers around the bun. This is especial a hairstyle for festive occasions.
12. Poker straight hair with parting-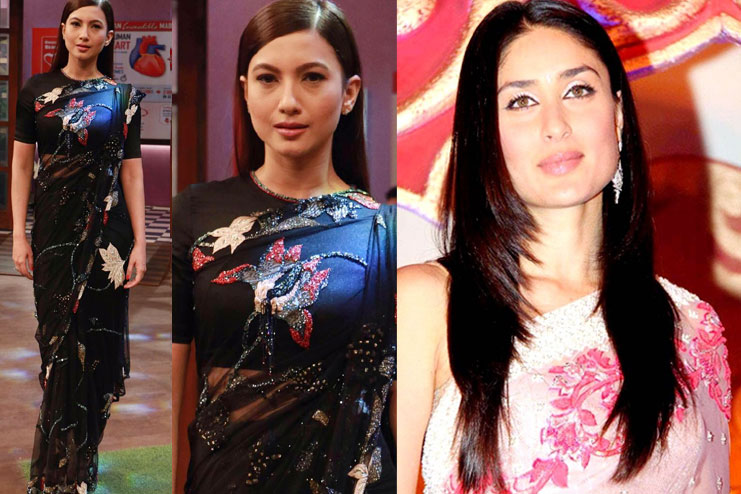 For an effortless hairstyle which can never go wrong, opt for straight hair with parting. It looks very trendy and chic.
13. Beachy curls-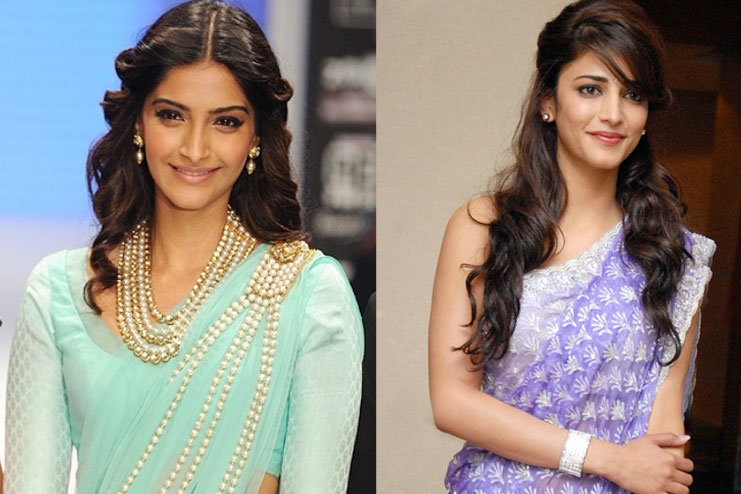 Beachy curls are best options for women who want to keep it trendy. It is the most trending hairstyle with sarees these days and it requires very little effort too. Either completely tied up, half up or even all open, it still looks elegant.
Kalyani