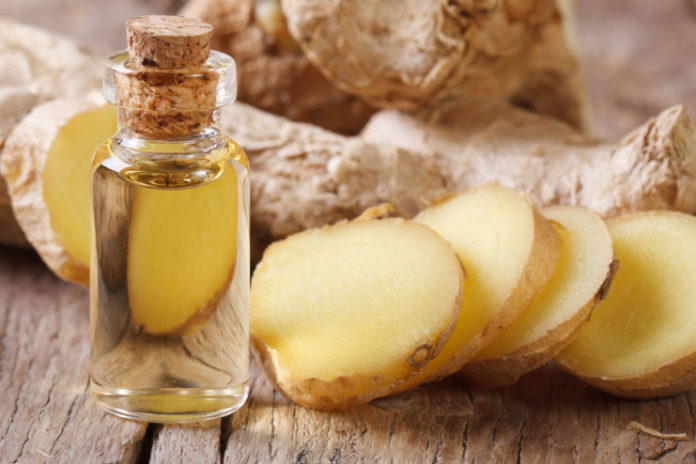 Growing hair or regrowth of hair is one of the most difficult task that is not meant for the faint-hearted people. You need a consistent dedication as well as right product to help you with that. It sometimes can come with a lot of unknown struggles like the awkward-length-phase, bouts of the hair loss, and a constant urge to chop it off. Given all the the benefits that ginger has to offer when comes to healing diseases as well as health problems, it has a lot to offer. It is considered as one of the best ingredients that you can use to promote the hair growth. No matter whether it is just to achieve a mermaid length tresses or to simply control your nasty bout of hair loss, this amazing natural ingredient can prove to be an extremely helpful product. So here, are some DIY ginger oil for hair growth that you can try.
Benefits:
a. Ginger is believed to contain gingerol, an amazing medicinal substance which have many powerful medicinal properties. Gingerol can help to have proper digestion, reduce the feeling of nausea as well as help to fight the flu and common cold.
b. Ginger can help to treat many different forms of nausea, especially something like morning sickness.
c. Ginger has also been shown to be an effective ingredient against the exercise-inducing muscle pain. These effects are also believed to be mediated by many anti-inflammatory properties.
d. This anti-inflammatory effects can also help with the process of osteoarthritis. Osteoarthritis is basically a common health problem. It is mostly involved in the degeneration of joints in the body, which leads to symptoms like the joint pain as well as stiffness.
e. Ginger can also lower the blood sugar levels and help to improve the heart disease risks.
f. Chronic indigestion or dyspepsia is a characteristic feature that occurs with recurrent pain as well as discomfort into the upper part of the stomach. Delayed or empty stomach is one of the major drive of this type of indigestion. Ginger is believed to help treat the chronic indigestion.
g. Some studies proved that ginger powder can help to reduce menstrual pain.
Ginger Oil For Hair Growth
1. Ginger With A Carrier Oil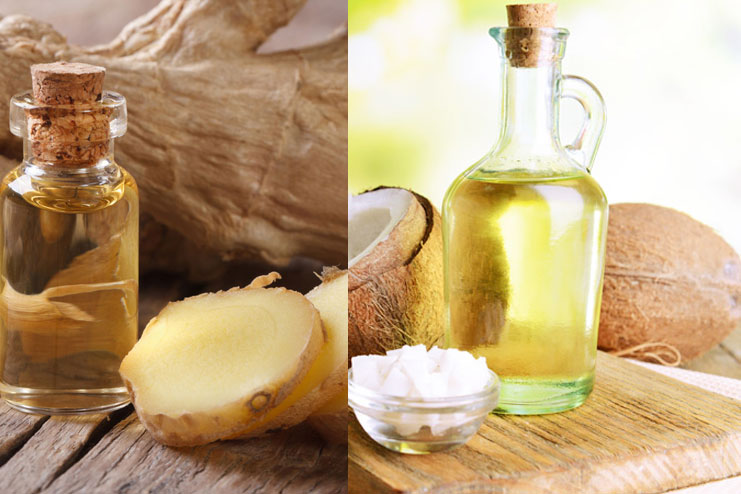 Ingredients:
a. One tablespoon of ginger paste
b. One tablespoon of carrier oil, like Olive, Coconut, Jojoba,etc.
Method:
a. Mix the ginger paste as well as the select carrier oil into a bowl.
b. Then section the hair and start massaging with the ginger oil in the scalp with the fingertips.
c. Once when the entire scalp is covered in the oil, then massage it for an additional time of five minutes to improve the blood circulation.
d. Leave the oil on the hair for at least of 30 minutes and then rinse it with the shampoo.
Why it works:
When ginger oil is combined with other oils, it gains the conditioning properties to nourish as well as strengthen the hair, ensuring that the hair regrowth happens to be thick and healthy.
2. Ginger And Lemon Juice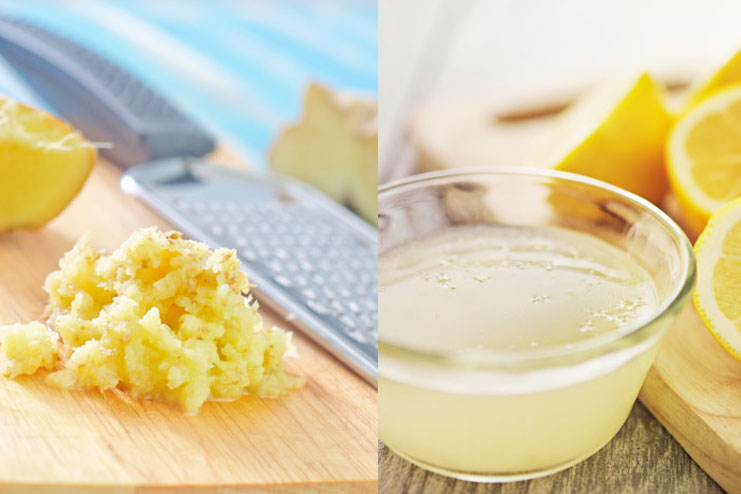 Ingredients:
a. Two tablespoon of grated ginger
b. Three tablespoon of sesame oil
c. Half teaspoon of lemon juice
Method:
a. First blend all of the ingredients together until you get a fine, or a consistent paste.
b. Now apply the paste all over the scalp and hair, leaving it for 30 minutes.
c. Then rinse off with a shampoo.
Why it works:
Lemon have collagen boosting properties, that when combined with antimicrobial properties of ginger can work together and help to restore the pH balance of the scalp while also promoting hair growth.
3. Ginger Paste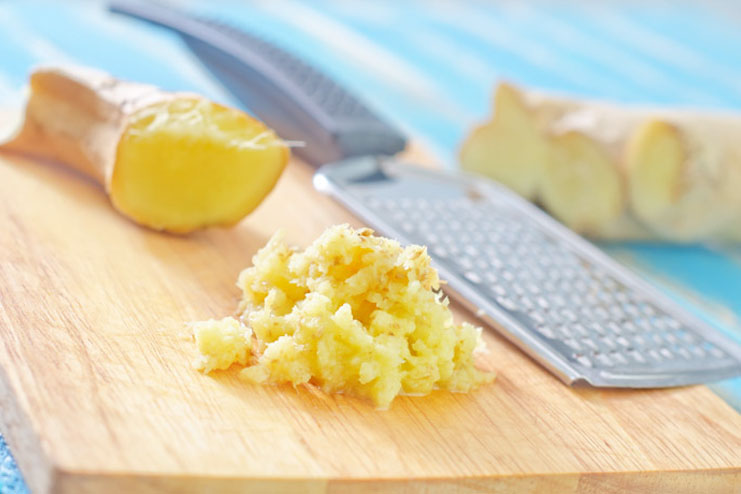 Ingredients:
a. Two tablespoon of grated ginger
b. Water
Method:
a. First blend the properly grated ginger with a very small amount of water until it turns into a runny consistency.
b. Now apply the paste on the scalp and let it sit for about 45 minutes to an hour.
c. Then rinse it with water.
Why it works:
The ginger paste have its potent antimicrobial as well as nourishing properties, that can help to tackle the hair fall as well as stimulate the hair regrowth. It is also one of the most simplest as well as most efficient way to use ginger in the hair care routine.
4. Ginger And Moringa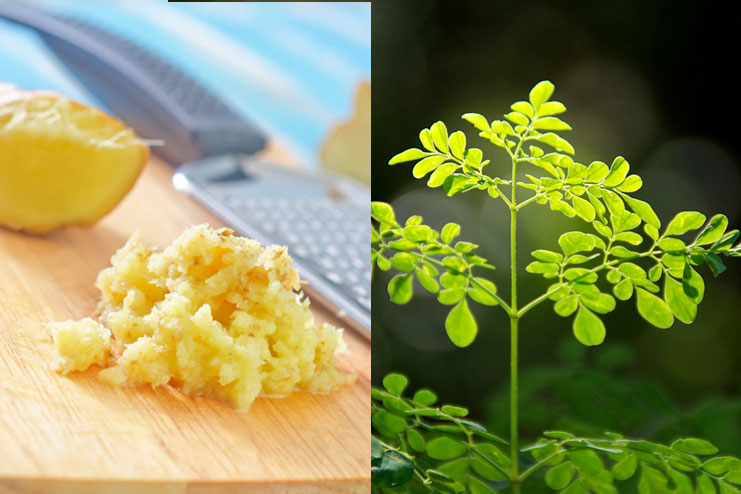 Ingredients:
a. One tablespoon of grated ginger
b. Handful of moringa leaves
c. Two cups water
Method:
a. First you have to boil some Moringa or drumstick leaves as well as grate ginger in two cups for about five to 10 minutes.
b. Once when the concoction has been cooled out, strain the whole liquid and set it aside in a jug.
c. Then shampoo as well as condition the hair by pouring the liquid as a final rinse.
Why it works:
Moringa leaves contain calcium, iron, zinc, copper, manganese, potassium, and magnesium. It is also a very rich product in vitamins A, C, D, E, as well as K, and is also known for the rich content of antioxidants which can help to keep the hair healthy as well as free of damage. When all of this is combined with the beneficial properties that ginger offer, and create a perfect hair care potion which ensures a healthy hair growth.
5. Ginger And Onion For Hair Growth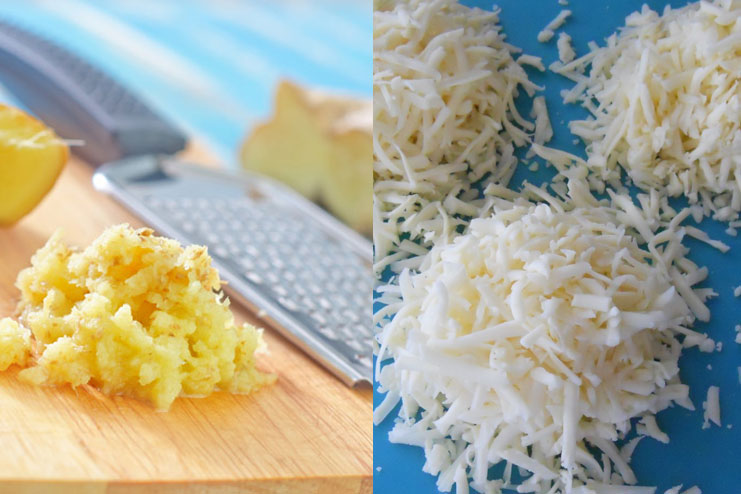 Ingredients:
a. two tablespoon of grated ginger
b. One Grated Onion
Method:
a. First squeeze the already grated onion as well as ginger and collect the juice.
b. Then use a cotton ball to dab the juice on the scalp.
c. Now wait for 20 minutes, then wash the hair.
Why it works:
Onion is quite a rich source of sulfur which can help in the follicle regeneration or regrowth. This mixture can also help to stimulate the hair growth from the dormant follicles, making the hair thicker while speeding up the hair growth.
6. Ginger And Garlic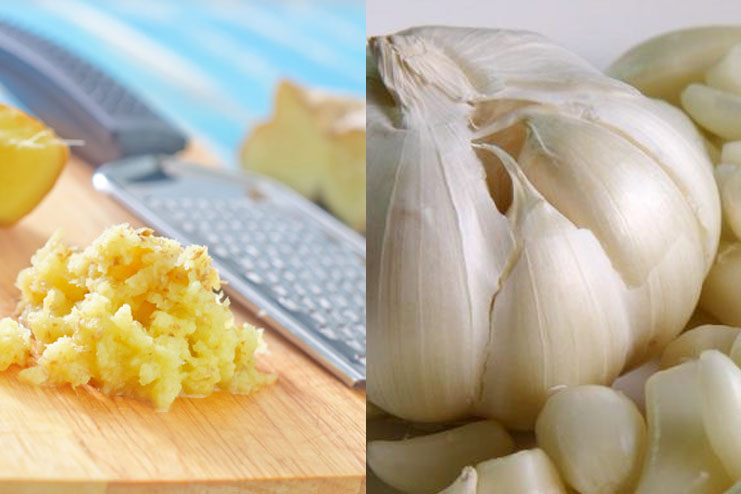 Ingredients:
a. One teaspoon of grated ginger
b. Two teaspoon of honey
c. Two tablespoon of coconut milk
d. Two tablespoon of coconut oil
e. Three cloves of garlic
Method:
a. First blend all the ingredients until you get it in a smooth paste.
b. Then section the hair and start applying this mask to the scalp as well as the hair.
c. Once when all the hair is covered, then let this mask sit for about 30 minutes.
d. Now wash it off with a shampoo.
Why it works:
Garlic is known to be rich in sulfur. It can also help to stimulate the hair growth from the hair follicles. This mask can also help to repair the damage with the help of honey, coconut milk, as well as coconut oil. While honey can condition the hair, the coconut milk, as well as the oil can nourish it, making it more healthy as well as damage-free.
Tips For Healthy Hair Using Passion Fruit