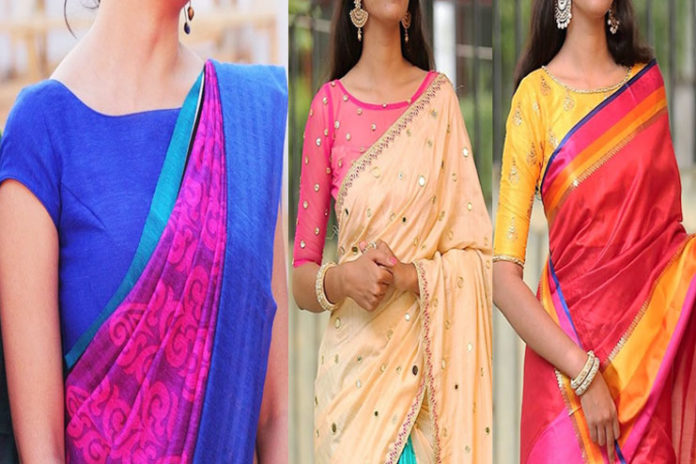 Boat neck blouses are a trend that is becoming the most preferred choice of all the modern day woman as well as saree lovers, increasingly. You may ask, whether there is anything distinctive about these? Then the answer is yes, there is!
Boat Neck Blouse Designs, can serve as topping when it come to wear light weight sarees such as the georgette, netted, chiffon and many more. They look amazing with almost every body type as well as complexions which even explains their universal appeal. This is why they bring a unique look which make you to stand out of crowd. In fact, they do go well on some ladies who have narrow shoulders as well as slender necklines that it make them amp up the neck bone and the boat neck blouse in a more dramatic way. One of the best part about this Boat Neck Blouse Designs is that, it can hide the cleavage in a stylish and sleek way. So that you can look comfortable as well as elegant at the same time.
When it comes to the blouses, there are certain types of designs, styles as well as trends which can take this fashion scene by storm every year. One of the most simplest as well as most stylish blouse designs which was in rage in 2017 is boat neck style. So here are the latest collection of the boat neck blouse designs which are trending this year. Women, who are looking for something different to add into their closets and pair with a fancy as well as simple sarees alike find that the boat neck blouse designs offer a very elegant solution to your everyday wear, with fancy and party wears, it is because of the versatility and timeless elegance.
Boat Neck Blouse – The Fashion Rage
Fashion is changing, evolving and even multi-tasking. A boat neck blouse kind of pattern is one of such form of apparel for the women who can find the expression in the gowns, kurtis, one piece dresses, designer tunics and now even the saree blouses.
While selecting boat neck blouse designs, women mostly see the front part but are do not notice the back. This can be one of the reason on why the boat neck blouse patterns become a new found hottie which can attract the eyeballs, at the same time and makes you look chic & feminine.
1. Black & Red Sequin Work With Transparent Sleeves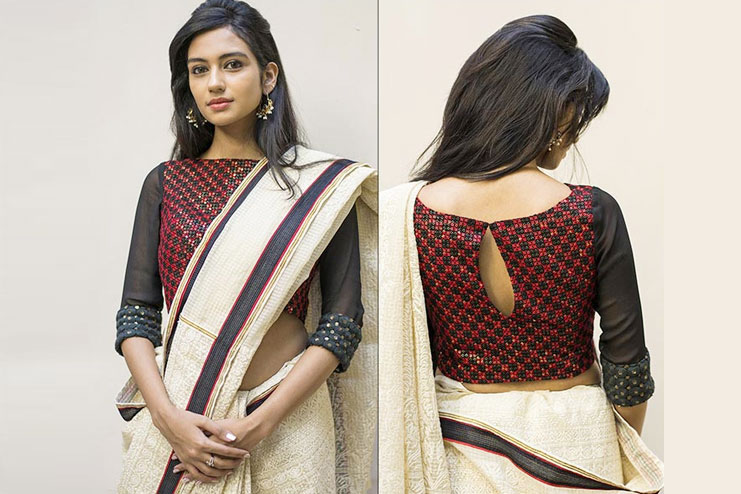 This stunning blouse, with no doubt make the one who is wearing it a show stopper. The boat neck design, can ooze the class while red and black checkered design that is studded with the sequins can retain a very elegant look because of its subtlety. The keyhole pattern at the back pattern is also equally elegant as well as highly alluring.
The classy look of this blouse is further being enhanced by the transparent or sheer sleeves which have a sequin border embellishment, making it one of the best boat neck blouse designs for the one who is looking to show off at next party and up their style quotient.
2. Kutch Work Multicoloured Blouse With Cap Sleeves
If you are in need for a "go-to" blouse, then this is one of best boat neck blouse design which you must choose to keep in the cupboard, and the reasons is simple. It is supremely stylish blouse which can not only grab the eyeballs, no matter where ever you go but it is even simple to pair this blouse with any of the fancy or simple saree. Just select a saree in one of the many colors that is in the blouse and you are good to go!
Both on the front of the blouse as well as the pattern on its back features a fancy kutch work and can perfectly place patchwork which make the blouse really stand out from anything else that you may have in the closet.
3. Textured Chatai Work Gold Mesh With Keyhole Back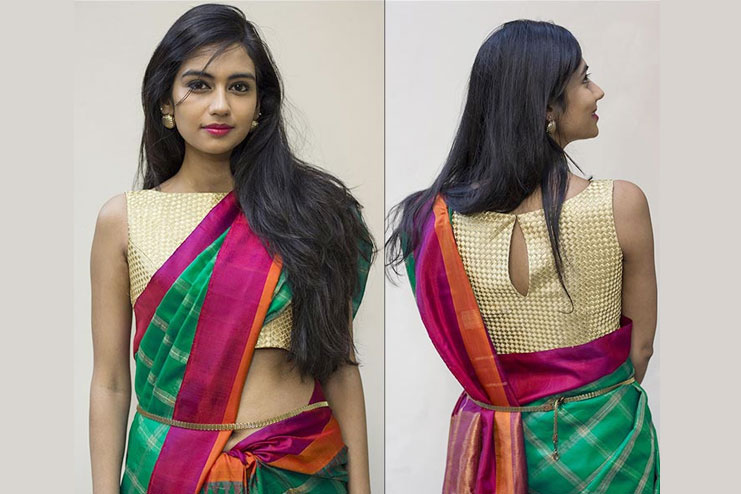 Boat neck blouse designs are known to be extremely chic by the very nature and when you throw the mix of a textured chatai work as well as sleeveless design then what is left is an amazing blouse which is a must add on any girl's wardrobe!
Any solid colour pure silk or even a chiffon saree, can yield in the exquisite result with its delicate shade of gold. This subtlety as well as delicate nature of its colour mean that the age is not at all the factor when deciding if it can work for you or not.
The pattern of the back neck is of keyhole variety which is another perfect complement to an already elegant design, and this blouse is just perfect for anything from fancy dinner at family get-together to a night on town.
4. Silver Mesh Boat Neck Blouse Design With Full Back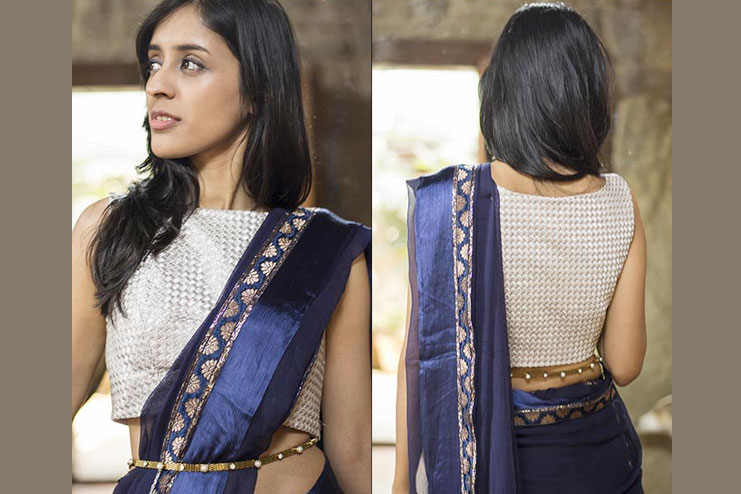 When you are dressed up in something as enticing as this silver mesh boat neck blouse, then it is guaranteed that all the eyes will be on you. The design is a classic, which means that it will go with all the sarees of every styles as well as colours, whether they are heavily or even lightly embroidered and being completely white, this blouse can work excellently well with the sarees of any colour.
5. Floral Thread Work Green Boat Neck Blouse With Eyelet Keyhole Back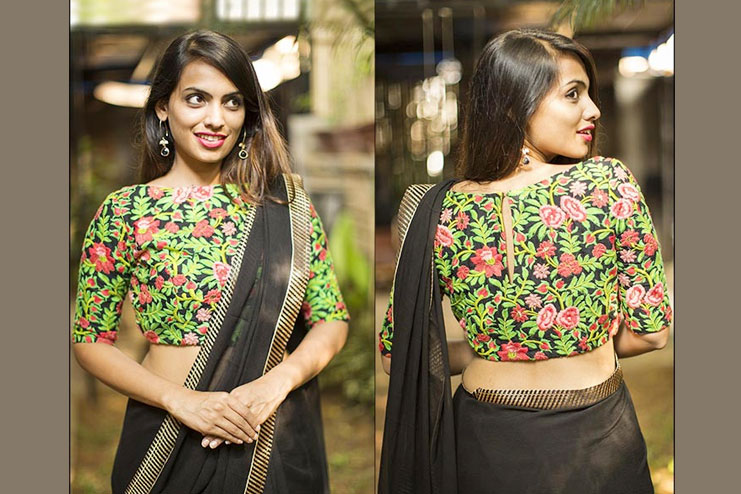 When talking about the gorgeous boat neck blouse designs, it is hard to leave this one. The patterns of floral and intricated thread work can make this a must own blouse when it do comes to any of the girl's wardrobe. You can pair this with a black saree with gold border to draw all the attention to the blouse and look best at any social function whether it's a party or an evening with the family.
The back of this blouse also have a keyhole pattern at the back which can help to retain the class of overall designs.
6. Silk Plain Black Cutting Blouse With Sequinned Collar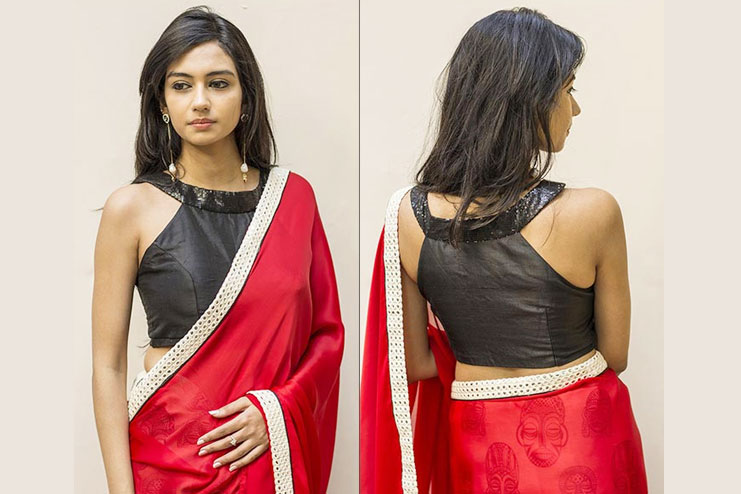 A plain black blouse is a must-have among the boat neck blouse designs. This sleeveless design with the cut ensures that it do remain a very highly attractive design that will go well with all your dark colored sarees. This boat neck design can go well with the Georgette sequinned collar. The back cutting can also show off your shoulders in a high alluring manner and thus make an overall attractive design for a evening party.
7. Plain Black Boat Neck Blouse With Full Embroidered Sleeves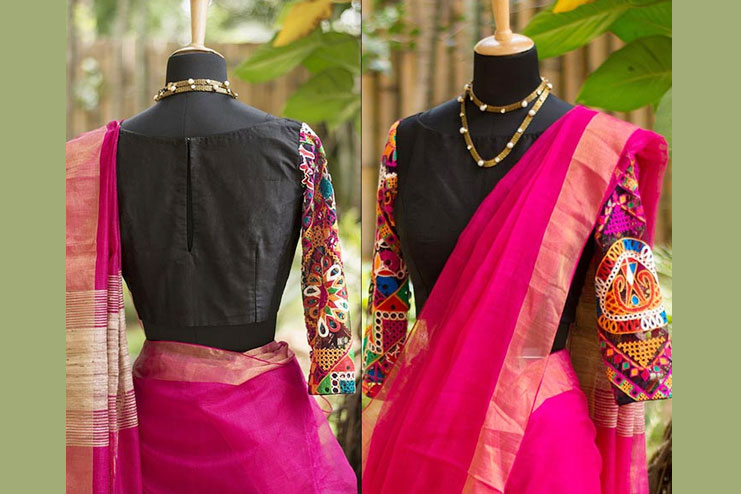 This blouse is considered to be an exceptional choice for those who are looking for something that is completely refreshing, unique as well as highly contemporary. This style is in fashion in 2017 and it is even easy to see why it's trending. The pretty kutch work pattern on its sleeves are multi-colored and make up for highly appealing designs, and the body in plain black go well especially with the plain color sarees. Try to think of something that is in deep pink color.
8. Raw Green Sleeveless Boat Neck Blouse With Kalamkari Work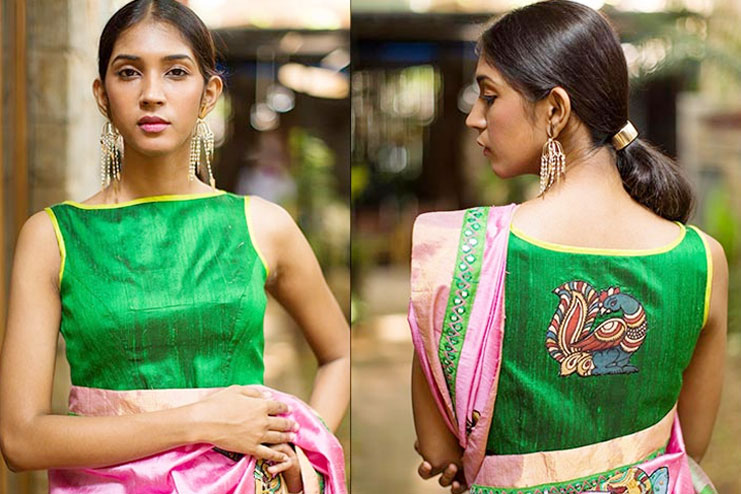 When it comes to a gorgeous boat neck blouse, not many of these blouses can match elegance of a raw silk boat neck design with yellow border and an exquisite kalamkari work that appliqué the back of the blouse.
Tip:
Wear your hair up in the bun, to show off a gorgeous embroidery on your back of the blouse. The elegant boat neck as well as its classy color make it an excellent sartorial choice for every woman who are looking to enhance her style quotient.
9. Velvet Maroon Boat Neck Blouse With Zip Back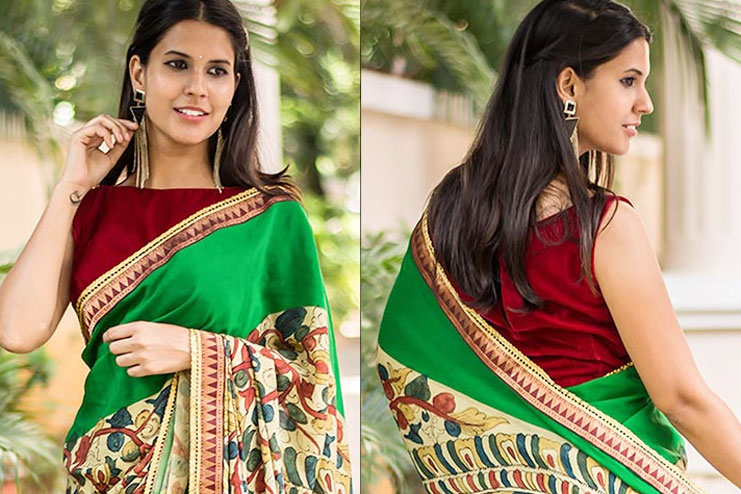 A deep velvet blouse, is considered as one of the most versatile boat neck blouse design that you can hope to have in the closet for winter season! Pair this with a gorgeous dark green saree, and it can work wonder for your profile and also have you feel every bit like a beauty queen.
It is a perfect attire for evening wear, especially when you are feeling like wearing the hair down as this blouse has a full back zipper design.
10. Pink & Mustard Kalamkari Work Boat Neck Blouse With Floral Pattern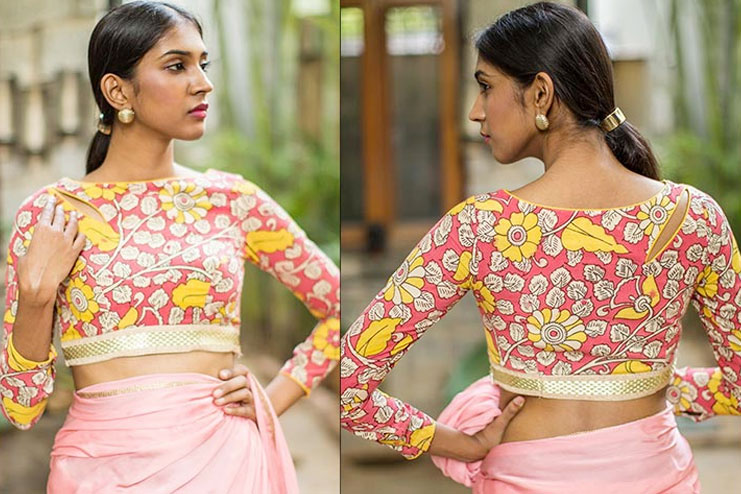 This modern blouse design is a beauty. The exquisite combinations of pink as well as mustard can work wonder when it is paired with light pink saree. The floral pattern is considered highly contemporary as well as chic that take on the embroidery and gold border and just ties the whole blouse together exquisitely.
11. Black Long Sleeve Boat Neck With Gold Zari & Triangle Cutting Back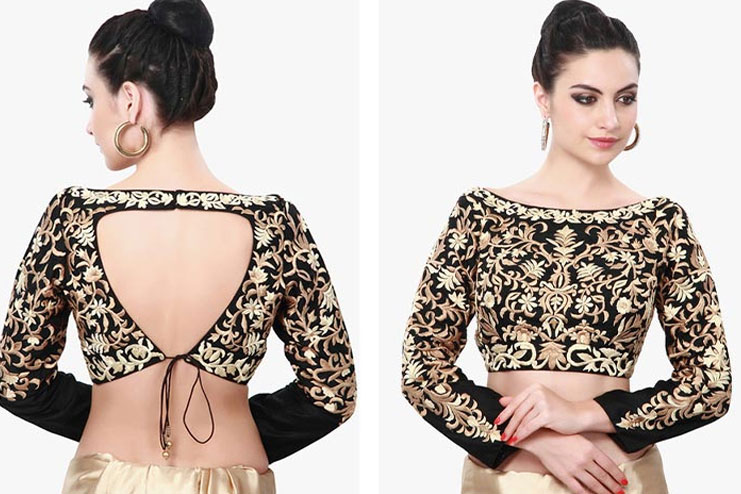 Bring the sexy back with this gorgeous black blouse with gold zari embroidery as well as long sleeves. For those who are thinking to wear their hair up into a bun, this blouse can offer a perfect chance to show off your toned back.
The pairing must be done with a golden saree which can really bring out the pattern from this blouse and make who is wearing it make them feel as well as look elegant. The back of this blouse is also pretty appealing and can help to make a style statement.
12. Red And Cream Boat Neck, Embroidered Cutting Blouse With Zari
A special occasion always demands a special blouse and it is just a thing that can make you stand out. The cutting pattern on its base is very unique and is also highly stylish with combination of the cream and red color as well the floral embroidery pattern that is simply stunning to look.