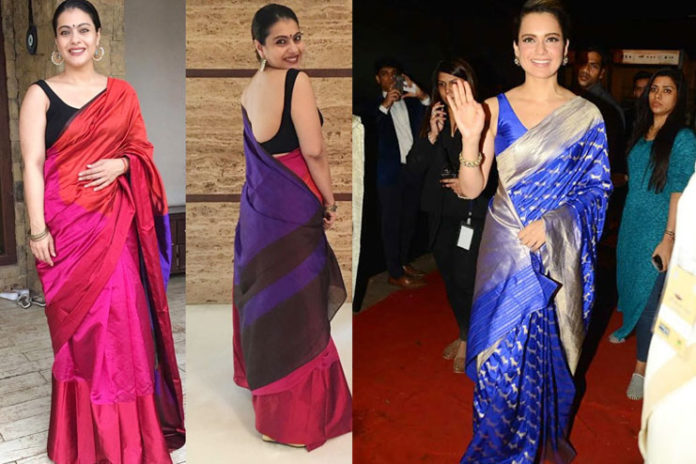 A sleeveless blouse is the most subtle style statement with the most impacting results. It is the most versatile piece of clothing that looks great with all the sari types. Women of all ages, right from young teens, middle age women to older Ladies, everyone can look uber stylish in this design. To give you an overview of the best patterns and designs of sleeveless blouses in recent times, here is a collection of all the new and trending designs, you can incorporate in your wardrobe, the next time you want to finalize a blouse for your saree.
Latest Sleeveless Blouse Designs-
1. Single Colour Simple Sleeveless Blouse-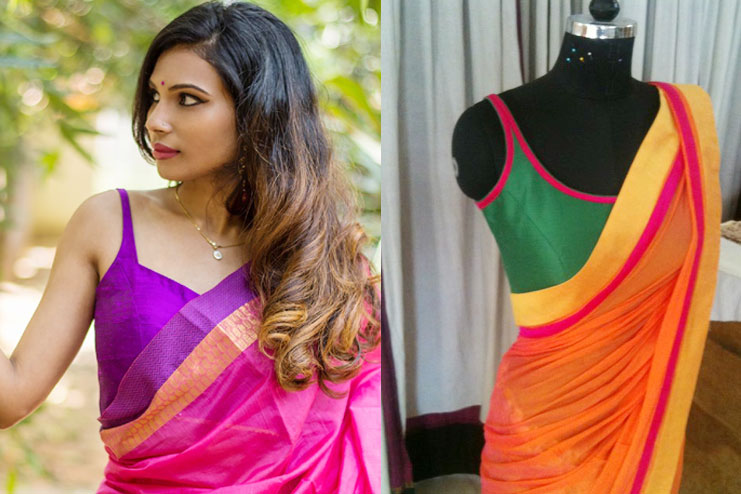 Nothing matches the charm of the simple sleeveless blouse. Make it in any shape of the neck, Be it round, square or V neck, it will look absolutely amazing. For you elegant Printed Silk sarees or you lovely Uppada saris, this will be a perfect match.
2. Sleeveless with Pompoms-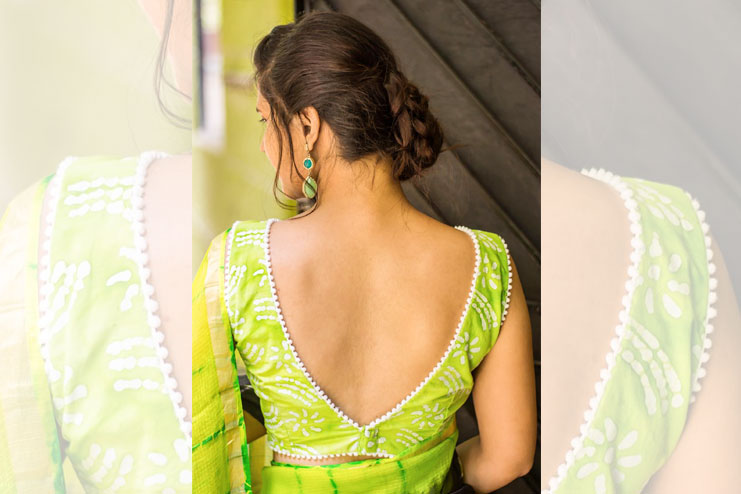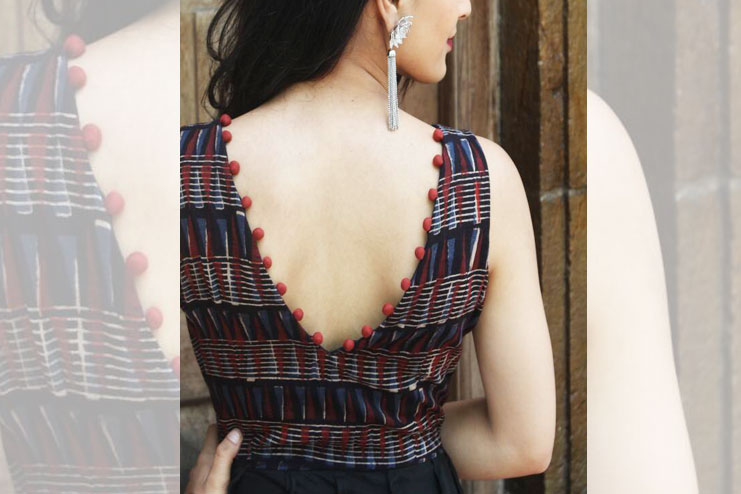 Adding a little quirk with the pom pom trend to a simple sleeveless blouse will make it look very young and charming. For young girls, this can be a fun alternative to a plain blouse. It can go with very bright saris and lighter fabrics.
3. Trendy Back Sleeveless-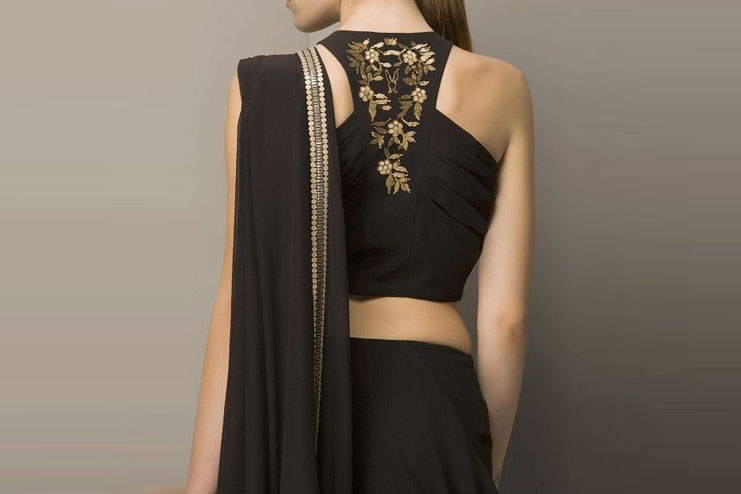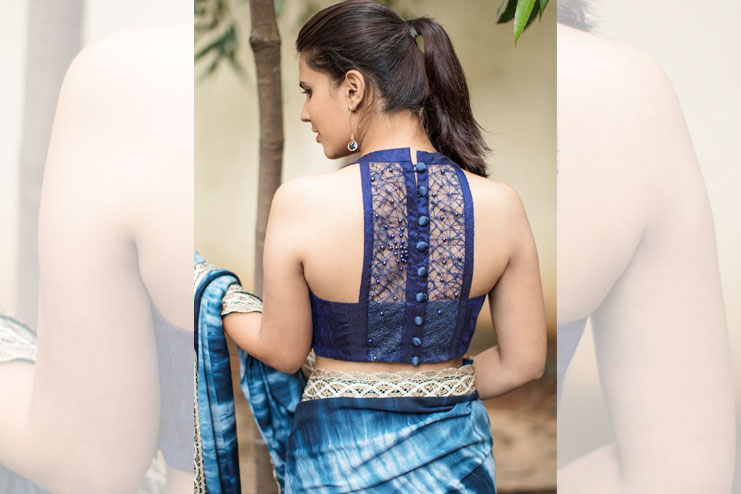 To add an extra element of wow, just jazz up the back with some really amazing embroidery or sheer panels on the back. This very is a suitable option for net sarees of sarees with a lot of work in the front. This will add the rich feel to the simple back and brighten up the whole look.
4. Sleeveless with collar-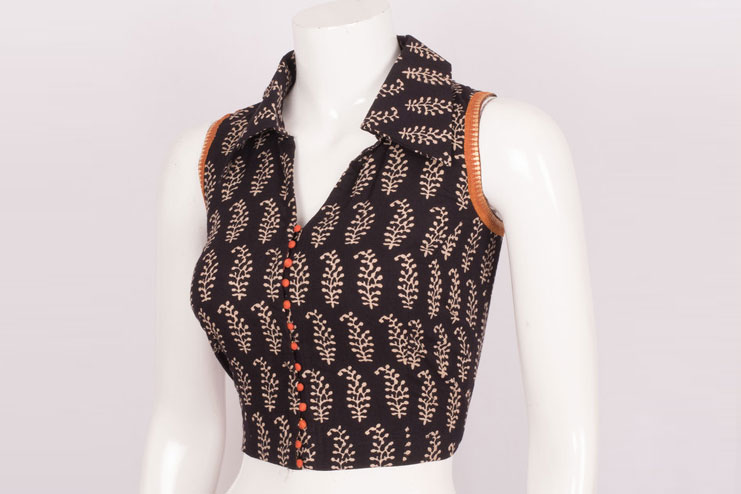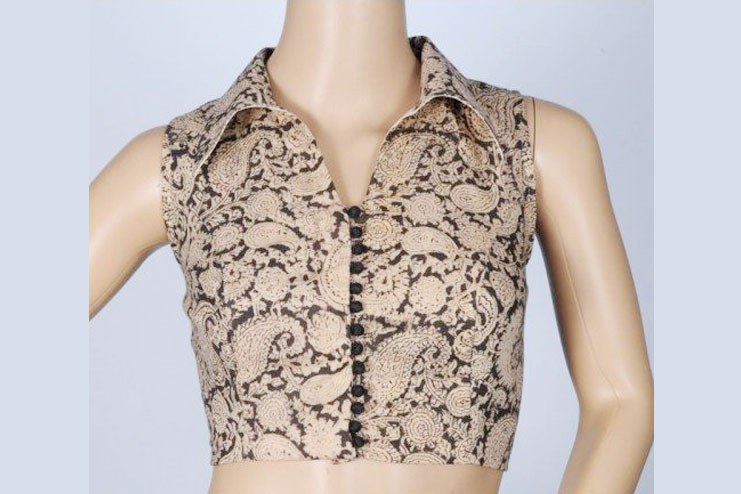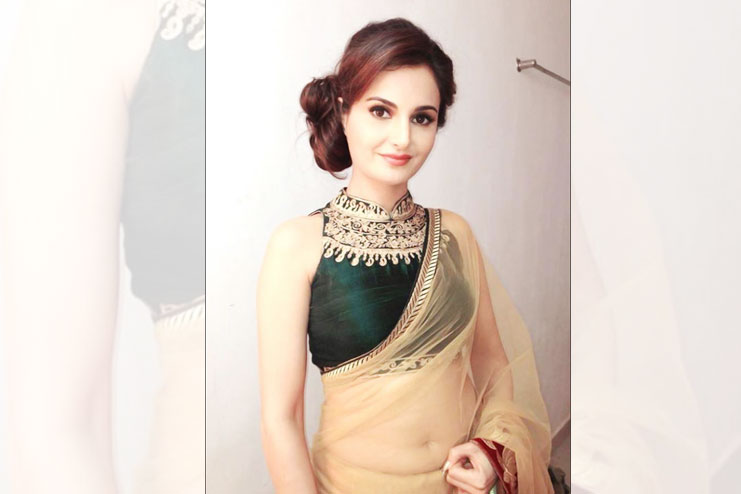 For the simple Cotton, Jamdani sari and kalamkari saris, this will be a great way to make the look more sophisticated and formal. It will be a nice pick for senior ladies who just love their sleeveless blouses.
Tip- Add a piping of a bright colour on all the edges to add a fun element.
5. Sleeveless with sheer Back-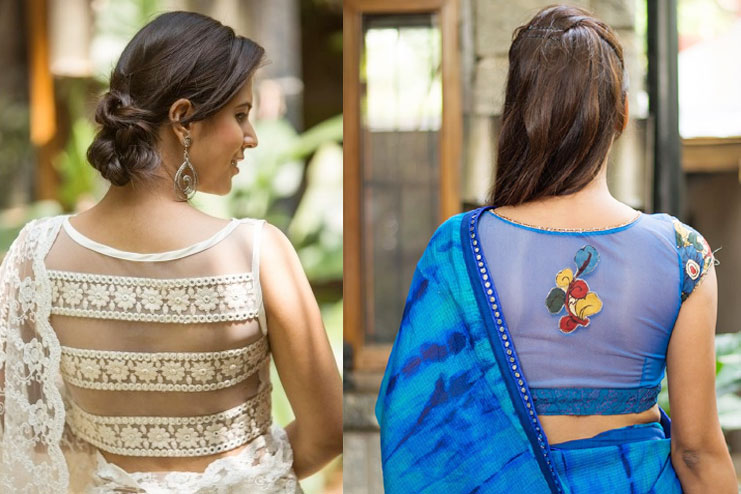 For saris with ornate pearl work or embellishments that are delicate a subtle sleeveless blouse with a sheer panel at the back to will look just amazing. This sleeveless blouse design will enhance the grace of the already graceful sari.
6. Velvet Sleeveless-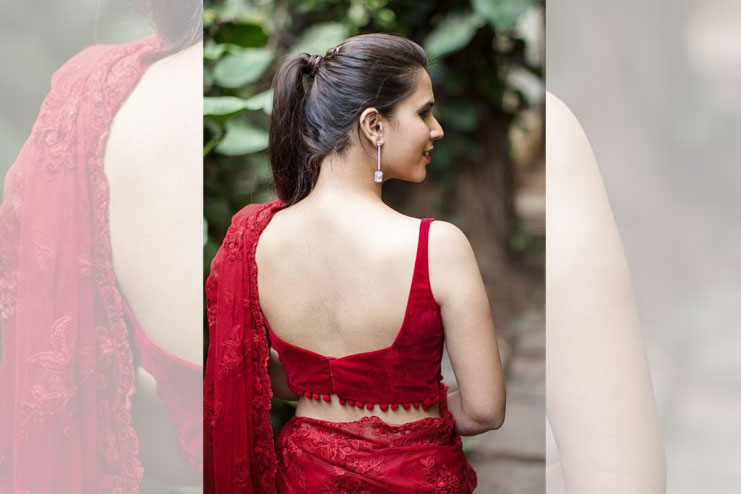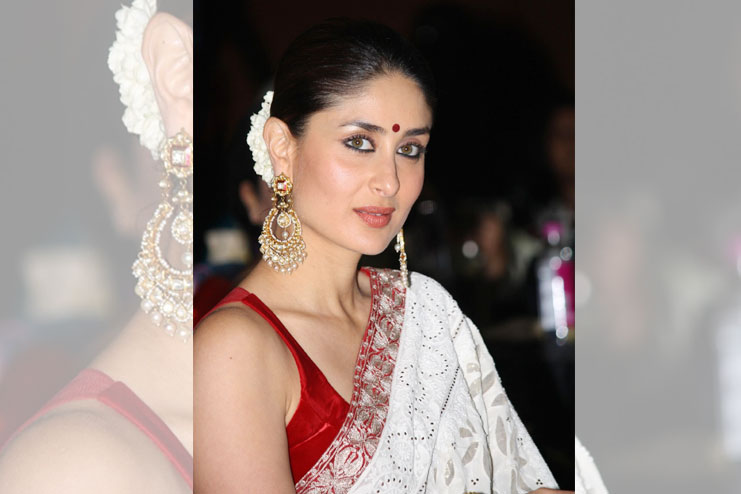 A perfect option for Dark rich coloured cotton and zari saris, a velvet blouse will be a good stylish pair. This design is great for sheer as well as cotton saris that are monotonous and even. The velvet variation will make it stand out of the monotony.
7. Boat Neck Sleeveless-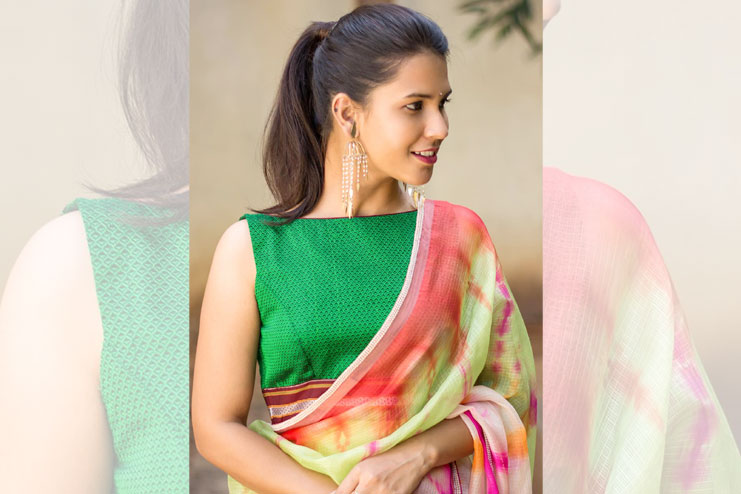 A boat neck is the classiest way to wear a sleeveless. Often used by a lot of celebrities, this sleeveless blouse design is the best way to style a plain silk sari, like tussar and Chanderi saris. You can also add a fun element of a loop in the back or a Back hole neck to make it more festive and wedding guest appropriate.
8. Sleeveless with Embroidery-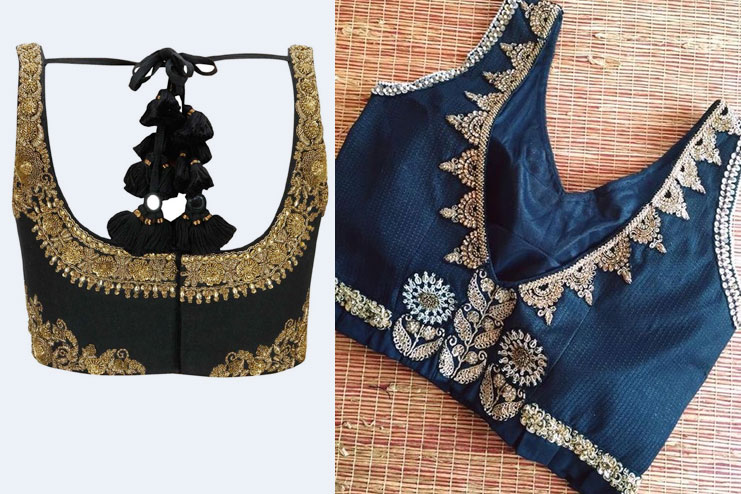 Adding an element of embroidery can define your taste in style. Adding a little embroidery can turn a simple sleeveless blouse into a bohemian piece or a rich wedding blouse with just the design of embroidery pattern. It is the easiest way to make your blouse look heavier and stand out from the simple saree. Combine this with a net sari and you have yourself a show stopper outfit.
9. Kalamkari Sleeveless-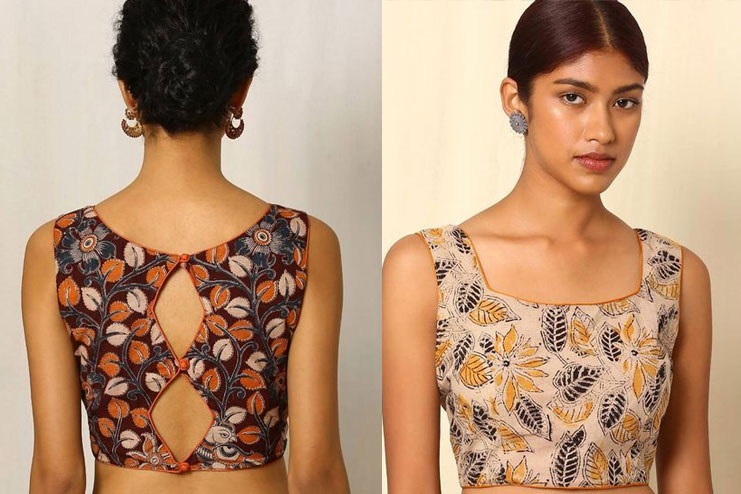 Add the earthy feel of the kalamkari art to a sleeveless blouse design and you have a blouse design to go with almost 10 different types of saris you may own. The most versatile piece of blouse in the entire list This kalamkari blouse design can be paired successfully in multiple ways and design and it will make your outfit instantly classy.
10. Halter Neck-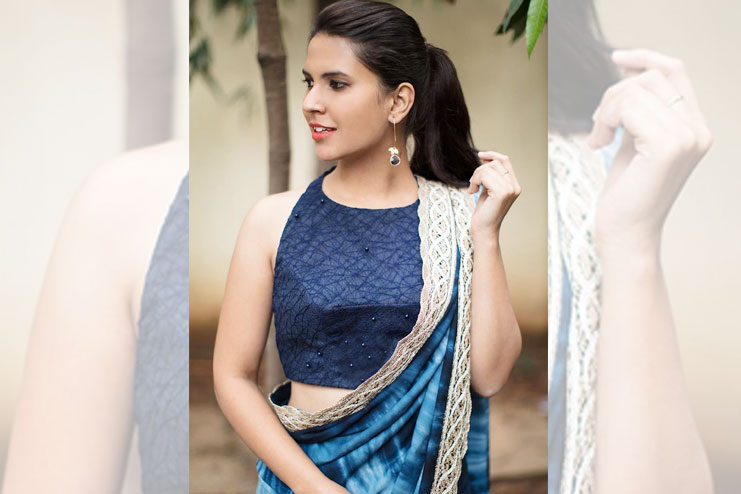 Image Source: www.pinterest.com
One of the boldest and beautiful blouse designs is a halter neck. Easily customisable, you can blend this pattern into any form and it will always make for the best outfit. A halter neck can also be made with collar, with embellishments and embroidery. It will look great on designer saris.
11. Raw silk Sleeveless-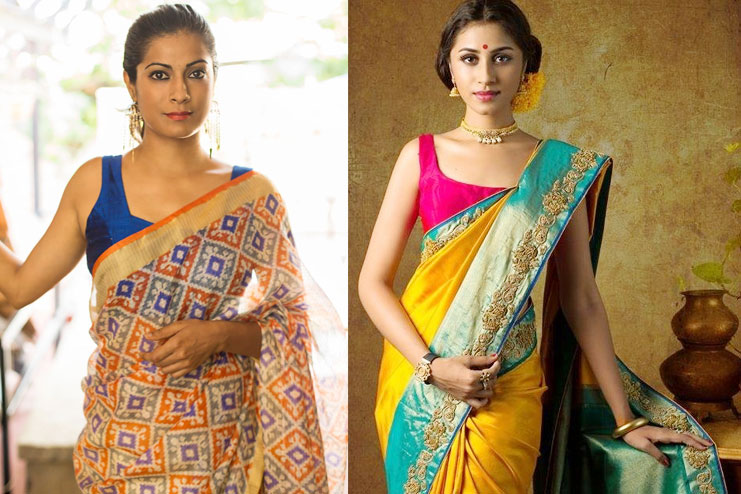 If you want to make a sleeveless blouse in a solid single colour fabric, you should first consider making it in raw silk. This rich Fabric will make the sari look more elegant. The tinge of shine that this silk reflects will make it look perfect with traditional silk saris, especially, for brides who want to sport a sleeveless design for a wedding.
12. Brocade Sleeveless-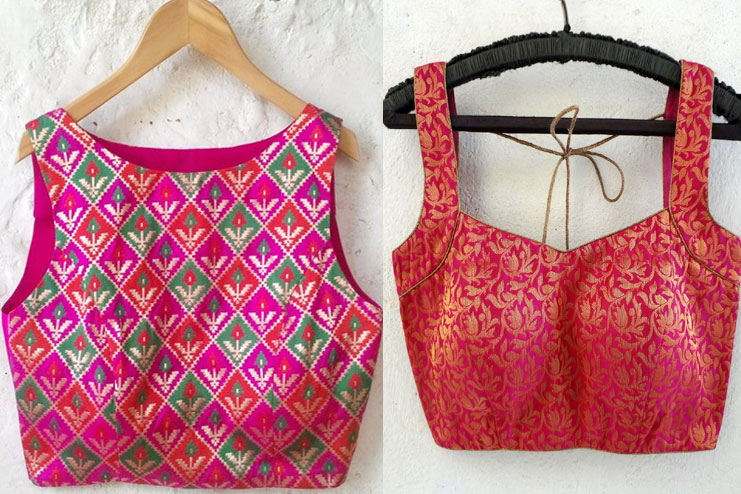 If you are wearing a white or any muted colour saree and want to just elevate the look with a pop of colour always go for a brocade sleeveless blouse in a contrasting bright color. The brocade motifs give it a regal finish and make it look really stylish.