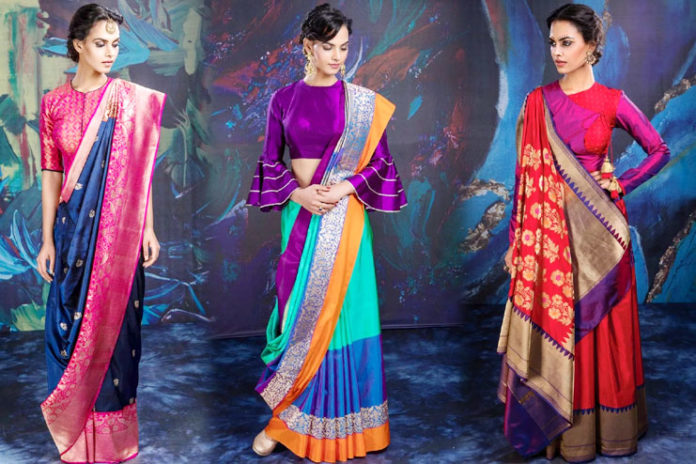 Banarasi silk sarees are one of the most popular saree across the world of fashion, because of its unique weaving technique. The earliest mention of this brocade and Zari textiles of Banaras can be found in the 19th century. These sarees basically came during the era of Mughals, when all the Muslim craftsman as well as the artisans has selected Banaras as their place where they can blend completely with the culture and start weaving the silk sarees. Every Indian woman has a collection of Banarasi silk saree in her wardrobe and even the trousseau of a bride is totally incomplete without much-coveted possession of it.
Benarasi silk saree offers much of a grace to a woman, which can hardly be matched with any of the other apparel. However, behind all the amazing grace is a simple weaver, whose is skilled as well as genius and goes into the making of such a beautiful outfit. Usually, it takes of about 15 days to a month to complete a single Banarasi silk saree. But, the time can vary, depending upon the complexity of the designs as well as patterns of the saree.
History Of Banarasi Silk Saree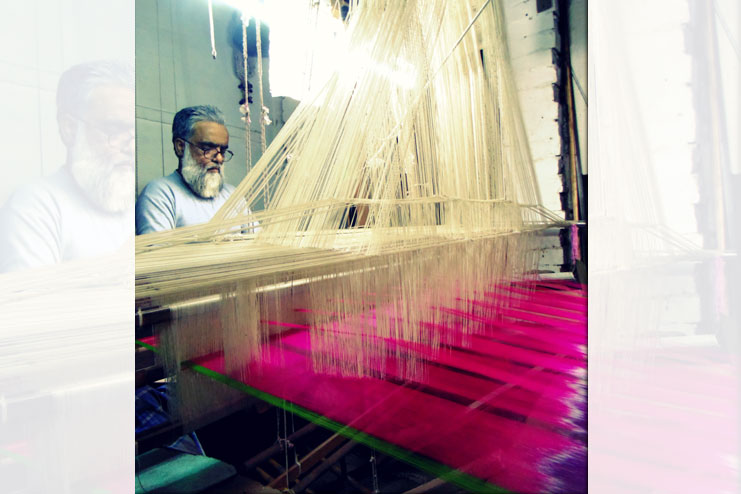 Banarasi silk sarees is made in Varanasi, a city which is also known by the name of Benares or Banaras. These sarees are considered among one of the finest sarees in India and is also known for the gold as well as silver brocade or zari, fine silk and the opulent embroidery. The Banarasi sarees is basically made of a finely woven silk and is also decorated with many intricate design, and engravings, that are quite relatively heavy.
A special characteristic in Banarasi sarees are about its Mughal inspired designs as well as intricate intertwining floral and foliate motifs, a strings of upright leaves called jhallar at the outer, kalga and bel, edge border. Other features also include a compact weaving, gold work, figures with small details, metallic visual effects, pallus, jal (a net like pattern), as well as mina work.
These sarees are mostly worn by the Indian women on the important occasions like attending a wedding or even the bride.
A traditional Banarasi silk saree is done with a lot of hard work and skill using silk. The saree is made in a cottage industry that have about 1.2 million people who are being associated directly or indirectly with the handloom silk industry of the region around Varanasi and encompassing Chandauli, Gorakhpur, Jaunpur, Bhadohi and Azamgarh districts.
Fabric Varieties of Banarasi Silk Saree
Katan Saree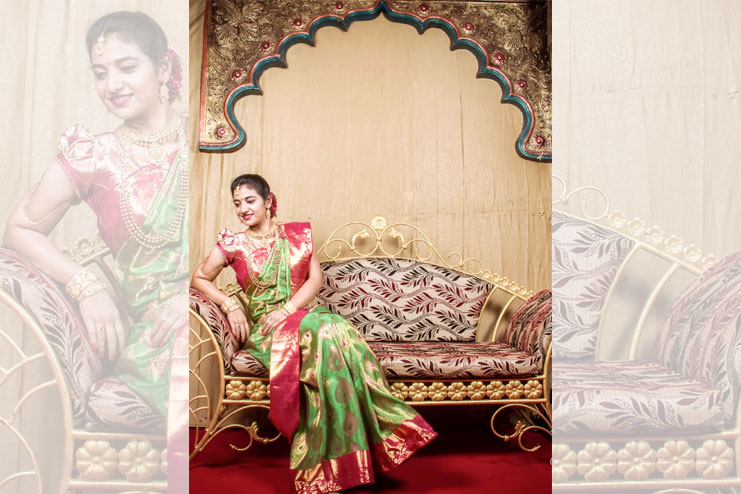 Katan is basically a plain fabric that is woven in pure silk threads and the filaments are twisted in pure silk sarees to create a more sturdier and durable fabric. Katan silk is also considered as one of the most easiest identified fabric, because of its unique look, which can help it to stand out from other silks.
These type of pure silk sarees are produced by rapid looms as well as the powerlooms, during ancient days Katan sarees are mostly woven using handlooms with beautiful creation of patterns as well as motifs.
Organza (Kora) with Zari and silk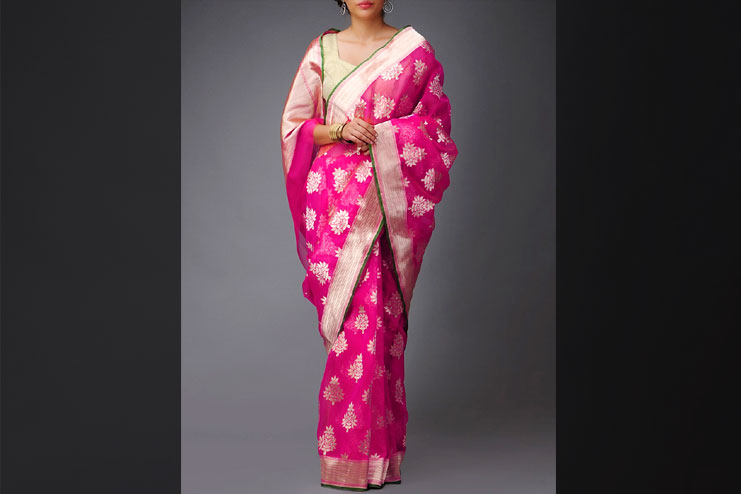 One of the amazing variant of Banarasi saree, from Banaras is the Kora silk sarees or Organza silk sarees with the opulent of zari work. Kora sarees are characterized because of sheer, crisp and extremely light weight, as well as they are strong and durable with firm hand and flat smooth texture. The fabric in it has natural stiffness, without any application of starch or other stiffeners. Kora sarees also exhibit, Mughal inspired motifs like interwining of floral and foliate motifs called Kalga and bel.
One of the most special quality of Kora silk sarees, is that they soak and reflect in a bright eye catchy colors with ease. Brocades in it is most beautiful as well as have richly woven fabric, where the patterns are being pattered with quite a different designs and made by the warp and weft. Silver threads are then coated with gold as well as woven closely around the silk yarn to create a zari brocade.
Georgette Saree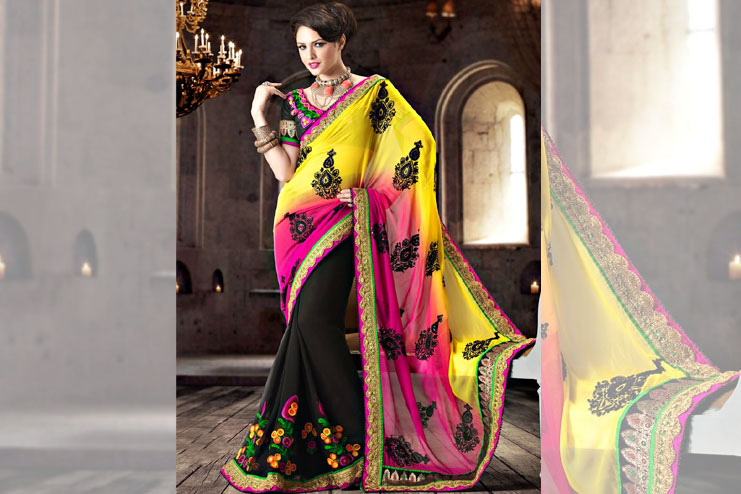 Georgette is basically a finely woven light fabric which have simple and plain weave. The fabric is originally made of a crepe yarn where the S is twisted and Z is twisted in an inter-woven with both the warp and weft. This fabric are most popular in the modern types and are used to produced the designer sarees.
Shattir Saree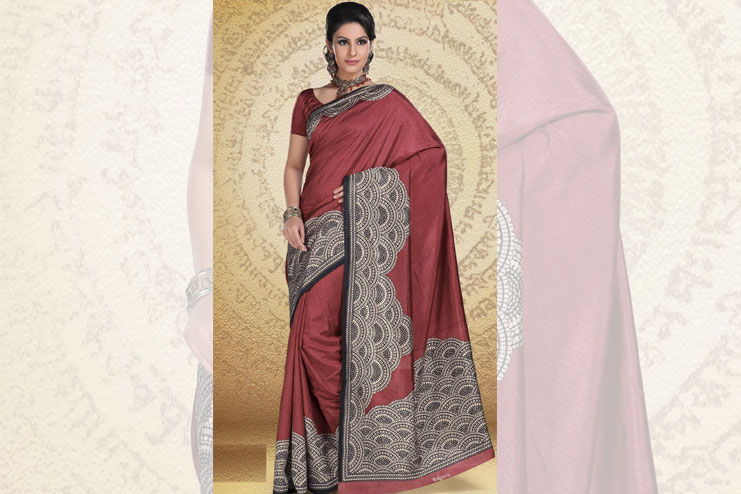 Shattir is another type of fabric for banarasi saree, which is being used in creating an exclusive as well as contemporary designs of the Banarasi silk sarees.
Fashion Tips Wearing Sari That Can Make You Beautiful
Different Designs Of Banarasi Silk Sarees
Jangla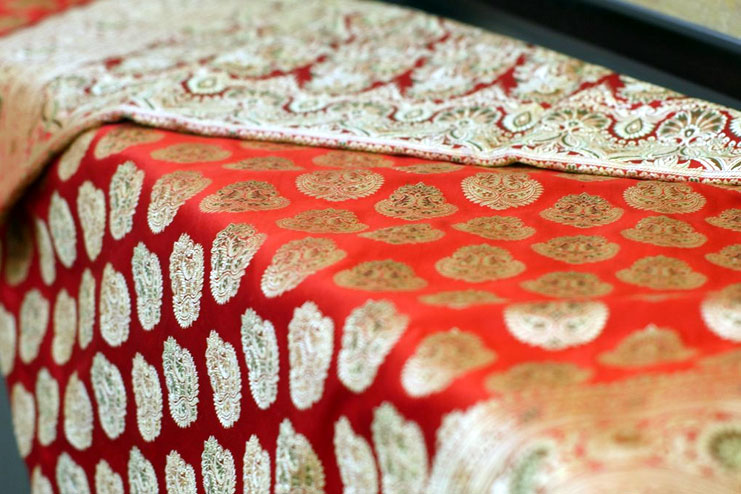 These jangla style of sarees are mostly woven in the colorful silk threads. The name of the saree is derived from the pattern of the design that also distinguish it from other types of Banarasi sarees. The design has an intricate Jangala pattern in the form of Jangala vegetation motif that looks like it is scrolling as well as spreading across the length of the sari. These sarees are also believed to be an ancient designs among the Banaras brocades. Unique designs and its intricate detailing with the luxurious fabric make this saree an apt for all the wedding ceremonies.
Tanchoi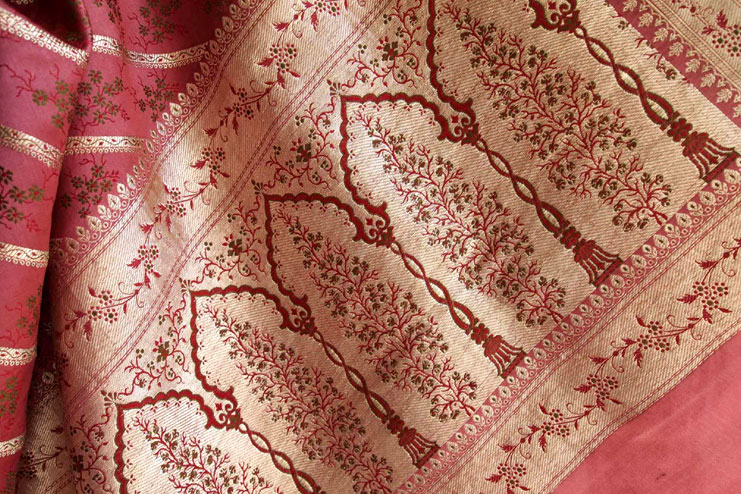 The beautiful 'Jamawar' style paisleys and the Labyrinth that is woven by zari can add value to this silk sari by making appropriate for all the wedding ceremonies. The artisans weave these patterns on the sarees with colorful weft silk yarns and the pallu of the sari is decorated with a large motifs of the paisleys while the border is beautifully embellished with criss-cross patterns.
Tissue Sarees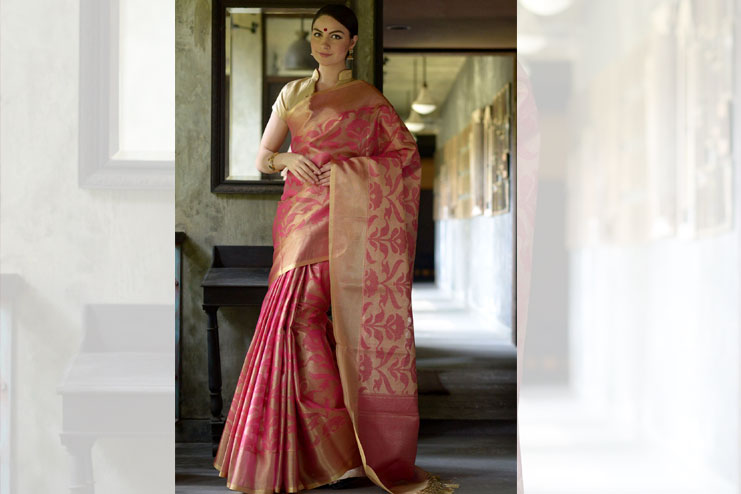 These delicately woven sarees with a golden zari weft can add sheen to the tissue sarees and is therefore also known as a golden cloth. The most popular design that is being used in the tissue sarees are the golden zari woven lotus floating in a radiant pond, the water drops are being designed with a cut-work technique. The border as well as the pallu of the sari are patterned with a self woven paisleys.
Butidar Sari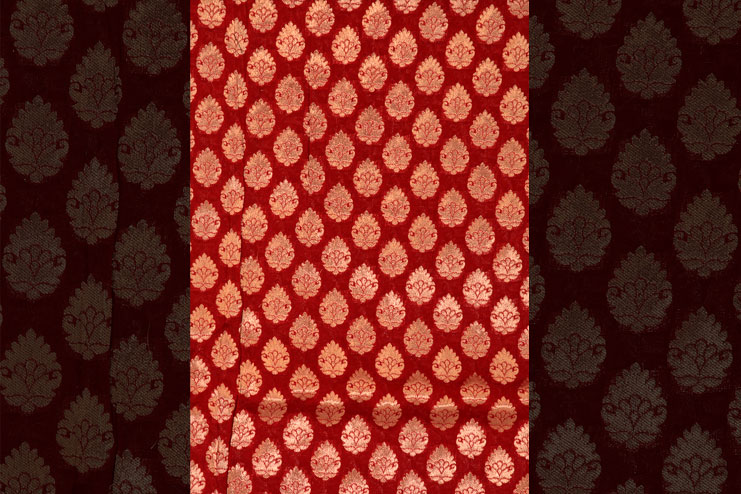 The most inimitable feature of a Butidar sarees is that, it is very richly woven saree which have its brocade with threads of gold, silver as well as silk. Gold becomes dark in shade as compared to the silver threads. Therefore, the weavers of the Banaras refer to this variety patterning as Ganga-Jamuna. They are popularly known locally as a Latiffa Butti, Baluchar Butta, Ashraffi Butti, Jhari Butta, Angoor Bail, Reshem Butti, Jhummar Butti, Patti Butti and many more.